Gold, Debt And The Human Heart
As America loses a ridiculous trade war and manufacturing activity tumbles to 10year lows, the nation's horrific GDP growth rate for 2019 was ranked an abysmal… number 107 in the world.
The outlook for 2020 is even worse.The government's debt to GDP ratio is more than 100%, and the rancid "end of empire" cake is now getting iced with maniacal debt-oriented warmongering.
Is it any wonder that savvy investors are flocking to gold?
The spectacular daily gold chart.
A bull flag may be forming at the $1575 resistance zone.
This is important: I've predicted that gold needs to stage a few consecutive closings above that key $1575 price… to activate the next leg higher for gold and silver mining stocks.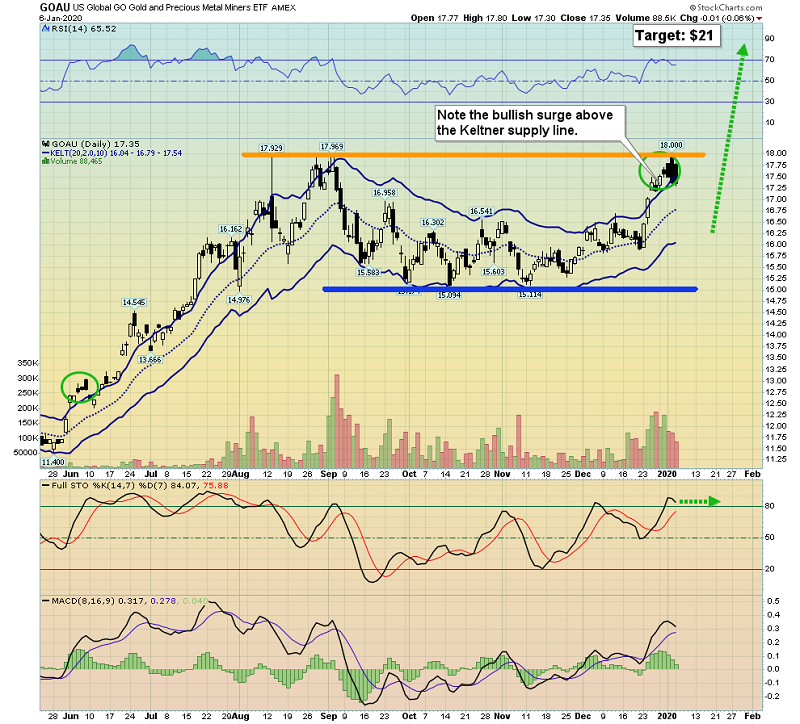 The GOAU chart.As gold has arrived at the September highs around $1575 on the February futures chart, GOAU has arrived at its summer highs, in the $18 area.
I'm aware of the substantial frustration amongst gold stock investors.That probably reached a crescendo yesterday, because the surge in bullion in the past few days of trading has been accompanied by very disappointing action in the gold stocks.
Having said that, gold stocks dramatically outperformed bullion during the early part of the rally, and now both bullion and a lot of the miners are sitting near their summer highs.
In the case of the silver miners, they are outperforming both gold and silver bullion.
I sold most of my GOAU at $17.75 as it rallied into the $18 area, but I don't have any "top call" for investors.I simply took some mining stock off the table into tremendous strength at modest resistance.It's pruning the gold stocks tree, and nothing more.
What should investors do now?Well, I plan to rebuy GOAU at either $17 (it's already close to that price now), or on a breakout over $18, and suggest investors consider the same tactics.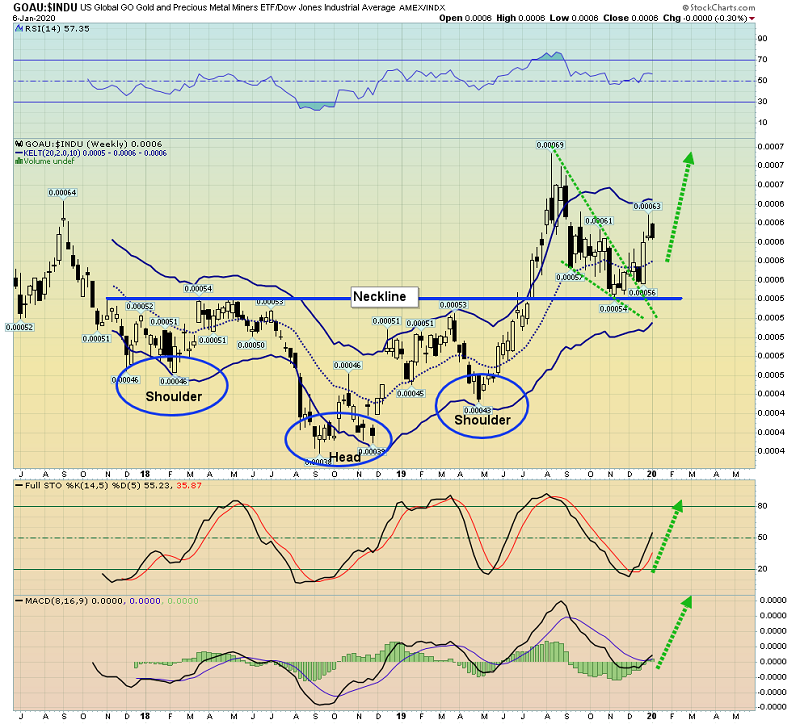 The superb GOAU versus US stock market ratio chart.
Has the Trump presidency been a failure or a success?Well, there's been areas of success, such as tax cuts, deregulation, and basic law and order.
Unfortunately, nothing has been done about the outrageous amount of government spending, and that's why gold stocks look so good against the stock market on this ratio chart!
Instead of the twitter tweets they get now, Americans need the kind of heart to heart talks that Ron Reagan used to give.
The difference between the two presidents is obvious: Ronnie grew up relatively poor, whereas Donald grew up as a "frat boy".It's not Donald's fault how he was raised, but it's very difficult to give great heart to heart talks to blue collar workers when you have a silver spoon stuck in your mouth.
Without televised presidential talks with America's working class, focused on the need to dramatically chop government spending immediately and drastically, debt and spending will continue to soar.That means the nation's pathetic GDP growth rate will sink even lower, and the purchasing power of the citizens will also continue to slide.
Debt, tariffs, wages, and now insane warmongering are all putting upwards pressure on inflation.I've stated that America today most resembles the year 1966.
Stagflation took off then, and it could be about to happen again.
Hedge fund master Ray Dalio believes the best analogy is with 1937-1938, and everyone knows what happened in 1939… World War Two.
US citizens couldn't buy any gold in 1938, but they can today!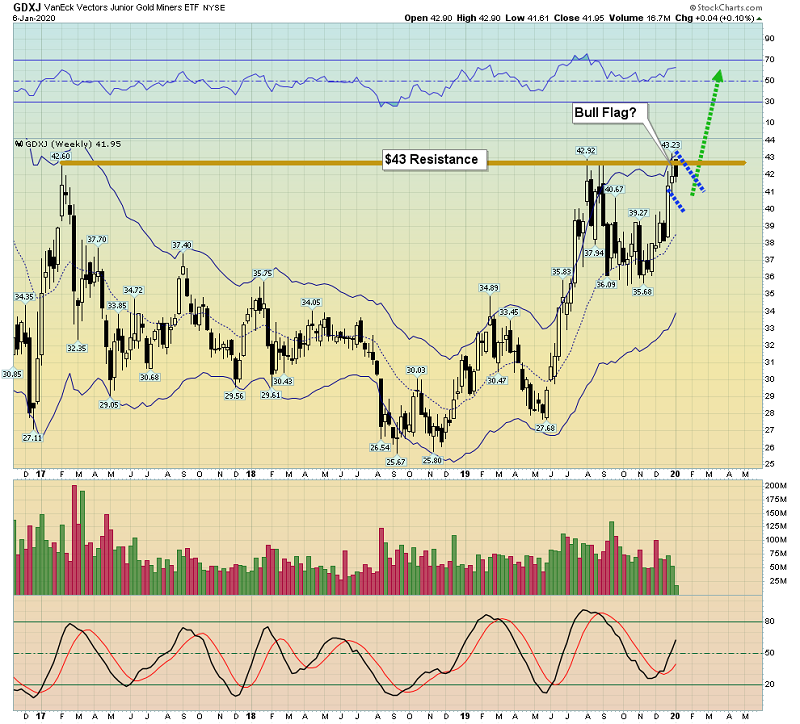 The weekly GDXJ chart.GDX $31, GDXJ $43, GOAU $18, and gold $1575 are all significant resistance zones.Gold bugs should now be aggressive accumulators.The pullback should end in just a few weeks, and much sooner if Iranian-US government tensions now devolve into actual war.
Unlike the previous reactions from this resistance zone, I expect the current reaction to end very quickly, and explosive upside price action should carry gold towards my next $1800 target area quite quickly!
Special Offer For Gold-Eagle Readers: Please send me an Email to [email protected] and I'll send you my free "The Ultimate Mining Stocks!" report.  I highlight ten mining stocks that should outperform any precious metals ETF, with key tactics for each mighty stock!
Stewart Thomson 
Graceland Updates
Note: We are privacy oriented.  We accept cheques, credit card, and if needed, PayPal.
Written between 4am-7am.  5-6 issues per week.  Emailed at aprox 9am daily.
Email:
Rate Sheet (us funds):
Lifetime: $999
2yr:  $299     (over 500 issues)
1yr:  $199     (over 250 issues)
6 mths: $129 (over 125 issues)
To pay by credit card/paypal, please click this link:
https://gracelandupdates.com/subscribe-pp/
To pay by cheque, make cheque payable to "Stewart Thomson"
Mail to:
Stewart Thomson / 1276 Lakeview Drive / Oakville, Ontario L6H 2M8 Canada
Stewart Thomson is a retired Merrill Lynch broker. Stewart writes the Graceland Updates daily between 4am-7am. They are sent out around 8am-9am. The newsletter is attractively priced and the format is a unique numbered point form.  Giving clarity of each point and saving valuable reading time.
Risks, Disclaimers, Legal
Stewart Thomson is no longer an investment advisor. The information provided by Stewart and Graceland Updates is for general information purposes only. Before taking any action on any investment, it is imperative that you consult with multiple properly licensed, experienced and qualified investment advisors and get numerous opinions before taking any action. Your minimum risk on any investment in the world is: 100% loss of all your money. You may be taking or preparing to take leveraged positions in investments and not know it, exposing yourself to unlimited risks. This is highly concerning if you are an investor in any derivatives products. There is an approx $700 trillion OTC Derivatives Iceberg with a tiny portion written off officially. The bottom line:  
Are You Prepared?
********