Gold: Fed And BOJ Are In Play
The gold market is quiet…displaying seasonal softness.
However, that may be about to change as both the US and Japanese central banks are having policy meetings this week.
The Fed meets on Wednesday, followed by the BOJ on Thursday.  There is also some confusion in regards to the BOJ's position on perpetual bonds…also known as helicopter money.
A few days after the BOJ and Japanese government officials met with Ben Bernanke, the BOJ released a statement from Kuroda that he is totally against helicopter money.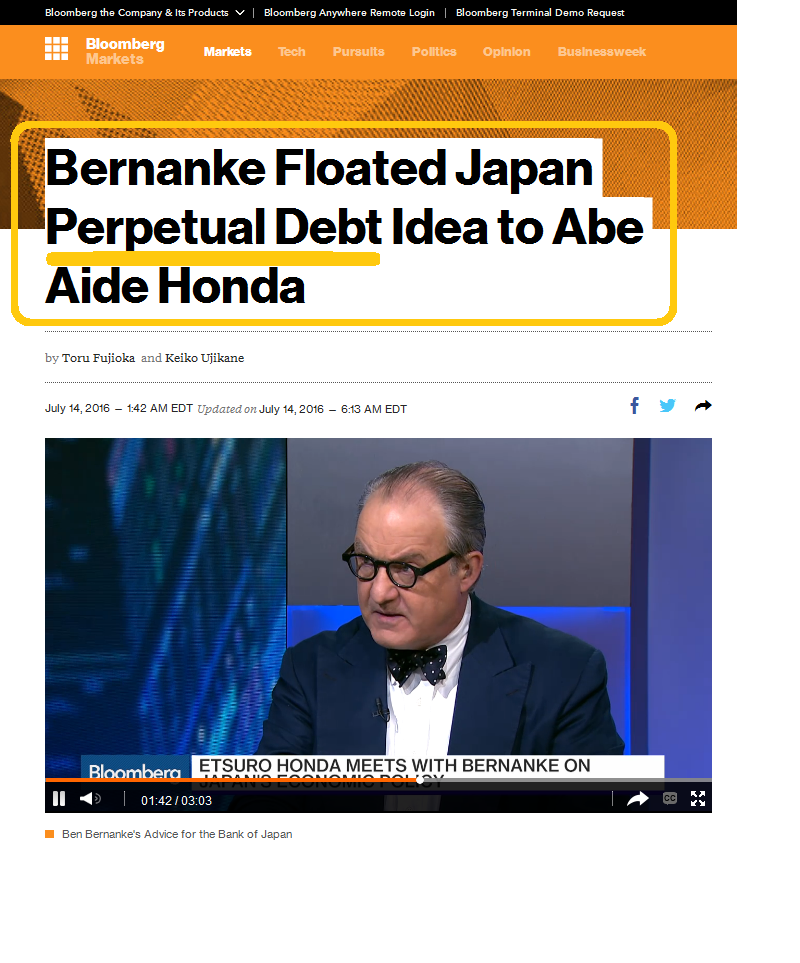 It turns out that Kuroda's statements were made back around June 17, weeks before he and the Japanese government met with Bernanke. 
It should also be noted that Kuroda said he was opposed to negative interest rates, and then engaged in that policy anyways.  Will the same thing happen with perpetual bonds?
The BOJ could make a blockbuster announcement on Thursday.  The big questions for the Western gold community are these:  Will helicopter money cause the yen to lose its safe haven currency status?  If so, will that be positive or negative for the price of gold?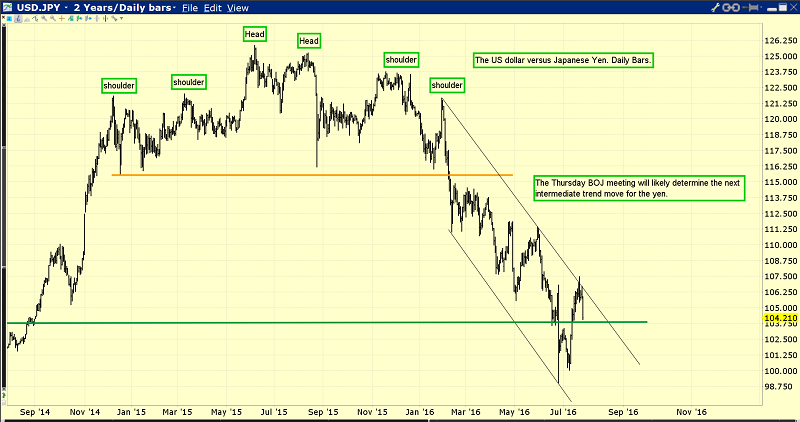 Part of the reason I was able to successfully forecast the massive rally in gold from the late December 2015 lows was because of the giant top that formed on this US dollar versus Japanese yen chart.
I don't expect Janet Yellen to shock the market with a rate hike tomorrow.  It's Kuroda that is under pressure to announce something big, because Japan is slipping back into deflationary recession.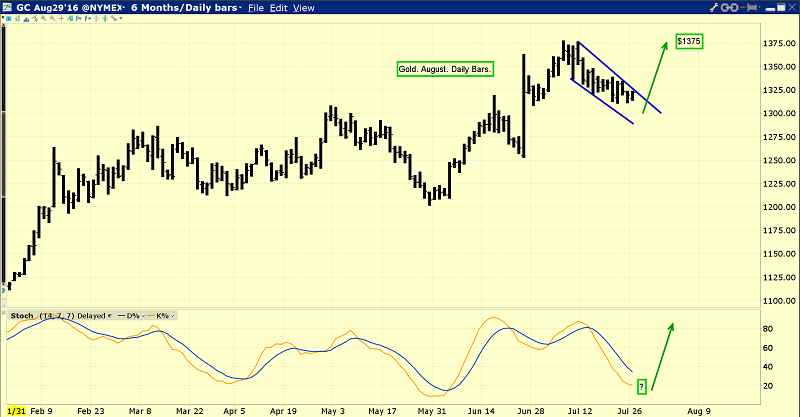 This is the daily gold chart.  Technically, gold is in sync with the fundaments I discussed above.
Gold is drifting lower in a nice bull wedge pattern ahead of the central bank meetings.  Note the fabulous position of my key 14,7,7 Stochastics oscillator at the bottom of the chart. 
Technically, gold is ready to charge towards $1375, $1392 and then surge above $1432…but whether that happens or not in the short-term will depend on what the BOJ does on Thursday.
The overall "background music" for gold is extremely positive.  Institutional money managers believe more negative rate bonds are coming, and they view gold as a currency. 
Since gold pays a zero percent interest rate (and a positive one with India's sovereign gold bonds), gold is becoming a favoured currency.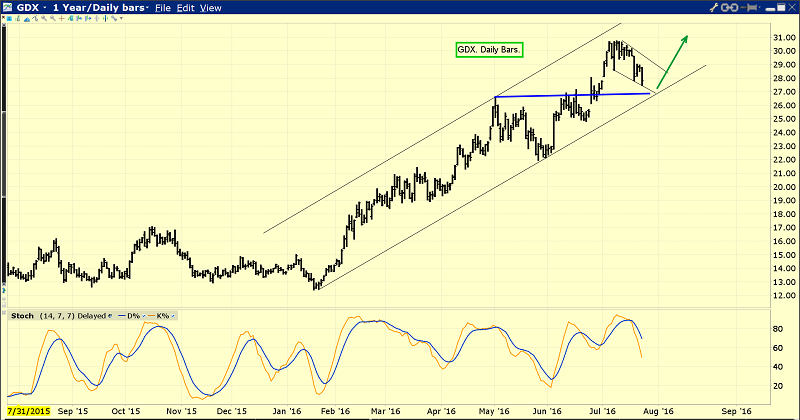 While nobody knows for sure what the BOJ will do on Thursday, or what Janet will do tomorrow at the Fed meeting.  That's the GDX daily chart.  Note the blue support zone in the $26.80 area.
To get richer with gold stocks, using the "nobody knows anything" mantra, investors cannot predict whether GDX will trade at $26.80, but they can prepare to take buy-side action, if it does!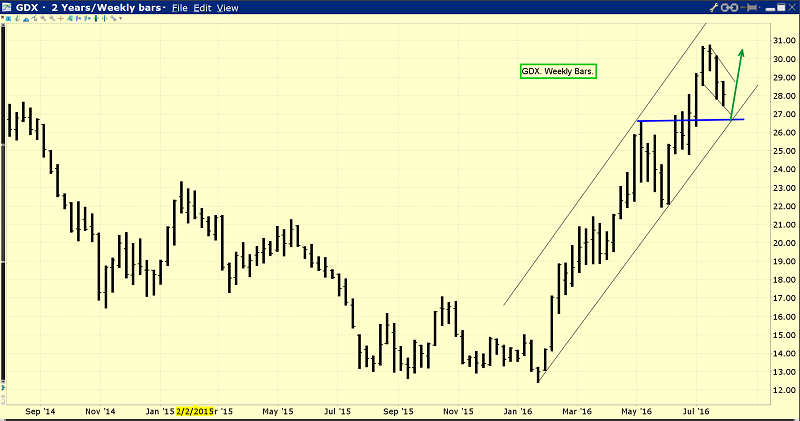 The $26.80 support zone can also be seen on the weekly chart.  Aggressive gold stock enthusiasts can buy right now, ahead of the Fed and BOJ meetings.  More conservative investors like myself will typically wait for $26.80 before buying.  In general it's a super time to be invested in the precious metals sector. Consequently, I hope everyone is cheering for a gold-positive announcement from the BOJ on Thursday!  
********
Special Offer For Gold-Eagle Readers:  Please send me an Email to [email protected] and I'll send you my free "Seniors Six Pack Take Action Now" report.   In this key report, I highlight 6 senior gold stocks, with tactics to buy prices that correspond with the important $26.80 number for GDX!
Note: We are privacy oriented.  We accept cheques, credit card, and if needed, PayPal.
Email: [email protected]  
Rate Sheet (us funds):
Lifetime: $999
2yr:  $269  (over 500 issues)
1yr:  $169    (over 250 issues)
6 mths: $99 (over 125 issues)
To pay by credit card, click this link:
https://app.moonclerk.com/pay/a0es7yliyhw
To pay by cheque, make cheque payable to "Stewart Thomson"
Mail to:
Stewart Thomson / 1276 Lakeview Drive / Oakville, Ontario L6H 2M8 Canada
Stewart Thomson is a retired Merrill Lynch broker.
Risks, Disclaimers, Legal
Stewart Thomson is no longer an investment advisor. The information provided by Stewart and Graceland Updates is for general information purposes only. Before taking any action on any investment, it is imperative that you consult with multiple properly licensed, experienced and qualified investment advisors and get numerous opinions before taking any action. Your minimum risk on any investment in the world is: 100% loss of all your money. You may be taking or preparing to take leveraged positions in investments and not know it, exposing yourself to unlimited risks. This is highly concerning if you are an investor in any derivatives products. There is an approx $700 trillion OTC Derivatives Iceberg with a tiny portion written off officially. The bottom line:  
Are You Prepared?