Gold Flashes Buy Signal On Technical Breakout
Gold is rocketing higher during the first two weeks of October, up roughly $75 to $1,185 today. This is a gain of 6.7% in just two weeks as investors are increasingly betting that the gold price has bottomed.
The gold price advance is being driven partially by comments from Federal Reserve board members suggesting that a rate hike is not a sure thing in 2015, as most analysts had once expected. This news has helped to push the dollar lower and precious metals higher over the past few weeks.
The technical chart has turned bullish over the past few days. First, gold broke out of the symmetrical triangle pattern that had developed since July. The pattern of higher lows and lower highs in indicative of consolidation and usually precedes a major move in one direction or another as the two legs of the triangle converge. In this case, gold broke out the upside last week and then confirmed the move today by breaking out above the 200-day moving average of $1,176.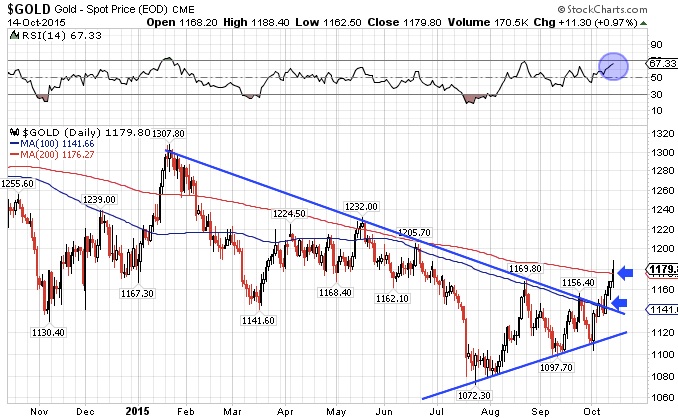 The RSI momentum indicator is pointing higher and has a bit more room to run before becoming technically overbought. I believe gold will face some resistance around $1,200 and will need to clear the 2015 high around $1,300 to increase our confidence that gold has bottomed and is heading much higher.
The U.S. dollar index had a nice run during the back half of 2014 and early 2015, but the rally has lost stream. In fact, the USD has put in a series of lower highs since peaking at 100 during March. There is technical support around the current level, but plenty of downside ahead should this support level fail. The RSI is pointed lower with room to drop a bit more before becoming oversold.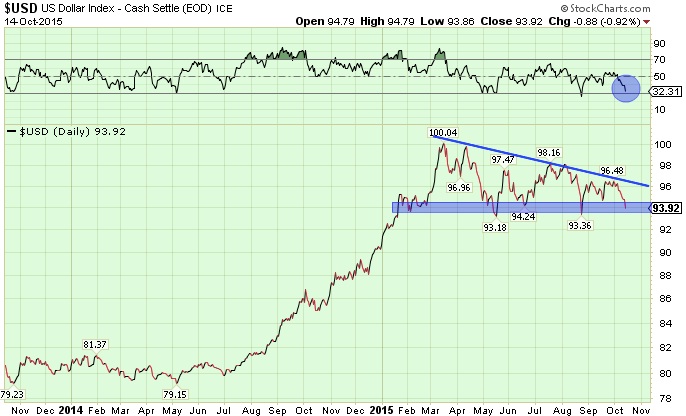 While we always advocate holding physical precious metals in your possession as crisis insurance, investors are likely to achieve significant leverage from buying mining stocks. In fact, while gold is up 6.7% over the past two weeks, the Market Vectors Gold Miners ETF (GDX) is up a whopping 23%.  This is leverage of 3.5X!
As you can see in the chart below, mining stocks remain severely undervalued relative to the metals they produce. While there has been a recent bump from 0.09 to 0.12, the ratio is far below the levels seen during the depths of the financial crisis or beginning of the bull market in gold.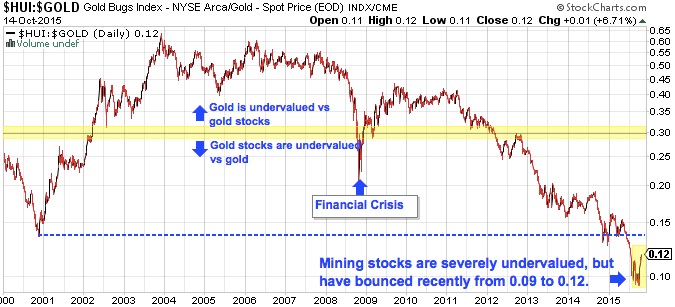 As this ratio climbs back towards the median level, mining stocks will offer incredible leverage to the advance in the gold price. This is because it only takes a 25% advance in the gold price from $1,200 to $1,500, to equate to a 150% increase in the profit margin of a gold miner with costs of $1,000 per ounce. Their margin goes from $200 ($1,200 – $1,000) to $500 ($1,500 – $1,000) per ounce. So, it doesn't take much of an advance in the gold price in order to increase substantially increase the revenues and earnings of gold miners.
GDX is a great fund for getting diversified exposure to gold miners and I expect the fund will continue offering strong leverage going forward. Those that prefer junior mining stocks can purchase shares of the Market Vectors Junior Gold Miners ETF (GDXJ), which is up 18.5% in the past two weeks. If you believe silver will outperform gold, you can get the Global X Silver Miners ETF (SIL), which focuses on silver mining companies. Many investors prefer to pick out a basket of quality mining stocks, looking to outperform the funds mentioned above.
Whichever method you choose, I believe that we have likely seen the bottom in gold prices and that the upside potential dwarfs the downside risk at this juncture. Gold and silver are trading below the cost of production for many miners, which has caused several companies to suspend operations in recent years. They have also reduced exploration budgets, which will lead to declining supplies for years to come. Even without these price-drive reductions in supply, many analysts believe that the world has already reached peak gold production and that total ounces produced per year will slide into the future. All of this is supportive of higher prices.
I don't advocate going all in at one time, but this seems like an opportune time to begin establishing a long position or adding to current positions in quality mining stocks that have become severely undervalued by the market. If gold returns to previous highs over the next few years, best-in-breed mining stocks will offer exponential returns.
******** 
We analyze the gold and silver market on a daily basis and have picked a basket of stocks that we believe will significantly outperform the funds listed above. We focus on junior producers or companies about to put high-grade/low cost projects into production. We also hold a number of royalty/streaming stocks that have aggressively signed deals over the past year at bargain prices. Lastly, we hold a few energy and agriculture stocks that have performed strongly during the dip in gold prices and have significant upside potential as commodity prices rebound.  You can view our entire portfolio, get our regular trade alerts and receive the monthly newsletter by signing up for the Gold Stock Bull Premium Membership.
The first 10 people to sign up can use the coupon code GSB10 to get 10% off their membership. In addition, you can try out our service risk-free for 30 days. If for any reason you aren't 100% satisfied with the performance of our model portfolio, simply email us for a full refund with no questions asked.  Get started now by clicking the button below!