Gold Forecast: Gold Prices Preparing for New Highs
The Fed continues to inject liquidity as inflation hits 30-year highs (likely a policy error). 

Consumer Sentiment fell to a 10-year low as inflation reaches 30-year highs. 

Precious metals and miners could be on the verge of a major breakout heading into 2022. 
Fed Tapering
Instead of injecting $120 billion into the economy every month, the Fed will drop that amount to $105 billion in November and $90 billion in December. With inflation and 30-year highs, they would typically be raising rates at this point, but they can't.
Imagine the Fed in a vehicle driving 120 mph towards a cliff. Instead of hitting the brakes, they are merely taking their foot off the accelerator. They are still traveling 90 mph towards a cliff! I'm guessing the Fed will have to stop tapering sooner. Until then, we could see market speculation.
October CPI 
The Wednesday CPI came in at 30-year highs with a year-over-year inflation rate of 6.2%. As higher energy prices work their way through the system, that number could increase. I wouldn't be surprised if CPI nears 9% in the first half of 2022. 
Consumer Sentiment
The precious metal markets are easy to manipulate, at least the paper side of things. So, to see a real unyielding bull market push in gold, silver, and miners, the public needs to gain interest. With inflation at 30-year highs and consumer sentiment at 10-year lows: the public should begin to wake up.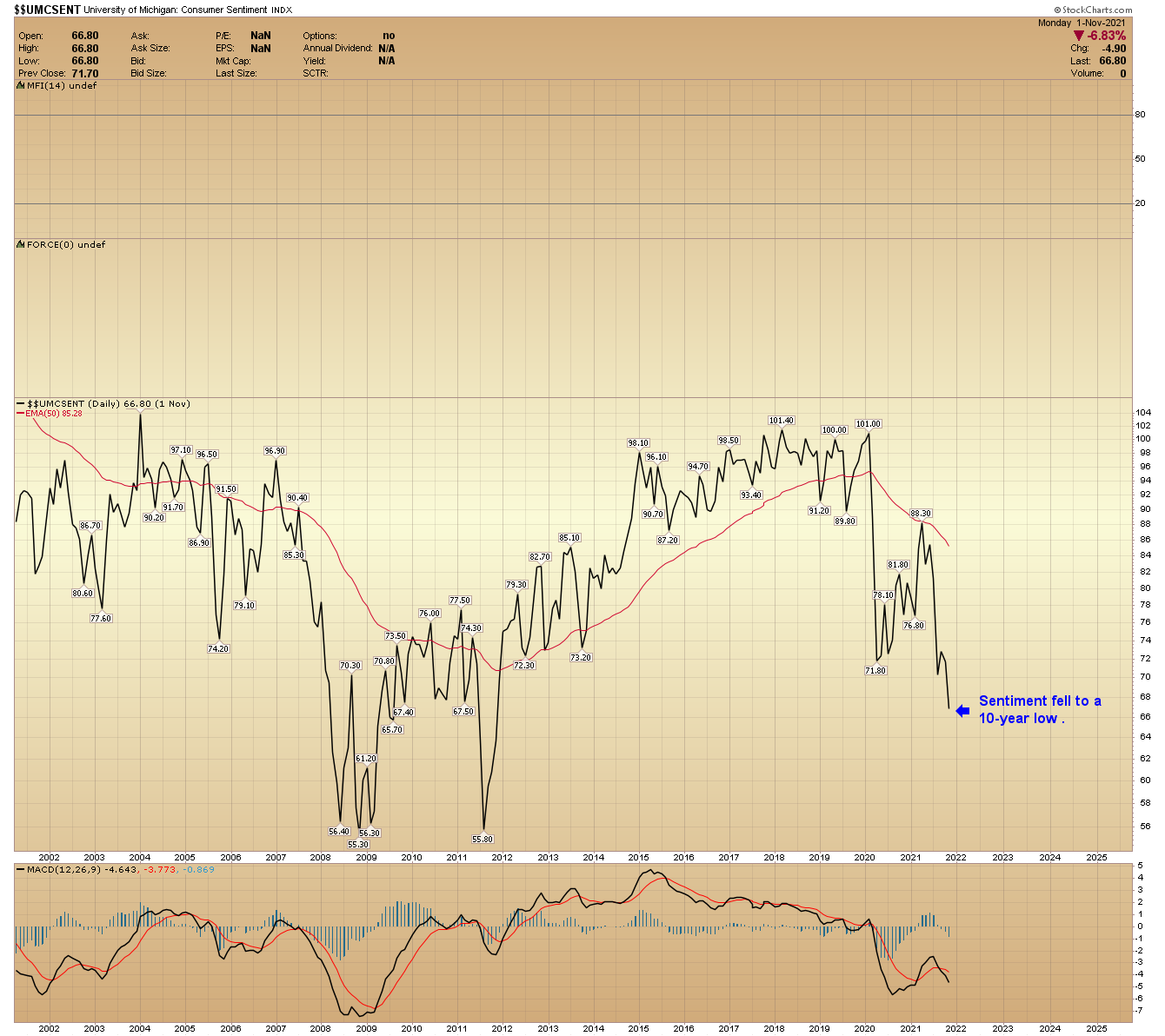 Intermediate Outlook 
If things stay as they are (no black swan events), I think we may be on the verge of a significant run higher in precious metals. The public is starting to realize inflation is not transitory. As they look to protect themselves from inflationary forces, some capital should shift into metals and miners. 
Public Speculation
One possibility I see for precious metals is a speculative blow-off top heading into 2022. For this to happen, gold and silver would have to become quite popular over the next 3 to 6-months, which likely requires gold at new all-time highs. For whatever reason, the public prefers buying when things are expensive and making new highs. I like buying when things are cheap, silly me. 
If we get speculation and a blow-off top in precious metals, we could see the momentum and meme crowds enter the market. If that happens, then things could get silly; some stocks could shoot up 10x to 100x. Because of that possibility, I looked for prime meme candidates in the precious metal sector. I found HYMC to have the best "meme potential" and added it to the metals portfolio on Thursday. 
The Gold Cycle Indicator finished the week and 101.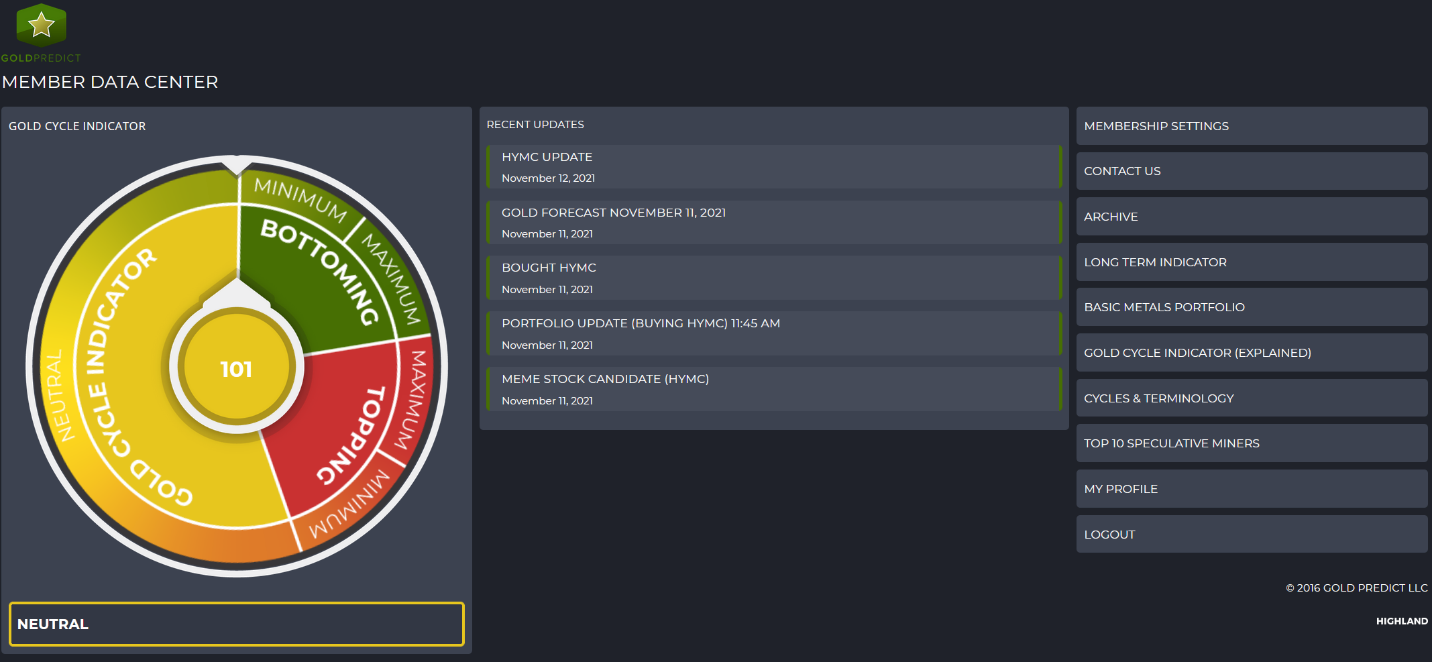 US Dollar
The US dollar is coming into resistance between 94.50 and 96.00. The trend should begin to find significant resistance as it approaches 96.00. 
Gold Prices 
Gold prices are catching a bid after the October inflation report. We could be on the verge of a strong move through the $1900 level. I see the potential for new highs above $2100 by early next year, which could bring speculators and the public into this market.
Note- if my coiled spring theory is correct, then we should see prices explode through $1900 and reach $2100 as soon as December.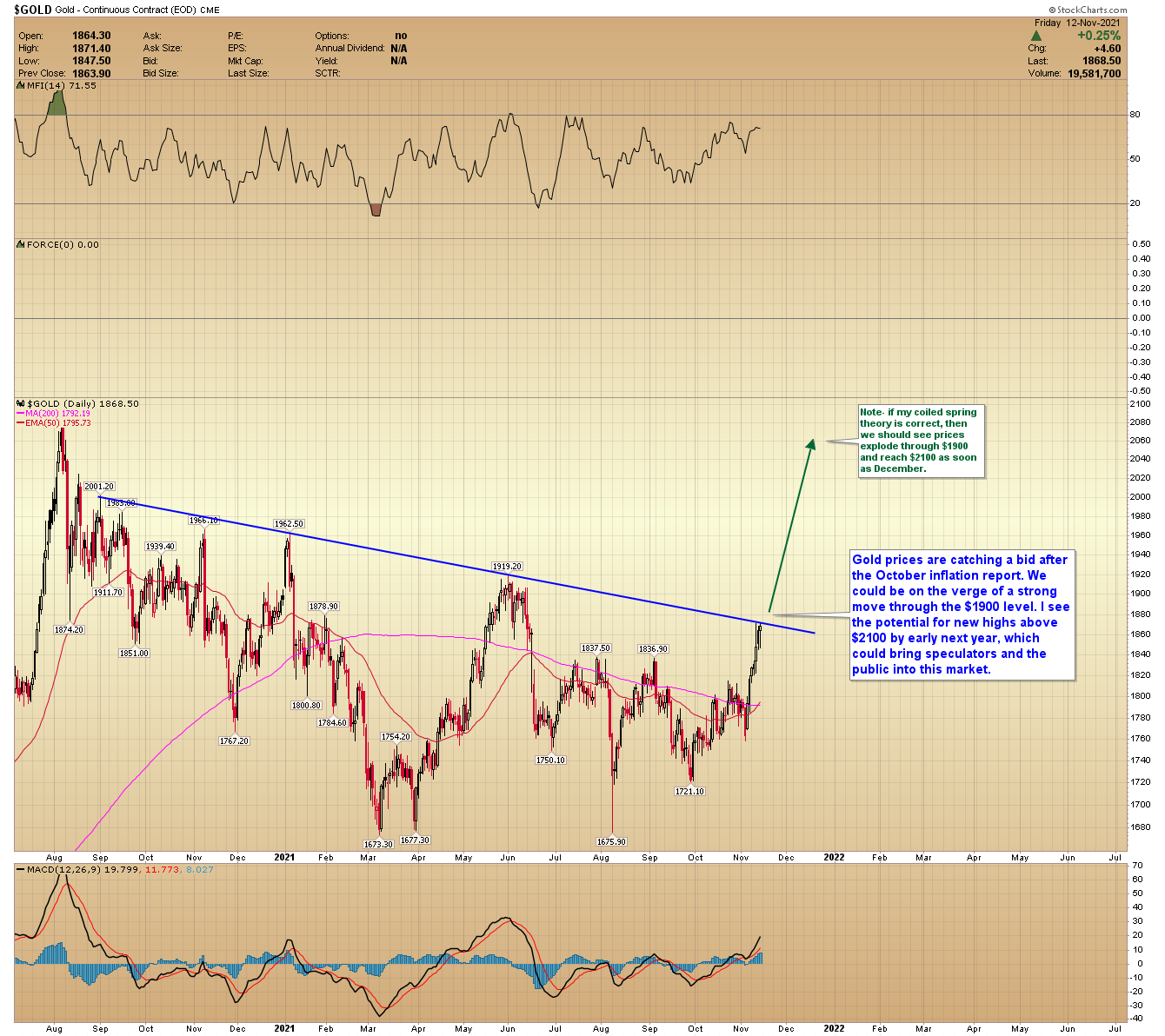 Silver Prices
The price action in silver looks promising, with prices closing the week above $25.00. If prices accelerate through $26.00, we could see a retest of $30.00 and a possible breakout by year-end.
Platinum Prices
Of the markets I follow, I believe platinum is the smallest. If speculators enter this market, prices could begin to fly. Closing above $1150 would register a breakout, in my opinion.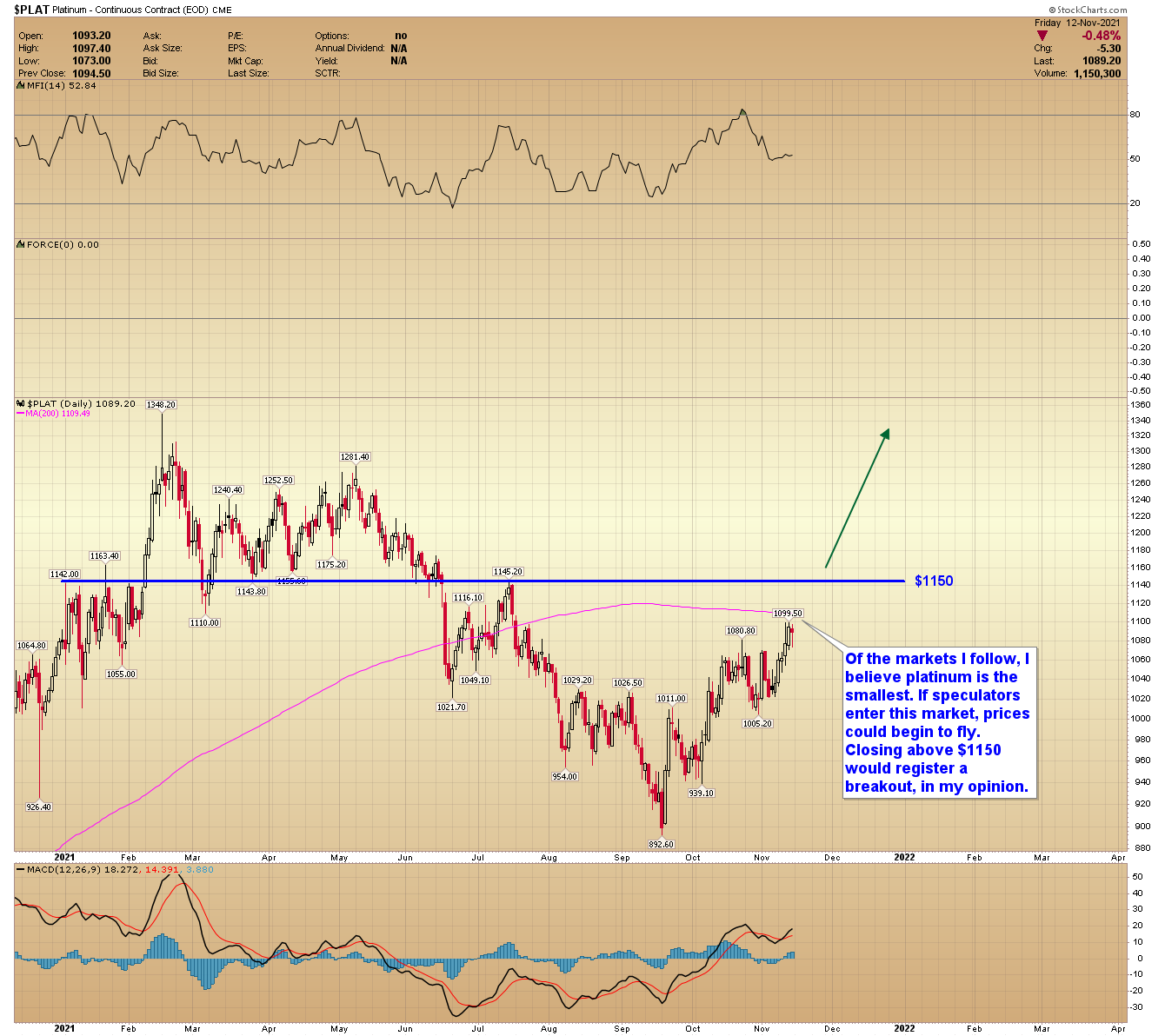 GDX
Gold miners finished the week above the critical $34.00 level, and we could be on the verge of a breakout. The next significant level of resistance arrives at around $37.00.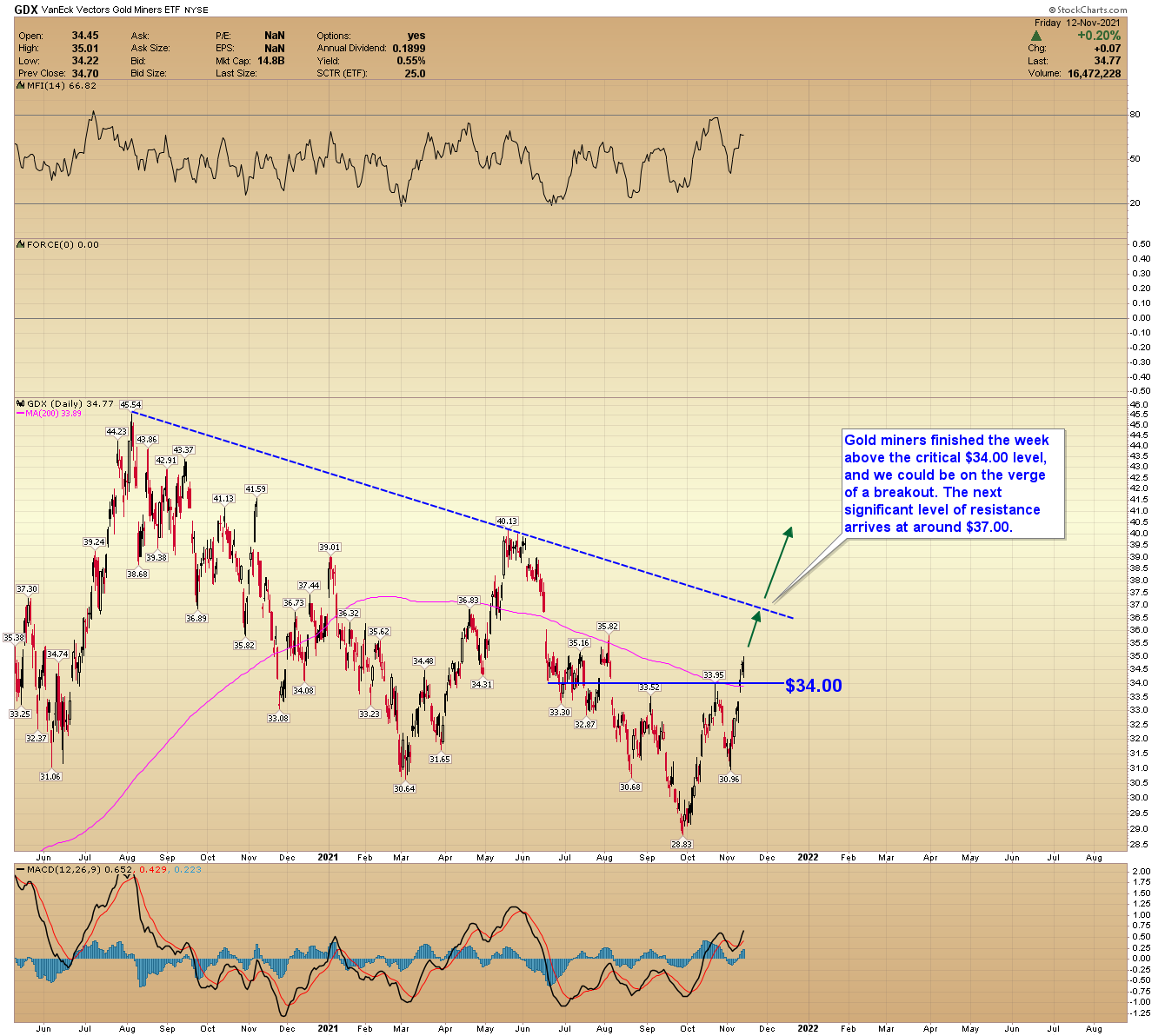 GDXJ
Juniors have resistance arriving around $51.00. Breaking above the trendline in November would be very bullish, in my opinion.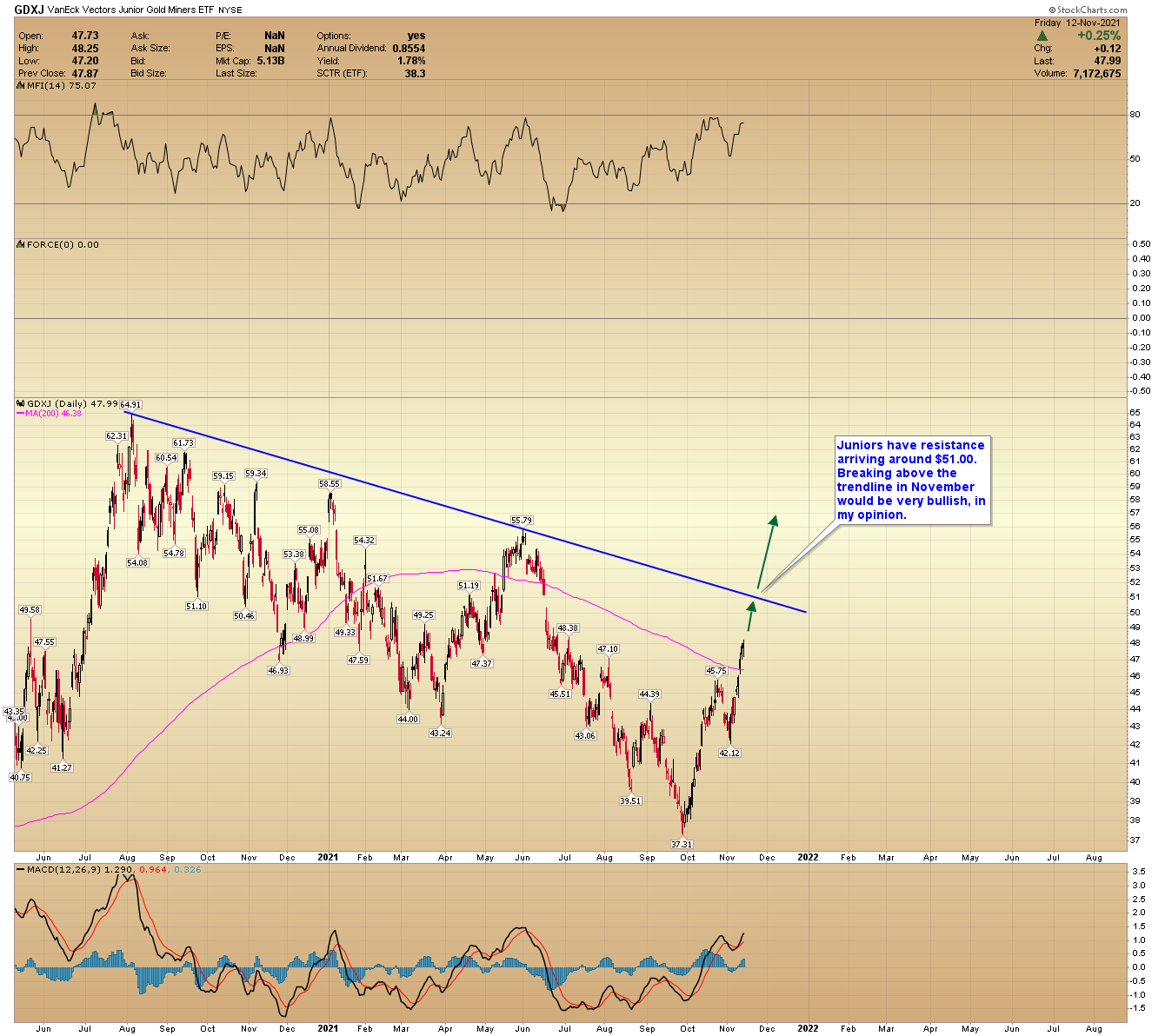 KL
Kirkland Lake finished the week above $44.00. A breakout above $47.00 is needed to trigger more upside.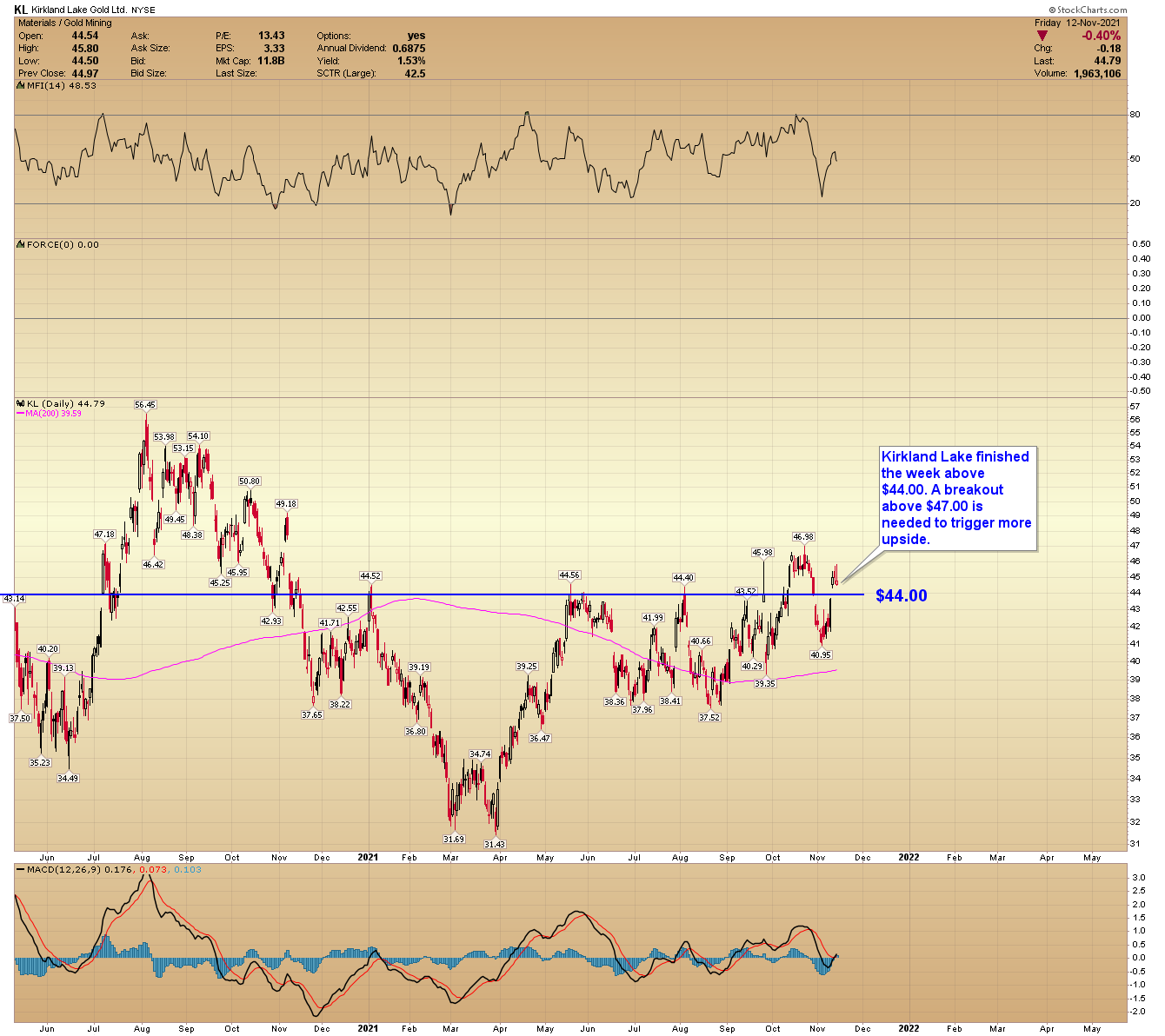 HYMC
This stock is a loser from a fundamental basis, but it holds significant meme potential, in my opinion. I discussed these factors a few days ago. If money begins to flow into precious metals and speculators find this stock, prices could explode higher. It's a long shot, but the potential is there.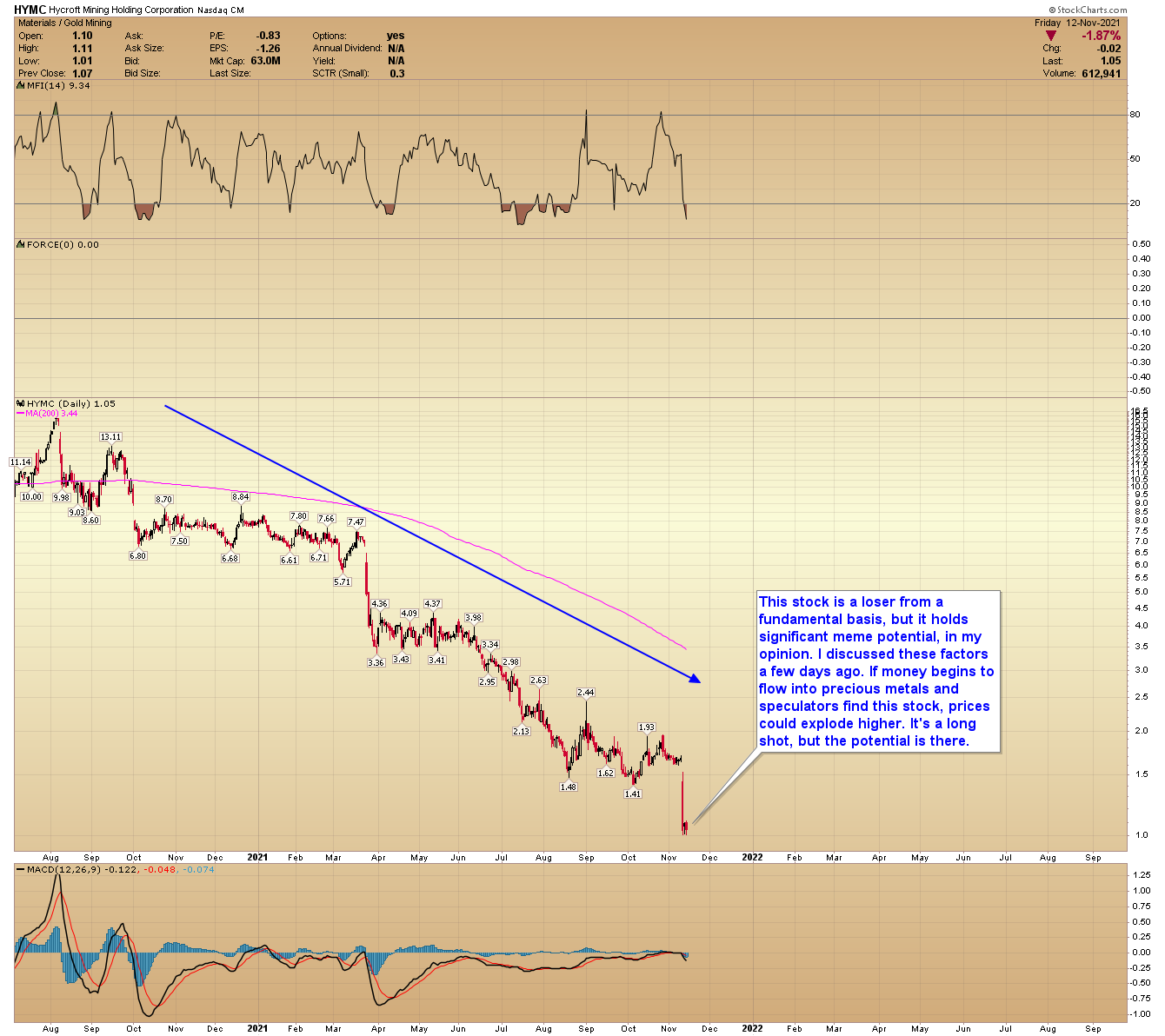 SPY
I suspect we will see a rising stock market into year-end fueled by corporate buybacks and easy liquidity. I believe the stock market is headed for rough times in Q2 of 2022.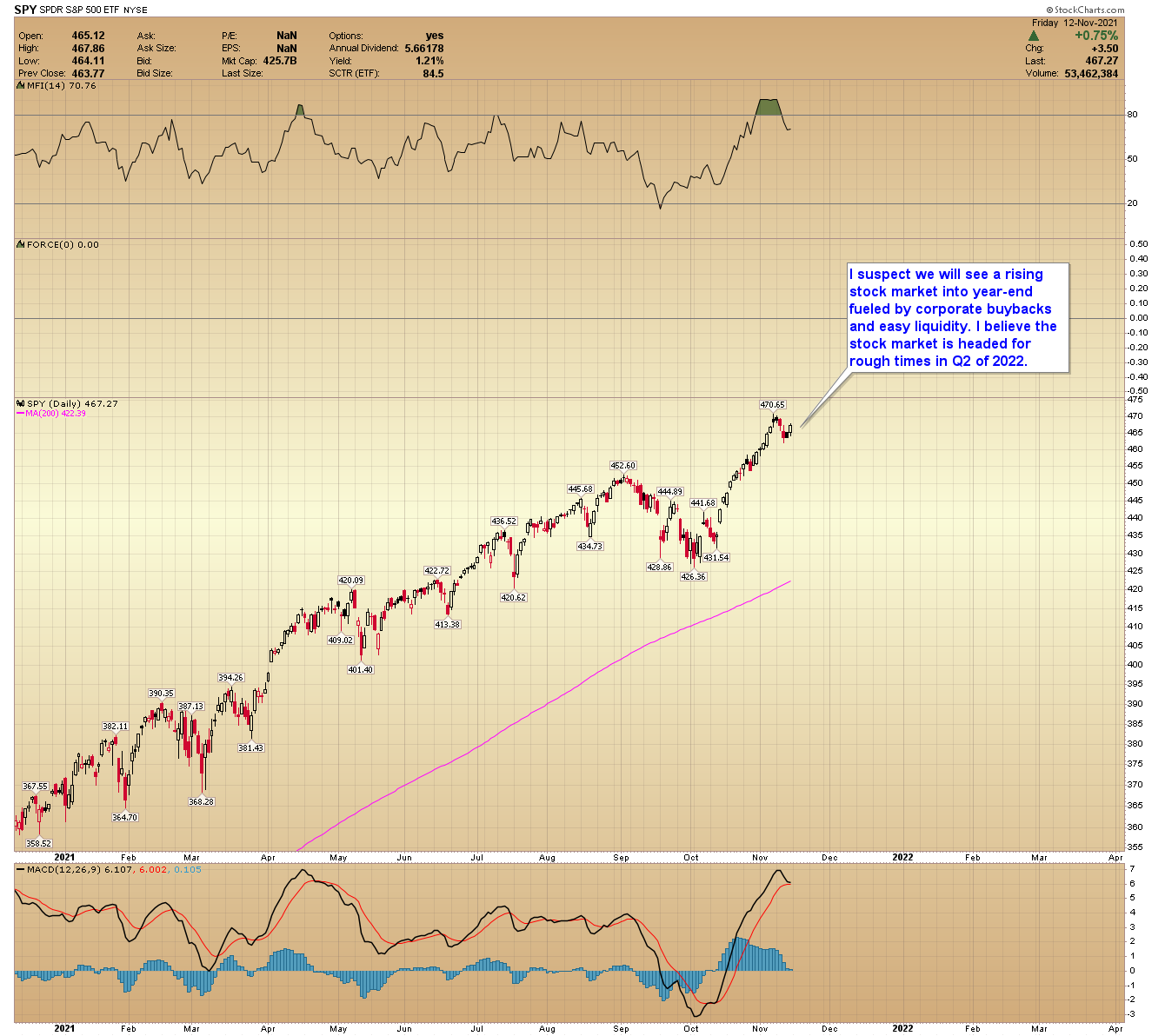 WTIC
As long as crude oil stays above $75.00, the trend is higher. It would not surprise me to see $100 oil in Q1 of 2022.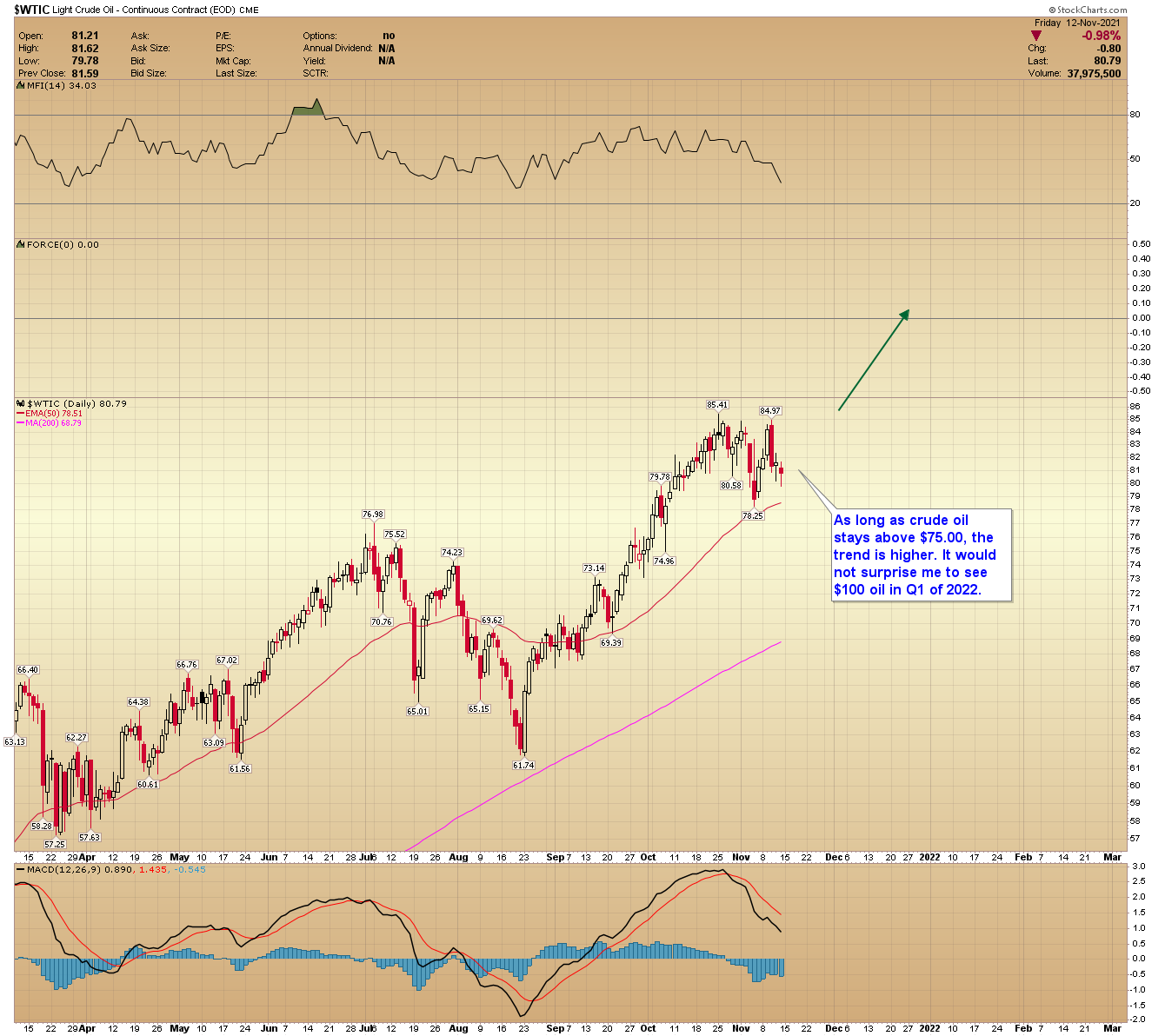 Bitcoin
Bitcoin is struggling to get above $70,000. I still see the potential for a blow-off top, but that requires a breakout above $70,000. Falling back below $60,000 would be an ominous sign, in my opinion.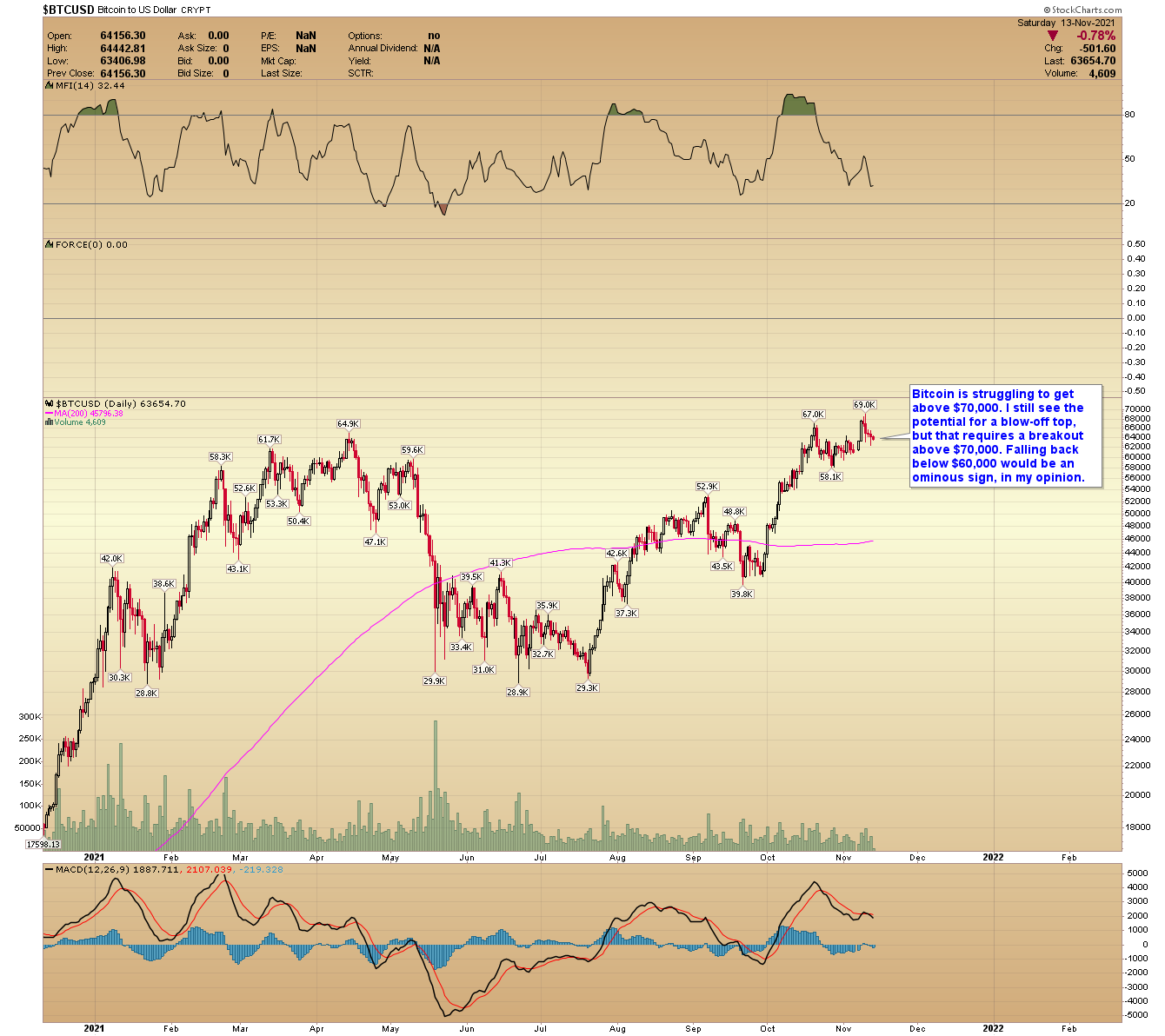 I'm traveling this weekend and will be unavailable. I will get caught up on emails when I return Monday.
Have a great weekend!
AG Thorson is a registered CMT and expert in technical analysis. He believes we are in the final stages of a global debt super-cycle. For regular updates, please visit here.
********