Gold Further Downside Probable Before Possible Blast Off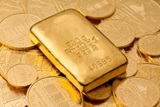 Having broken its long term bear phase with a bang gold continues to consolidate as we expected. Our best forecast scenario that we have been following for the last few months Involves a retest of support probably below $1200 before beginning a multi month rally.
Below are our current 30 day and 5 day forecasts which show we are potentially on the cusp of the retest we have been waiting for since the gold break out at the start of the year.
We didn't much care for the rise out of the 2015 lows, the problem was it was not a nice steady stealthy accumulation but a frantic disjointed parabolic short squeeze, with gold up nearly 20% in a little over a month we felt this move was unsustainable and in line with previous episodes we felt a retest and a higher low was the most probable outcome so far this is looking to be the case.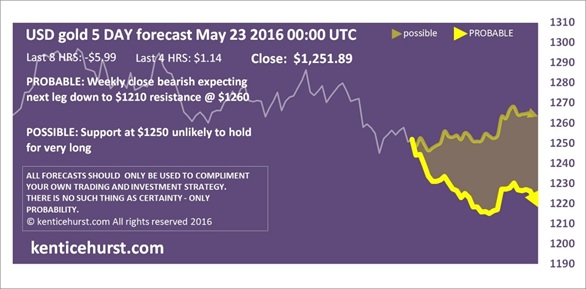 We mentioned a few months back that we felt this was a short squeeze that was more reminiscent of the 2000 bottom which took a full year to settle down before the new bull phase began. We didn't then and we still don't think this squeeze should take so long to consolidate provided it settles down but we would certainly like to see some lower prices before the picture becomes clearer.
The 1990s gold bear ended up being a double bottom after the short squeeze, there is the possibility that we could have a double bottom in a few months' time but we believe a higher low would be more likely at present. The buyers were more than likely shorts who couldn't push through their advantage and were probably liquidating profitable positions to cover losses in other markets.
We urged caution to anyone thinking about buying something that had risen so much so quickly we said patience should be rewarded. We said we believed there would be better positions to be had that represented a better risk reward than the current price which was at extreme levels relative to sentiment.
For long term bulls and those holding physical positions, we should be about to experience the shakeout of the weak hands that chased this rally to extreme levels. Once and if this shake out occurs a new bull leg will begin. Patience and a strong constitution will be required over the coming weeks but there could well be a massive opportunity for the contrarians and the patient.
You can follow our daily and intraday gold forecasts on our website, we post regularly on our twitter account which is on our home page. Our forecasts are fractal patterns that last for months and years, we monitor the development of these probable patterns continually to ensure we are on track. Our methodology is to create a most probable long term fractal pattern and then continually test it and model it over multiple time frames to ensure the pattern remains a probable event.
Ken Ticehurst
Come and see how we monitor our most probable forecast on a daily and intraday basis. By following these patterns on an intraday as well as a daily basis you can see how our retest scenario is progressing: http://www.kenticehurst.com
********
Gold-Eagle provides regular commentary and analysis of gold, precious metals and the economy. Be the first to be informed by signing up for our free email newsletter.
Free Gold-Eagle Newsletter!
Fresh weekly insights on gold, precious metals, and the economy
Leading authors from around the world
Always free
Stay informed!