Gold Has Begun 3rd Phase of The Long-Term Bull Market
Fundamentally, Gold is now starting to move into the final 3rd phase of this long-term bull market. The 1st stage saw the miners closing their hedge books – and the 2nd stage continuously presented news about institutions and central banks buying or repatriating gold.  The evolving 3rd and final parabolic stage will end in the distribution to small inexperienced new investors, who will be subject to blind greed and frenzied panic.
Long-Term
Nothing has changed
Precious Metals bull market continues and is moving step by step closer to the final parabolic phase (could start in summer 2014 & last for 2-3 years or maybe later)
Price target DowJones/Gold Ratio 1:1
Price target Gold/Silver Ratio 10:1
Arguments For Lower Prices

Gold overall still in a downtrend. US$1,525 is the line in the sand. Gold will need much more time to break through this heavy resistance.
MACD sell signal on monthly chart still active.
Gold reached upper Bollinger Band (US$1,398) on Friday.
Gold overbought after US$1300 rally in the last 3 weeks.
HUI not confirming new highs on Friday.
Excessive optimism in HUI Gold Bugs sentiment according to latest sentiment report. This fits well with many extremely bullish statements during last week.. e.g. technical gold trader Gary Savage expects "US$1,500.00 within next 2 weeks".
US-Dollar at very important support that might hold (at least short term).
Current stock market situation smells like 1987. If stock markets start crashing precious metals might get into troubles as well.
Last week of august and first week of September seasonal cycle is typically down for Gold and Silver.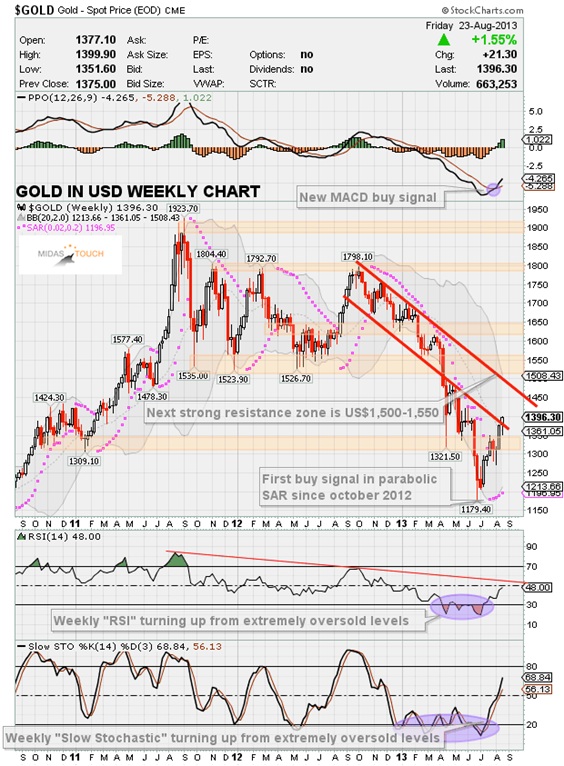 Arguments For Higher Prices:
Gold´s slow stochastic indicator on the daily chart embedded (both lines above 80), uptrend is locked in.
Gold is above 50-MA (US$1,306.91) for the first time since October 2012. Next target automatically and naturally is the 200-MA (US$1,513). Over the next couple of months gold will test this important moving average.
Gold jumped over the lower downtrend line. Next target is upper downtrend line and new uptrend-channel.
MACD buy signal active on daily & weekly chart.
CoT-Data for COMEX Gold: commercial short position still very low.
The seasonal cycle for precious metals remains extremely positive until end of September
Dollar might break through important support line (80,50) soon
Treasury yields rising strongly. A bigger spike in 3-month U.S. treasury yields would create a big credit crunch and precious metals could become safe haven.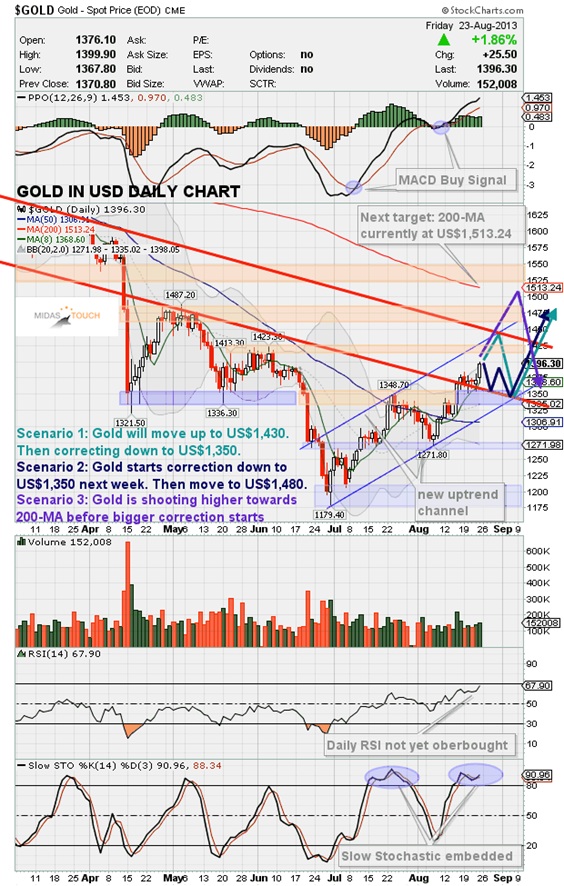 Germany
E-Mail: [email protected] 
Website: www.goldnewsletter.de