Gold In July: The Time To Buy
Charts don't make fundamentals, but fundamentals do make charts. That's because market fundamentals create liquidity flows. Those liquidity flows create technical action on the charts.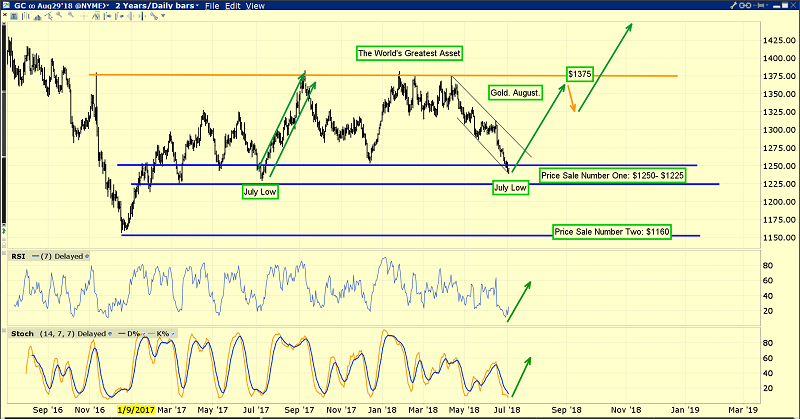 This is the important daily gold chart.
When market technical indicators like RSI, MACD, and Stochastics become oversold, the market rallies. That's a given.
What's important to investors is whether an oversold condition is likely to produce a powerful rally or just a weak upturn that fails quickly.
For gold, oversold conditions that occur in July and December tend to produce the strongest and most reliable rallies.
This weekly gold chart tells the entire story for seasonality.
The green arrows reflect rallies that began in either July or December, and the red arrows reflect rallies that began at other times of the year.
Clearly, my mantra, "Don't ask why, just buy in July!" is a proven money maker for gold price enthusiasts around the world.
There's no need for amateur investors to act recklessly and back up any trucks when buying. Approach the market like shopping in a grocery store.
I'm a very eager buyer this week of modest amounts of stock in an array of North American, Australian, and Chinese precious metal companies.
The goal isn't to figure out if any single price point could be the ultimate low of the price sale. It's simply to do some shopping across the precious metals board and enjoy it!
For emotional comfort and financial prudence, nervous investors who have a hard time buying with small size should buy put options along with their modest stock purchases.
Gold is in a very strong position for the second half of the year.
While Powell is unlikely to pause rate hikes and QT because of the stock market swooning, he might do that. Institutional money managers would view his actions as very inflationary and buy gold aggressively.
The price surge they created would be an opportunity for commercial traders and gold bugs to sell some of what they are buying now, at a solid profit. From there, these astute investors should prepare to rebuy in December.
More tax cuts are almost certainly coming, and other nations are beginning to follow America's lead on that front. China is poised to cut taxes, which is quite inflationary for both gold and stock markets.
The second round of US tax cuts comes later in the business cycle than the first one. It is likely to be viewed as much more inflationary than the first round of cuts, regardless of what Powell does.
Indian dealers are beginning to do some light buying now with the price near key support at 30,000 rupees per 10 grams. Also, some top Elliott Wave analysts see the $1225-$1240 area as a key buy zone. The bottom line:
Like the arrows on my gold charts, all the lights for gold in July 2018 are quickly turning green!
This is the GDX chart. The action is truly impressive, given that it happens while gold bullion has a $140/ounce price sale.
This is the GDX versus gold chart. What is happening with gold stocks compared to bullion right now is historic, and the fundamental driver of the stupendous outperformance of gold stocks versus bullion is the rise of inflation around the world.
A deflationary money velocity bear market has been in force since 1995. It's ending now and the GDX versus bullion ratio chart tells a thousand words of that story. Investors need to think hard about what can happen to GDX in terms of upside action, if gold rallies to above $1400 in this environment.
Bank of America's top analysts believe gold will not just touch $1400 in the coming months, but average that price in the final three months of 2018.
I've predicted that GDX will make an all-time high long before bullion does, and that's because the world is entering a period of general inflation. Precious metal stock enthusiasts need to buy in July, so they can watch their gold and silver stocks fly!
*********
Special Offer For Gold-Eagle Readers: Please send me an Email to [email protected] and I'll send you my free "The Ultimate Gold Stock portfolio!" report. I highlight twenty senior, intermediate, and junior gold/silver stocks that are poised for outrageous upside performance as gold thunders into my $1400 target price! I include detailed buy and sell tactics for enthusiastic investors.
Note: We are privacy oriented. We accept cheques, credit card, and if needed, PayPal.
Written between 4am-7am. 5-6 issues per week. Emailed at aprox 9am daily.
Email:
Rate Sheet (us funds):
Lifetime: $999
2yr: $299 (over 500 issues)
1yr: $199 (over 250 issues)
6 mths: $129 (over 125 issues)
To pay by credit card/paypal, please click this link:
https://gracelandupdates.com/subscribe-pp/
To pay by cheque, make cheque payable to "Stewart Thomson"
Mail to:
Stewart Thomson / 1276 Lakeview Drive / Oakville, Ontario L6H 2M8 Canada
Stewart Thomson is a retired Merrill Lynch broker. Stewart writes the Graceland Updates daily between 4am-7am. They are sent out around 8am-9am. The newsletter is attractively priced and the format is a unique numbered point form. Giving clarity of each point and saving valuable reading time.
Risks, Disclaimers, Legal
Stewart Thomson is no longer an investment advisor. The information provided by Stewart and Graceland Updates is for general information purposes only. Before taking any action on any investment, it is imperative that you consult with multiple properly licensed, experienced and qualified investment advisors and get numerous opinions before taking any action. Your minimum risk on any investment in the world is: 100% loss of all your money. You may be taking or preparing to take leveraged positions in investments and not know it, exposing yourself to unlimited risks. This is highly concerning if you are an investor in any derivatives products. There is an approx $700 trillion OTC Derivatives Iceberg with a tiny portion written off officially. The bottom line:
Are You Prepared?