Gold Miners Forecast: Major Breakout Underway
The gold mining complex is breaking out of a large and powerful pattern which suggests years of gains and hundreds of percentage points lie ahead for investors. For those who possess the proper risk tolerance for this type of investing, the time to get involved is now.
What is this pattern that we are talking about?
It is called a stage one base.
The breaking of a stage one base represents the most powerful time to get involved in a market – and the gold mining complex is breaking out, just now.
What is a Stage 1 Base?
Stage theory says that all asset classes move in four distinct stages. They are:
Stage 1 – base: a consolidation period following a bear market in which prices move sideways for months to years; which leads to a…
Stage 2 – advance: the most exciting part of the market lifecycle, during which asset prices rise in a bull market; which then leads to a…
Stage 3 – top: a distribution period following a bull market in which asset prices move sideways; which precedes a…
Stage 4 – decline: the most challenging part of a market lifecycle, a bear market, in which asset prices fall for months or years.
Following a stage 4 decline, a new base may form and the cycle will start again.
Visualizing Stage Theory
We can visualize these four market stages via the following diagram: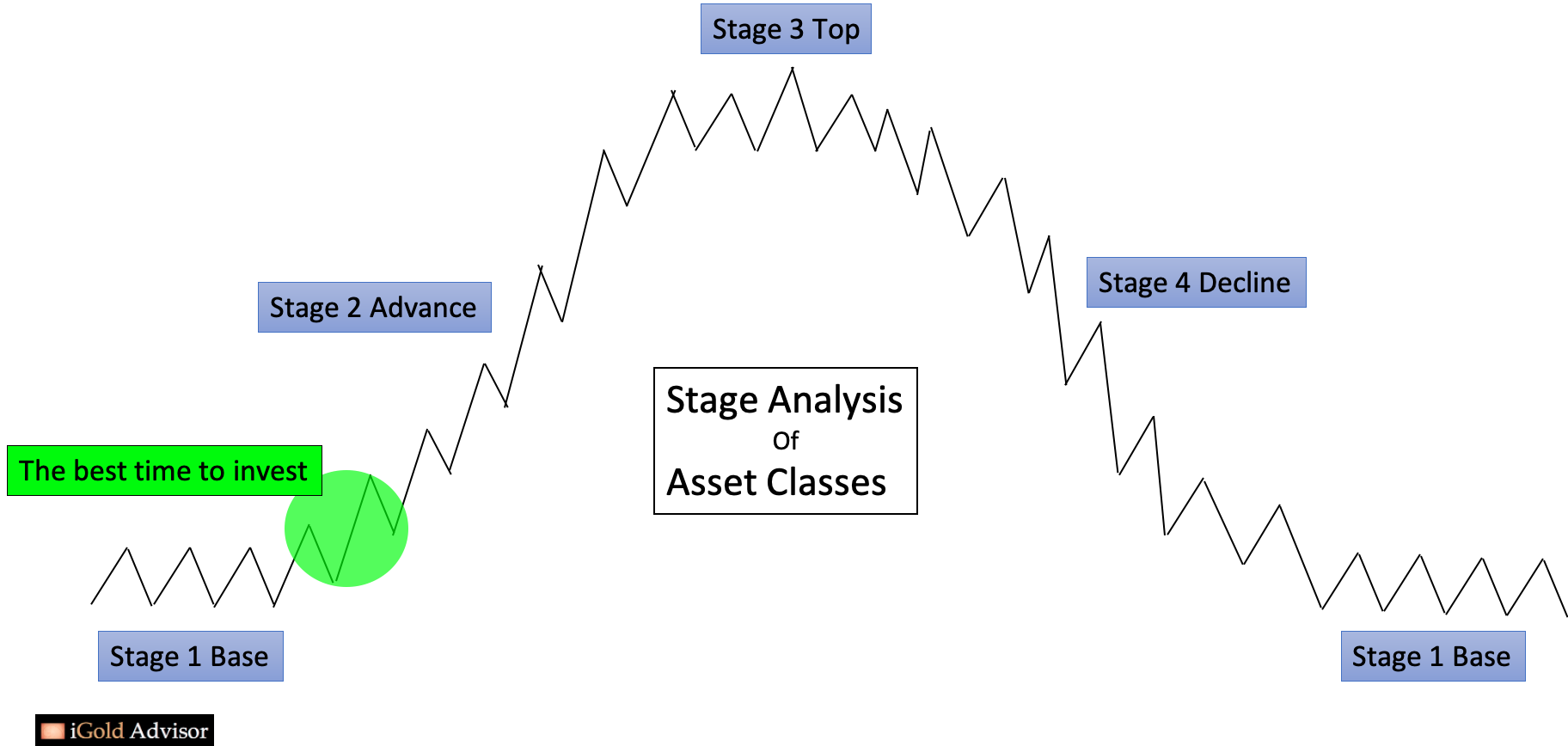 For reference, when is the best time to invest in an asset class?
At the very end of the stage 1 base, or early in the stage 2 advance, as shown above in green.
After a stage 1 base, many months or years of gains typically lie ahead for investors.
And what more, the longer the base, the better. The reason for this is because the longer that a market consolidates, the more energy that it stores up through for an eventual breakout.
Gold Miners Entering Stage 2 Advance
The entire gold mining industry is just now breaking out of a massive 7-year stage 1 base, and is thus beginning a stage 2 advance: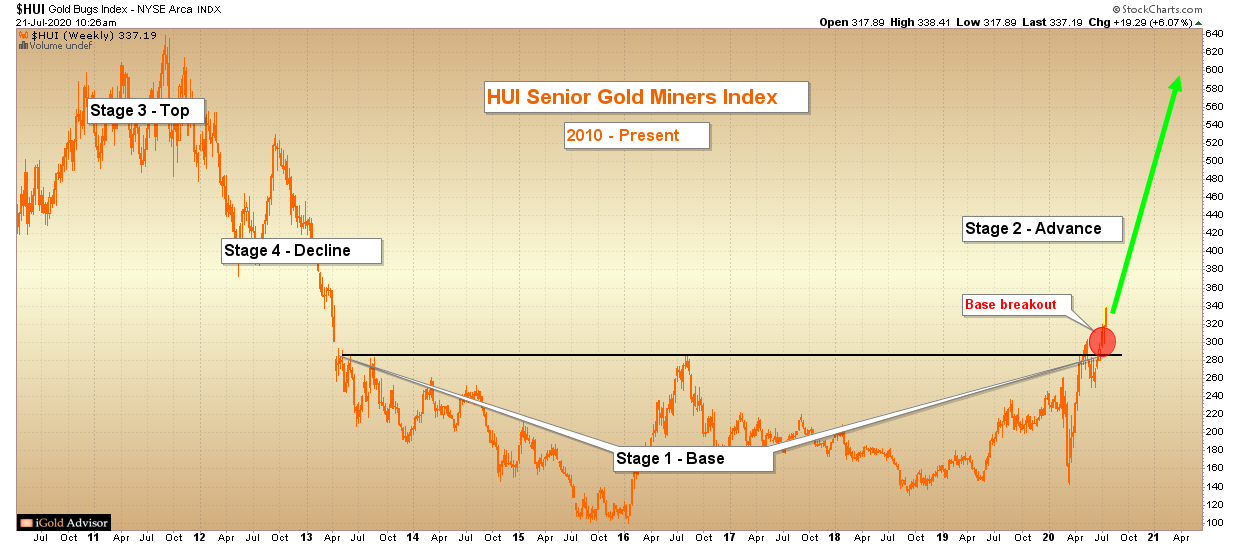 Above we show the HUI senior gold miners index from 2010 to the present.
Note how from 2010 through 2012, the index formed a grinding consolidative pattern at an elevated level. This was a stage 3 top.
Following the top, a stage 4 decline began, lasting nearly four years. From 2011 through 2015, the gold miners index lost nearly 80% of its value. This was a catastrophic loss for most investors.
However, from 2013 through early 2020, as a net sum we can see that the gold miners began to move in a choppy sideways manner. Consolidation was ongoing in the industry. This was a stage 1 base.
Importantly, just three weeks ago in early July, the gold miners index finally broke out of its stage 1 base. This is a critical change in behavior for the sector.
The technical adage says: "The longer the base, the stronger the move." This could not be more true here.
After 7 years of consolidation, a major breakout is now underway – one that should see years of gains and hundreds of percentage points ahead for gold mining investors.
A Case Study – Spanish Mountain Gold
Let us apply this model to a specific gold mining stock to see its power in action. Below is a gold mining company which we purchased shares in one month ago: Spanish Mountain Gold (tickers: SPA.V – Canada / SPAZF – US). To reiterate for full disclosure: I personally own shares in the company bought at $0.10 cents per share, as does our firm, and here are the reasons why:
Yes, its fundamentals are compelling:
Nearly 4.1 million ounces of measured and indicated gold in the ground, located in politically-safe British Columbia, Canada.
An estimated all-in-sustaining extraction cost (AISC) of only $549 per ounce.
Over $9 million CAD in the bank, ensuring operational continuity for the next several years.
A pending pre-feasibility study which should prove the status of economic ore reserves due within the next 12 months.
However, what was more compelling than these fundamentals was the strong technical setup for the company: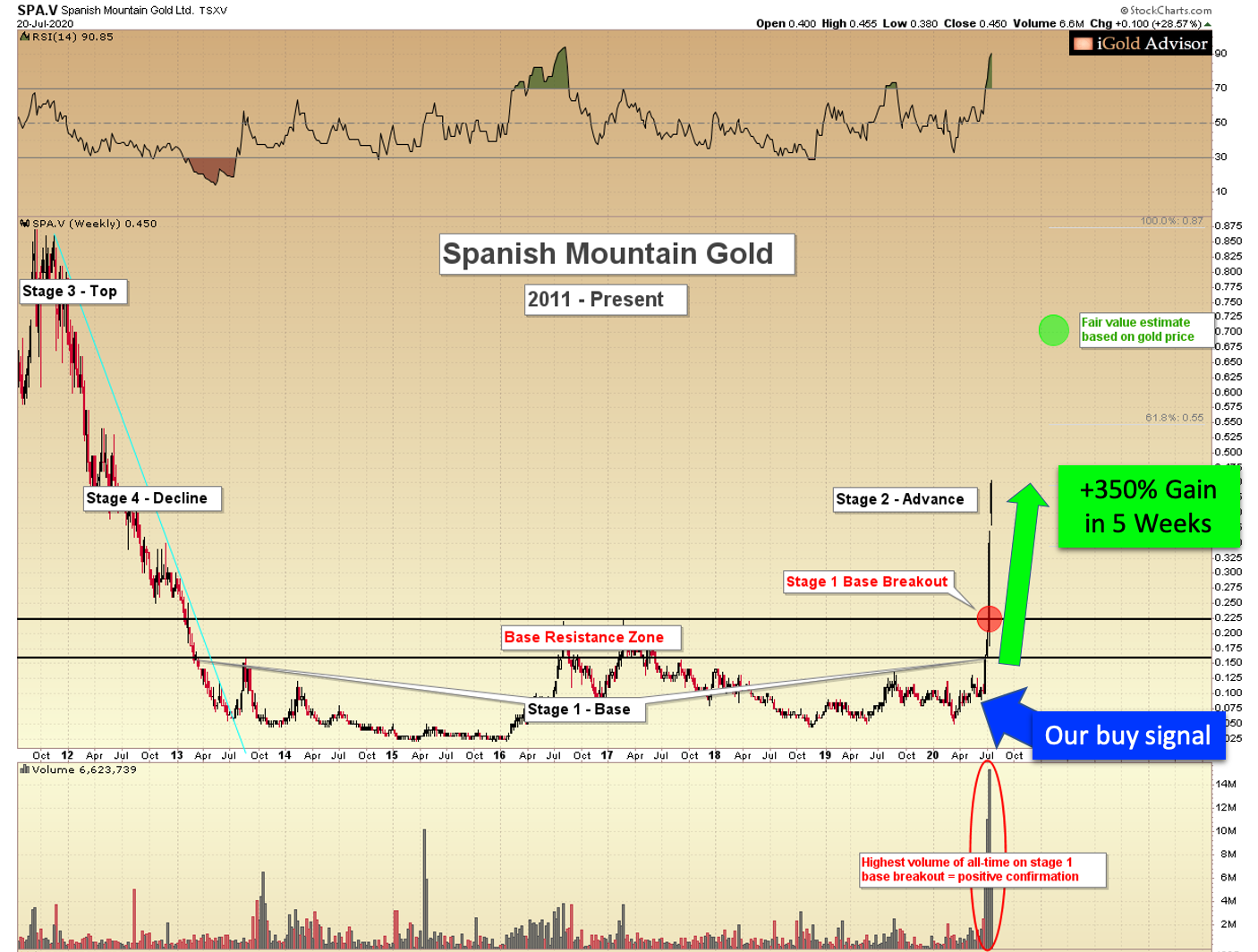 Note that Spanish Mountain Gold shares had been consolidating within a stage 1 base formation since 2013. This is a powerful multi-year pattern in which shares are moved from weak hands to strong hands. Remember the old adage: "The longer the base, the stronger the move."
Volume began to pick up in June 2020, indicating increased interest in the company.
Spanish Mountain Gold announced a $2 million financing in mid-June, which was over-subscribed.
Suddenly in early July, shares surged to break their stage 1 base resistance zone (red callouts) at $0.22 cents. This is analogous to the stage 1 base breakout that the senior gold miners have recently witnessed.
In contrast to the senior gold miners, which have only risen 12% above their stage 1 base, Spanish Mountain Gold has now surged by 100% above its breakout point. In sum, from our original investment we are up 350% in just five weeks, as the stock has recently touched $0.45 (CAD) per share.
This is the power of identifying stage 1 base breakout candidates. These types of setups can provide life-altering gains for those investors who recognize them. And while Spanish Mountain Gold should have more gains ahead over the coming years, investors should now be searching for the next breakout candidates.
The Keys to Identifying Strong Gold Mining Candidates
A company should be within a strong multi-year stage 1 base formation.
Look for increased volume signatures developing toward the end of the base to indicate expanding interest.
Make sure that relative strength is stable: if a company has broken key support, it indicates that it is a poor candidate for investment.
Takeaway on the Gold Mining Sector
The entirety of the gold mining sector has just witnessed a stage 1 base breakout, following a 7-year consolidation.
A powerful multi-year advance is underway.
Nothing is guaranteed in the investment world; the gold mining industry is volatile, and risk of failure always exists for any individual company.
While the senior gold miners should perform well over the coming years, outsized returns will come from finding high-quality miners which still remain within their stage 1 base formations.
At www.iGoldAdvisor.com we are intensely involved in searching for the next big winners in the gold mining world.
Following breakouts from stage 1 bases, powerful stage 2 advances will begin. Stage 2 advances often feature years of gains following their breakouts. For gold investors, the time to get involved is now.