Gold Needs To Be Rising In All Currencies!
Source: www.sharelynx.com                                                                   
When one thinks of gold,  it is usually always in terms of US$. Everyone has been conditioned to think that way. But if you live in Canada you most likely pay for your gold in Cdn$ not US$. For the most part one would make their gold purchase in the local currency. The above chart is not any particular local currency. Above is a gold index expressed in a basket of local currencies. This particular index does not weight the currencies. It is an equal weighted index of currencies of the top 20 countries by GDP. The chart is prepared by Nick Laird of www.sharelynx.com. Nick has also created a weighted index of the top 20 countries by GDP, however, at time of publication Nick was correcting some errors in the data.
The index is created the same as one would create the TSX Composite or the Dow Jones Industrials or for that matter the Gold Bugs Index (HUI). The index can be compared to gold in US$. Some differences do stand out.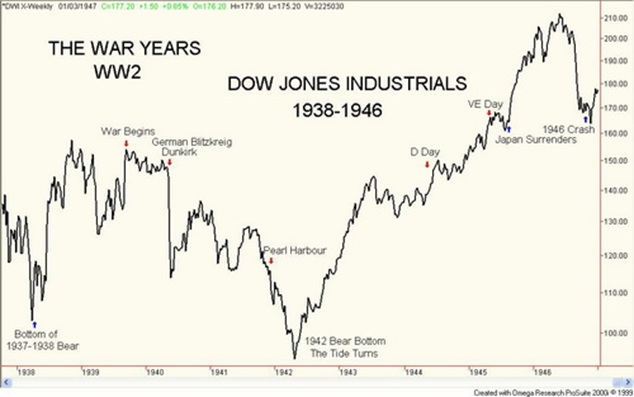 Charts created using Omega TradeStation 2000i.  Chart data supplied by Dial Data
One of the most notable differences between the non-weighted gold currency index and gold in US$ is that unlike gold in US$ the non-weighted gold currency index kept rising in the late 1990's. Not only that while gold in US$ was making a double bottom in 1999 and 2001 the non-weighted gold currency index made a higher low in 2001. What this is suggesting is that while gold prices may have been falling in US$ it was most likely rising for at least some of the currencies thus pulling the non-weighted gold currency index to the upside.
Another interesting divergence showed up in 2011 and 2012.  Gold in US$ made its top in 2011 and in 2012 it made a lower top. On the other hand, the non-weighted gold currency index made a double top in 2012 with the 2011 top. Since then gold has been falling and given the drop in the non-weighted gold currency index, gold appears to be have been falling in all currencies.
But gold has not fallen equally in all currencies. Gold in US$ is roughly down 34% from its 2011 top. The gold non-weighted currency index is, however, only down roughly 23%. That is a considerable difference. It appears that gold has fared much better in some currencies then it has in US$. In Cdn$ for example gold is only down 27% from its 2011 top. In Euros and Swiss Francs, gold is down 29% but it is only down 14% in Japanese Yen. In British Pounds, gold is down 34% but in Russian Rubles, gold is down 20% from its top.
That gold has corrected in all currencies since the 2011 top is no surprise. That it has corrected less in some currencies as these charts appear to indicate may be the real surprise. The reality for gold, however, is that in order for it rise it must be rising in all currencies. Gold will always be rising in some currencies even as it is falling in others. There will always be periods of corrections. But for a real major rally to get underway for gold it should be rising in all currencies not just a few.
If gold, should happen to breakdown and make new lows below US$1,180 the key might to watch for divergences with other currencies. Or watch for divergences in the non-weighted gold currency index such as was seen at the 1999 and 2001 low and even at the 2011 and 2012 tops. Significant divergences might be signaling that the three-year gold correction is over.  
******** 
Copyright 2014 All rights reserved David Chapman
General Disclosures
The information and opinions contained in this report were prepared by Industrial Alliance Securities Inc. ('IA Securities'). IA Securities is subsidiary of Industrial Alliance Insurance and Financial Services Inc. ('Industrial Alliance'). Industrial Alliance is a TSX Exchange listed company and as such, IA Securities is an affiliate of Industrial Alliance. The opinions, estimates and projections contained in this report are those of IA Securities as of the date of this report and are subject to change without notice. IA Securities endeavours to ensure that the contents have been compiled or derived from sources that we believe to be reliable and contain information and opinions that are accurate and complete. However, IA Securities makes no representations or warranty, express or implied, in respect thereof, takes no responsibility for any errors and omissions contained herein and accepts no liability whatsoever for any loss arising from any use of, or reliance on, this report or its contents. Information may be available to IA Securities that is not reflected in this report. This report is not to be construed as an offer or solicitation to buy or sell any security. The reader should not rely solely on this report in evaluating whether or not to buy or sell securities of the subject company.
Definitions
"Technical Strategist" means any partner, director, officer, employee or agent of IA Securities who is held out to the public as a strategist or whose responsibilities to IA Securities include the preparation of any written technical market report for distribution to clients or prospective clients of IA Securities which does not include a recommendation with respect to a security.
"Technical Market Report" means any written or electronic communication that IA Securities has distributed or will distribute to its clients or the general public, which contains an strategist's comments concerning current market technical indicators.
Conflicts of Interest
The technical strategist and or associates who prepared this report are compensated based upon (among other factors) the overall profitability of IA Securities, which may include the profitability of investment banking and related services. In the normal course of its business, IA Securities may provide financial advisory services for issuers. IA Securities will include any further issuer related disclosures as needed.
Technical Strategists Certification
Each IA Securities technical strategist whose name appears on the front page of this technical market report hereby certifies that (i) the opinions expressed in the technical market report accurately reflect the technical strategist's personal views about the marketplace and are the subject of this report and all strategies mentioned in this report that are covered by such technical strategist and (ii) no part of the technical strategist's compensation was, is, or will be directly or indirectly, related to the specific views expressed by such technical strategies in this report.
Technical Strategists Trading
IA Securities permits technical strategists to own and trade in the securities and or the derivatives of the sectors discussed herein.
Dissemination of Reports
IA Securities uses its best efforts to disseminate its technical market reports to all clients who are entitled to receive the firm's technical market reports, contemporaneously on a timely and effective basis in electronic form, via fax or mail. Selected technical market reports may also be posted on the IA Securities website and davidchapman.com.
For Canadian Residents: This report has been approved by IA Securities, which accepts responsibility for this report and its dissemination in Canada. Canadian clients wishing to effect transactions should do so through a qualified salesperson of IA Securities in their particular jurisdiction where their IA is licensed.
For US Residents: This report is not intended for distribution in the United States. 
Intellectual Property Notice
The materials contained herein are protected by copyright, trademark and other forms of proprietary rights and are owned or controlled by IA Securities or the party credited as the provider of the information.
Regulatory
IA Securities is a member of the Canadian Investor Protection Fund ('CIPF') and the Investment Industry Regulatory Organization of Canada ('IIROC').
Copyright
All rights reserved. All material presented in this document may not be reproduced in whole or in part, or further published or distributed or referred to in any manner whatsoever, nor may the information, opinions or conclusions contained in it be referred to without in each case the prior express written consent of IA Securities Inc.