Gold Price Could Reach $3200 And Silver $120
Per the sage Chinese saying, "A picture is worth a 1,000 words."  Consequently, the supporting arguments for my title forecast "Gold Price Could Reach $3200 And Silver $120," will be in visual format via 20 charts.
GOLD PRICE surges with increasing monetary base since January 2001: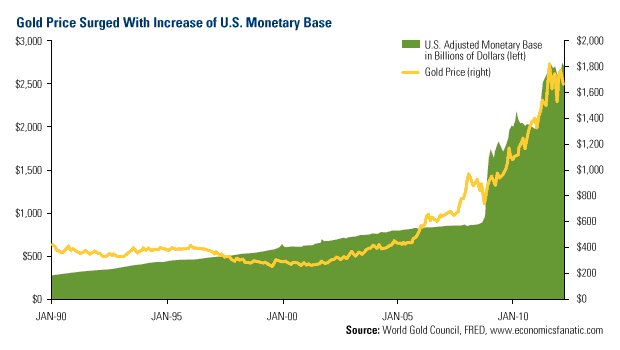 and Increasing Global Monetary Base and Growing Liquidityhave been a steroid for stronger gold prices over the past decade.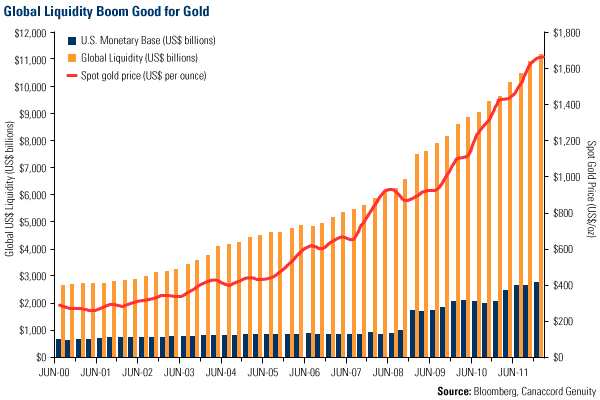 STRONG CORRELATION between Gold and Negative Interest Rates – All periods when then Fed maintained Negative Interest Rates, the price of gold surged upward.
and
Continued debasement of the US$ has been a cardinal factor gold's price rise:
Official Gold Reserves as a Percent of Total FOREX Reserves is minuscule – and therefore Central Banks need to 'catch-up' in order to diversity their dangerous currency risks: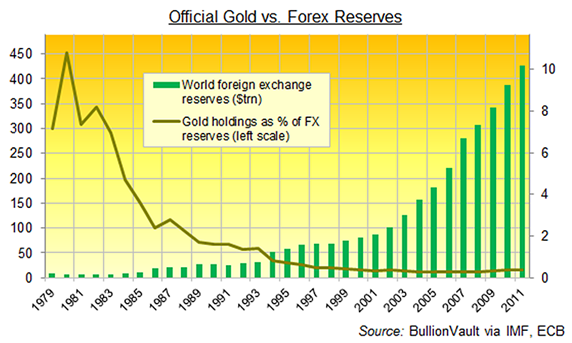 Central Banks Gold Reserves have been growing since 2009: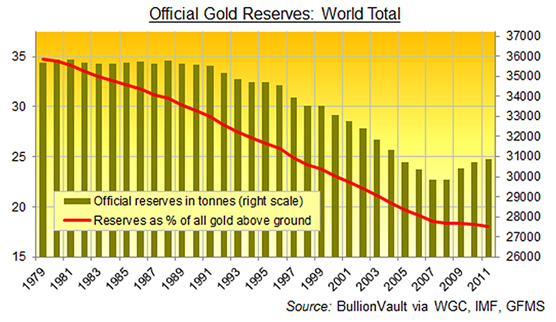 Since 2001 there has been a strong correlation between incomes in China and India and the gold price:
China's and India's exploding demand for gold has fueled higher its price ever higher since 2001: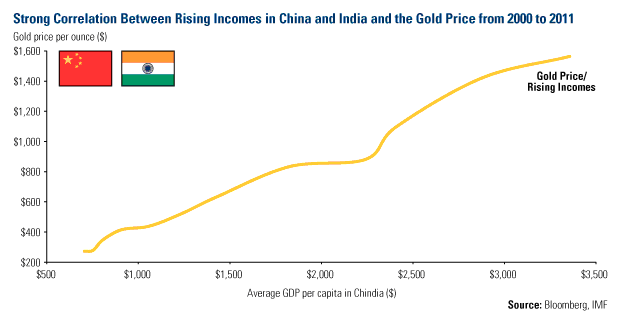 China's Gold Imports from Hong Kong are growing exponentially:
And China's gold imports vs gold price rise in concert:
The US Debt and Debt Limit are fueling the price of gold ever higher
Another view of US Debt vs Gold Price: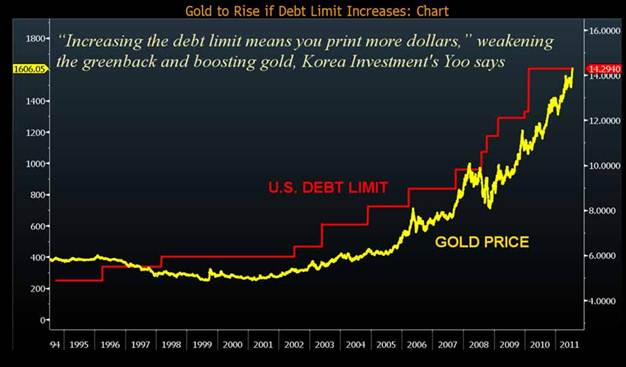 LONGER-TERM GOLD COULD REACH $3,200 per the following:
US Debt vs the gold price from 2000 through 2011, which today is about to surpass US$17 TRILLION.
Same through January 2012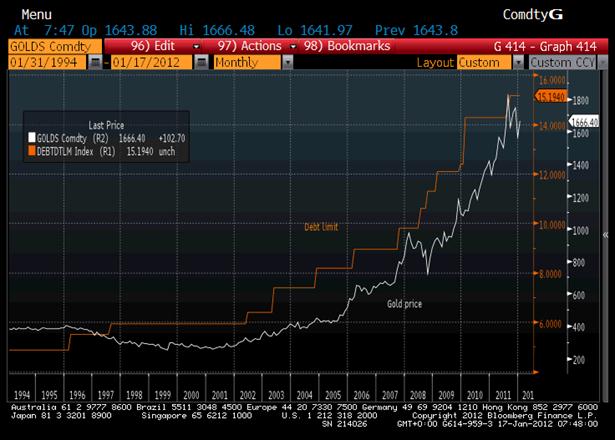 Rise in gold price vs Inflation/CPI (1974-1980):
In 1974 until January 1980 period, gold went up from US$ 129 (monthly averages) to US$ 675 per ounce at the end of the period. This is an increase of 353%. During the same time, the consumer price index (CPI), a measure of inflation increased by 67%. Effectively, gold rose 5.3% for every 1% increase in CPI.
Since 2001 gold appreciated on average +17%/year: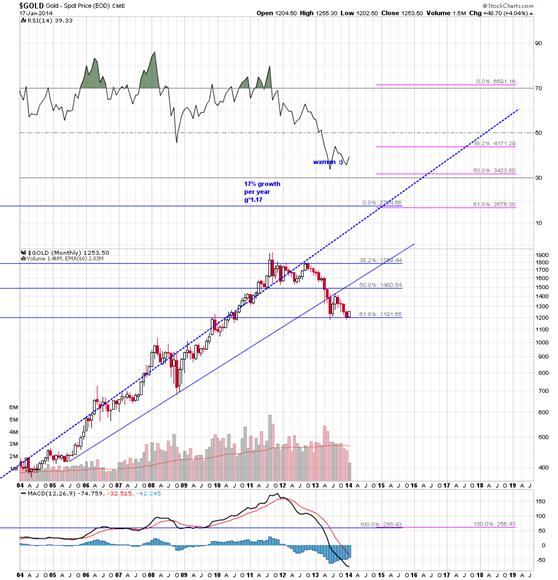 Based upon all the previous charts, and assuming gold will follow a similar 6-year trajectory (ie 1974-1980), it is estimated gold might reach $3,200/oz by January 2018. However, it conceivably could be even more, because there was NO Quantitative Easing fueling the gold price in the earlier period.
The next chart, from our friend Frank Holmes at US Global Investors, measures gold's 60-day percent change in standard deviation terms. It shows the metal's actual gain or loss in relation to its average price change-and it's never been this low.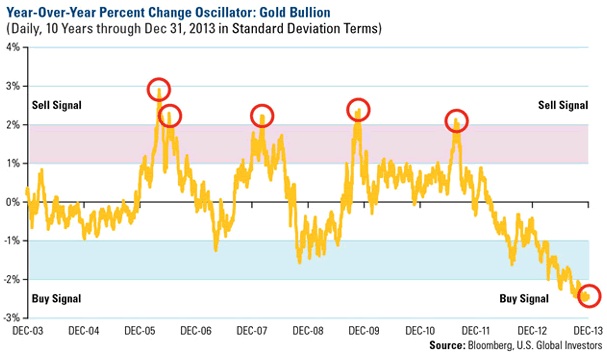 Source:  http://www.gold-eagle.com/article/contrarians-wildest-dream-coming-true
WHAT WOULD BE THE SILVER PRICE IF GOLD REACHES $3,200?
When gold topped out at $850 in January 1980, the price of silver reached $49 - producing a ratio of about 17. Assuming silver could probably again attain this ratio, then the white metal would reach $188/oz. In deed and fact silver might rise even materially higher than $188, because silver today has many mores industrial uses than it did in the 1970s.
DURING THE PAST 14 YEARS SILVER DEMAND far exceeded mine production. Thus there is a perennially chronic silver deficit, which will eventually translate into the silver price going ballistic. When growing demand exceeds supply, THE PRICE MUST INEVITABLY RISE.
All the above begs the question:  In light of all the above,  what can we reasonably expect from gold mining share prices in the near future ?  AGAIN…HISTORY IS THE BEST TEACHER!
TRUE IN 1999...AND EVEN MORE TRUE TODAY
Price-to-earnings ratios of the 15 largest gold producers are at their lowest level in 14 years, and less than half what they were when the bull market got under way in 2001.
Source:  http://www.gold-eagle.com/article/contrarians-wildest-dream-coming-true
Finally, the HUI/Gold ratio is at its lowest point in history, and the HUI/gold ratio-the other major gold stock index-shows that gold stocks are now cheaper than they've been since the beginning of this secular bull cycle in 2001.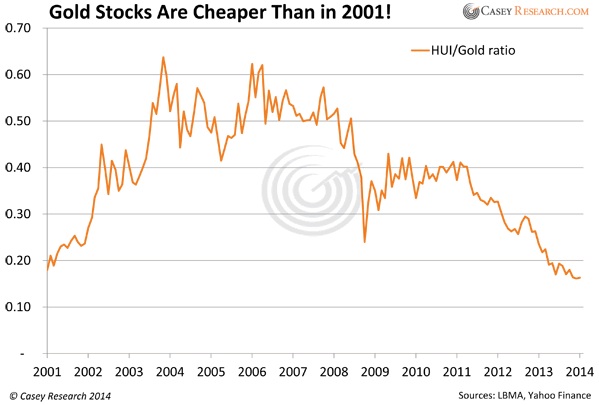 Of course, just because something is cheap today doesn't mean it will soar tomorrow. But given gold's historical role as money, butted up against monetary recklessness today, the outcome seems all but certain.
Based upon all the mentioned supportive proof,  this analyst believes the Gold Could Reach $3200 And Silver $120 in the not too distant future. And in this event we will see the replay of this 1999 Brazilian scenario: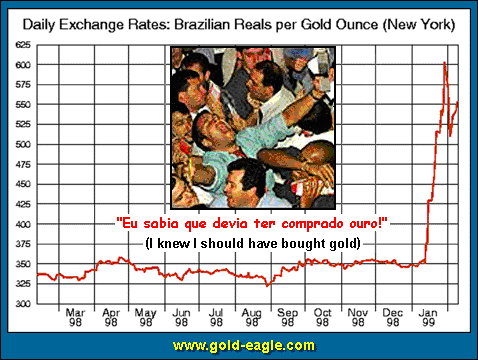 "Eu sabia que devia ter comprador ouro!" (A scene from the Sao Paulo Brazil exchange in 1999)
Only that it will be heard in various major languages…worldwide:
"I knew I should have bought gold"
"Ich wüsste, ich sollte Gold gekauft haben"
"Je savais que je l'aurais acheté de l'or"
"я знал, что должен был купить золото"
"Ma teadsin, et oleks pidanud ostsid kulda"
"Sabía que tenía que haber comprado el oro"
"Ik wist dat ik zou goud hebben gekocht"
"Watashi ga kin o kōnyū shite iru hitsuyō ga arimasu shitte ita"
"Wǒ zhīdào wǒ yīnggāi mǎi huángjīn"
"Tudtam, hogy vásárolt aranyat"
ידעתי שאני צריך לקנות זהב
…or simply "I knew I should have bought gold and precious metal equities" 
We (
Gold-Eagle.com
) provide regular commentary and analysis of gold, precious metals and the economy in general. Be the first to be informed by signing up for our free email newsletter. You can also stay connected by following us on
Facebook
,
Twitter
, or
Google Plus
.
Free Gold-Eagle Newsletter!
Fresh weekly insights on gold, precious metals and the economy
Leading authors from around the globe
Always free, and your email address is never shared
Stay informed!