Gold Price Forecast – Crisis Indicators Flashing Red, Gold Near Critical Bottom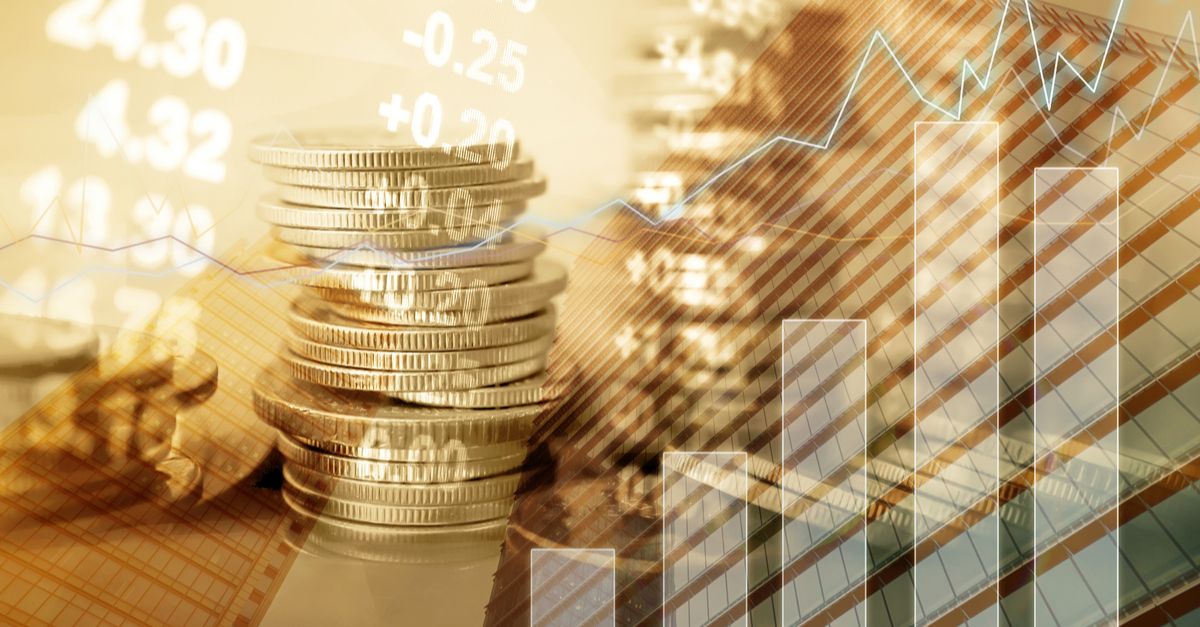 Financial stress indicators are flashing red as we head into October. Markets seem vulnerable to something breaking, perhaps in the credit markets. Gold could dip a little further, but the charts are lining up for a repeat of the 2018 bottom. 
Gold 9-Months Ago
In March, Gold was above $2000 and on its way to new highs. Prices did an about-face out of nowhere, and it's been downhill ever since. What changed? Answer: Aggressive Fed tightening.
The Fed Early This Year
Back in January, the Fed was injecting $60 billion a month into the markets via Quantitative Easing (QE), Fed funds were between 0% to 0.25%, the 2-year Treasury was yielding 0.78%, and Powell expected one or two 0.25% hikes for 2022. 
The Fed Now 
They are withdrawing $95 billion a month in QT, Fed funds are at 3.00% and rising, the 2-year yield hit 4.30% (up 352 basis points), and their forecast for two 0.25% hikes was laughable – they are on pace to reach sixteen (16) by year-end. 
When Will Gold Bottom?
With the Fed on the rampage against inflation, they have hiked rates more aggressively than at any other time in history. This destructive shift in monetary policy sent rates soaring and gold to fresh lows. For gold to bottom - interest rates need to stop rising. With financial stress spiking (see below), I think rates are close to peaking.
Financial Stress Indicators Flashing Red
The MOVE Index
The Move Index is essentially the Volatility Index (VIX) for bonds. When financial markets are stressed - it tends to rise. At 158.99 – it's now above panic levels. 
According to Bianco Research, a rise above 155 in the MOVE index commonly implies a crisis. Highlighted below are previous events such as the Great Financial Crisis, Iraq War, WorldCom Bankruptcy, September 11th, etc.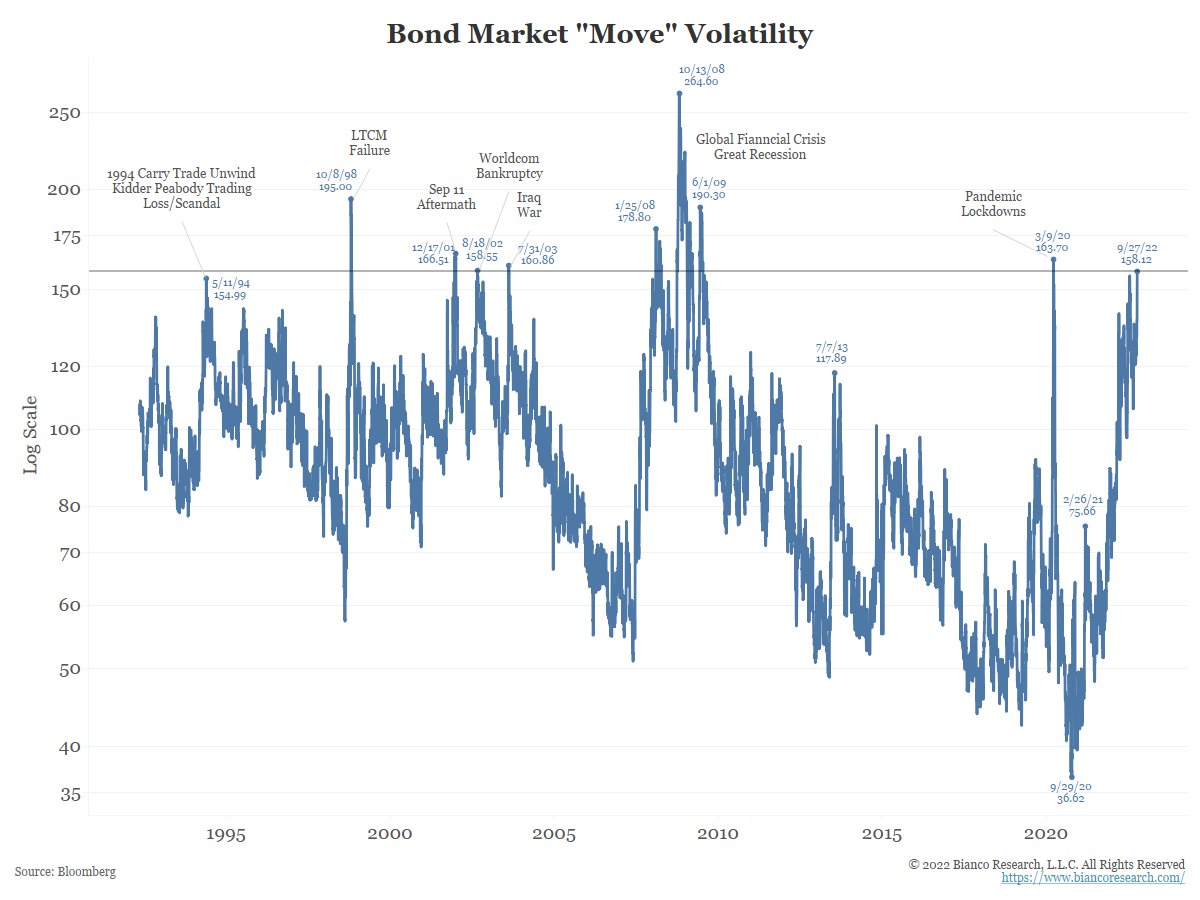 source: https://twitter.com/biancoresearch/status/1574877063818973184/photo/1
Treasury Liquidity 
The status of Treasury liquidity supports a potential plumbing issue. When markets are stressed, vanishing liquidity causes the average yield error in Treasuries to soar (see below). The recent spike to 2.93% achieved panic levels not seen since the Coivd collapse. If the credit markets freeze – expect central bank intervention.
source: https://twitter.com/biancoresearch/status/1574877068789162015/photo/1
Financial Stress Indicator
Corroborating the potential for a crisis is Bank of America's Financial Stress Indicator, which recently fell to 1.75. It remains above the Covid spike but still at levels not seen since the 2009 financial crisis.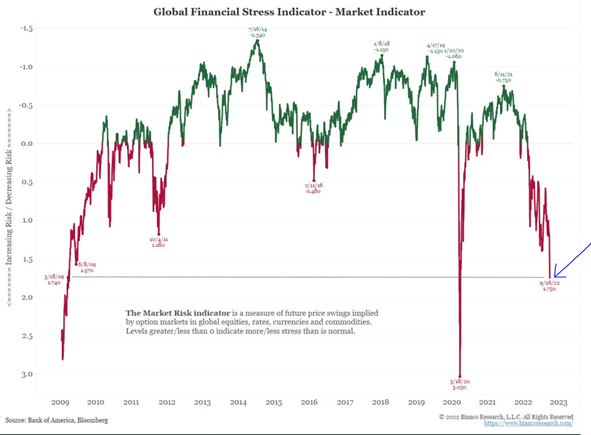 source: https://twitter.com/biancoresearch/status/1574877070966005770/photo/1
Gold Forecast: Gold has been falling since March over rising interest rates and aggressive Fed tightening. With short-term Treasury yields above 4.00%, I don't think rates can go much further without breaking something, given the current level of market stress. This looks like a repeat of the 2018 bottom. I expect higher prices in 2023, extending into a 2024 cycle peak.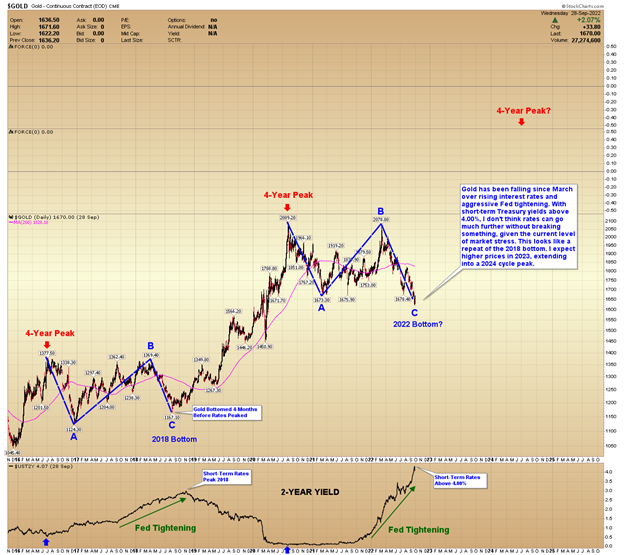 Note: Gold could spike lower temporarily...if we see a liquidity event, but overall, I'm forecasting a new advance through 2023 and into the first half of 2024.
Contrary Bullish Indicator? 
Below is a headline from the Wall Street Journal asking if Gold Lost its Haven Status? This made the front page of the business section on September 20th. Contrary indicator? I'd be surprised if people still feel this way 2-years from now.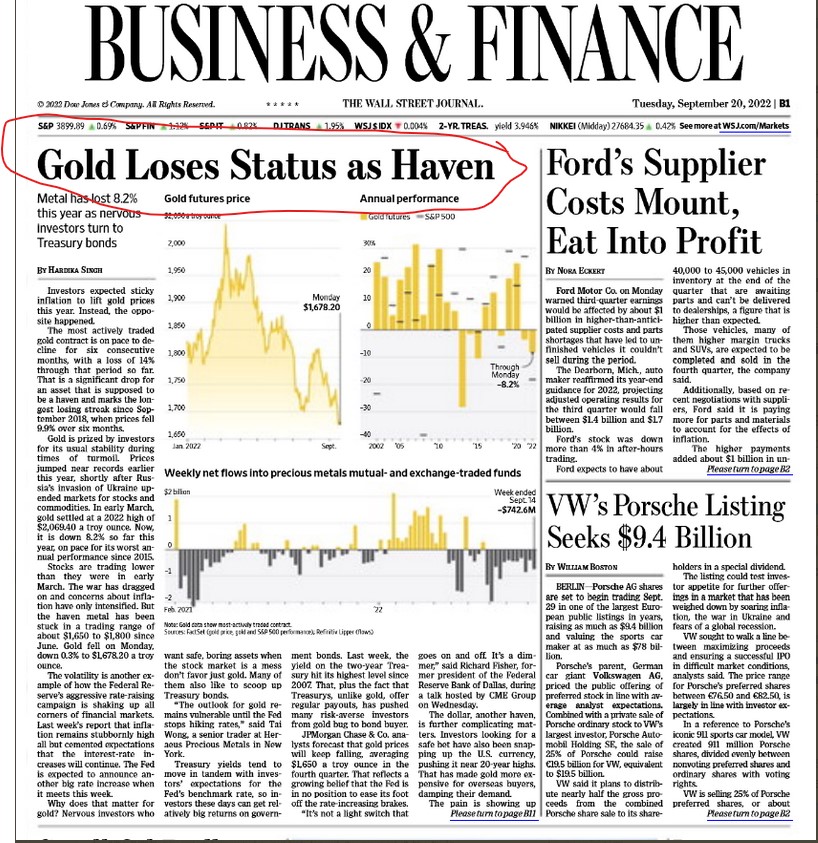 In closing, I think gold is very close to a bottom. The next few weeks are crucial. The soaring dollar could increase financial stress, which could trigger a crisis. 
AG Thorson is a registered CMT and expert in technical analysis. He believes we are in the final stages of a global debt super-cycle. For regular updates, please visit here.
********