Gold Price: Keep Calm And Carry On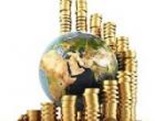 There will be a new day in the UK, it will be just different. The shock of the Brexit referendum will ease, but the effects will be long lasting. In the interim, a new Prime Minister must be appointed to negotiate Article 50 with the European Union. Additionally, its six founding members are to meet this weekend with a response.
Markets are down big time -- and no doubt will be ugly. To be sure, there will be terrific buying opportunities. But today, gold is up to a two year high in a knee-jerk reaction -- and will find some resistance at $1,350 per ounce. To be sure there is now solid support at $1,250 per ounce. In GBP terms, gold went up 15 percent overnight. Below is a gold chart from Joe Ismail. Joe is calling for resistance at $1,400 per ounce to test the $1,600 per ounce resistance high.
To date, gold has put in its best performance in three decades. Gold is a barometer of investor anxiety -- and today there is much anxiety. Gold is easily exchangeable for other currencies and obviously protected some Brits last week.
We believe under our faith-based fiat currency system, currencies will be faith tested by doubts over the solvency of the dollar system, political worries this November and geo political concerns. In an environment of failed quantitative easing, Brexit and the latest rounds of negative rates, the economic consequences are clear. Central banks are at the limits of what they can achieve, particularly without the support from their respective governments from fiscal policy. Investors and savers are looking for alternative stores of value. To be sure in the last 20 years we have seen steady debt accumulation, globalization and a shift of risk to debtors at the expense of savers. A new monetary order must emerge. Stores of values are needed and sooner or later everyone must deal with the consequences of the past. Central banks are part of the problem, not the solution. Gold will be a good thing to have.
We continue to believe the bullish long-term secular trend is intact and gold will reach $2,200 per ounce. A rising tide lifts all boats. Gold stocks, in particular the juniors currently are great buys.
John R. Ing