Gold Price Rises As Stocks Fall On Valuation Concerns, Italy And Brexit Risks
Gold and silver have eked out slight gains this week as stock markets came under pressure due to concerns about tech and oil sector valuations, Italian banks and political and financial turmoil due to Brexit.
Gold is 0.65% higher for the week in dollars and has seen greater gains in euro (+0.8%) and the pound (+2.17%). The latter has fallen due to political turmoil in the UK and Brexit concerns.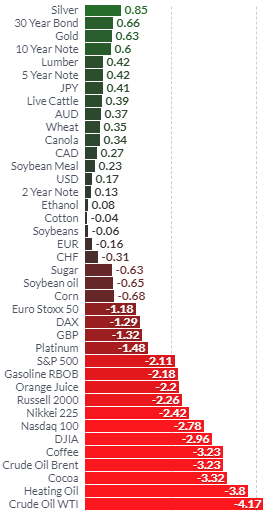 Weekly relative performance (Finviz.com)
The pound tumbled after UK Brexit Secretary Dominic Raab resigned. He was the highest-profile of several departures yesterday.
Brexit backer Jacob Rees-Mogg and Prime Minster contender later joined calls for a vote of no confidence in PM Theresa May. The turmoil throws into doubt her ability to secure the UK Parliament's support for her exit plan – and even to survive as leader.
Bookies have made the left wing Labour leader Jeremy Corbyn the favourite to take over from Mrs May – who they give 4/5 to be out before the end of 2018. This will further pressure the pound and should see gold reach new record highs in sterling terms in the months.
*********