Gold Price, Silver Price And HUI Review
Gold reached the target at $1150 and closed above that support level last Friday. Unfortunately, the weekly chart is still suggesting that price is heading lower. The three moving averages are in bearish alignment, MACD is in bear mode (both lines below zero), and the MACD histogram is moving further below the zero line.
The lower median line of the modified-Schiff pitchfork (solid lines) gives us a target of $1130 and the 100% Fibonacci extension of the A-B-C move suggests a target at $1090.
GC – COMEX Gold - weekly
Dropping down to the daily timeframe we see essentially the same picture. Price is finding support at $1150 but the rules for using Andrews pitchforks tell us that price is targeting the lower median line of the red modified-Schiff pitchfork at $1130.
On a positive note we have MACD at the same level of oversold-ness where previous declines have found support and reversed higher. MACD isn't a bounded indicator but we can use prior highs and lows to determine the current level of overbought and oversold-ness. This daily chart of Gold demonstrates this phenomenon on both the overbought and oversold side. In addition to the oversold level of MACD we have the MACD histogram turning up and rising towards the zero line.
GC – COMEX Gold - daily
Silver has horizontal support around $15.25 but, like Gold, there is a lower target beckoning. A retest of the lower median line extension of this modified-Schiff pitchfork gives us a target of $14.75. MACD is in bear mode and possibly poised to issue a sell signal.
SI – COMEX Silver - weekly
The HUI has been finding support in a zone around the $150 level and may continue to do so. Like the metals, however, the mining stocks remain in a downtrend and the pitchforks are showing us where the next potential price targets lie. In the case of HUI, the lower median line of this modified-Schiff fork gives us a target of $138. MACD is in bear mode with the histogram falling and a sell signal possible on any weakness.
HUI – Gold Bugs Index - weekly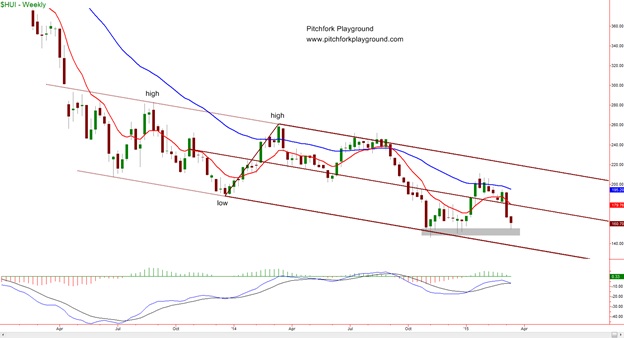 At some point the precious metals and the mining stocks are going to shift back into rally mode. I remain convinced that the metals are experiencing a cyclical bear market within a larger secular bull market. As Richard Russell points out, all bull markets end with a mania phase and this hasn't occurred yet in either the metals or mining shares. Given the duration of this cyclical bear the final phase of the bull market should be one for the record books!
********
Editor-in-Chief, Pitchfork Playground