Gold Prices Advanced To A Two-Month High On Inflation Hedge Demand Strengths
Strengths
The best performing precious metal for the week was palladium, up 12.21%. Suki Cooper of Standard Bank noted investors were factoring in a recovery in auto demand, but emission standards are likely to get tougher. Last year, palladium fell 22%. Kirkland Lake's fourth-quarter production came in at 380,000 ounces, 8% higher than consensus. As a result, full-year production of 1.43 million ounces exceeds original guidance of 1.30-1.40 million ounces.
Eldorado Gold reported 2022 guidance and a refreshed five-year outlook that is slightly ahead of consensus estimates and improves upon its prior outlook. The company's 2022 production guidance of 460-490,000 ounces is 2% higher than consensus. Five-year guidance overall is 4% higher than Eldorado's prior forecasts.
Gold advanced to a two-month high as investors sought the metal for an inflation hedge amid falling yields across the U.S. Treasury curve, writes Bloomberg. U.S. stocks slipped in choppy trading as investors assessed outlooks for earnings growth amid the potential for monetary policy tightening. Falling bond yields and a weaker greenback helped boost bullion's appeal, the article continues. Gold has mostly held above $1,800 an ounce in January, after dropping in 2021 for the first time in three years as central banks globally started dialing back on pandemic-era stimulus.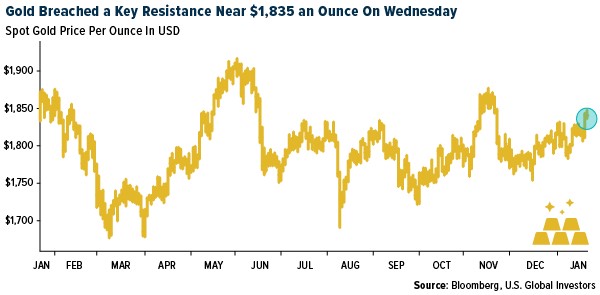 Weaknesses
The worst performing precious metal for the week was gold, but still up 0.96%. Alamos Gold's fourth-quarter production of 113,000 ounces was 9% below consensus but achieved the low end of revised annual guidance. 2022 guidance is weaker than expected, with production of 440–480,000 ounces and 6% below consensus.
B2Gold also reported fourth-quarter production of 289,000 ounces, 1% below consensus. 2022 guidance of 950-1,000,000 ounces is 2% below consensus, while cash cost guidance of $1,000-$1,040 per ounce is 19% above consensus.
A truck carrying mining explosives collided with a motorcycle in western Ghana on Thursday, reports Reuters, causing a "huge" explosion, the police said in a statement. The vehicle was heading to the Chirano Mine operated by Kinross Gold. Casualties are at least 17 dead with another 59 injured.
Opportunities
According to Stifel, Wheaton Precious Metals has announced that it will be acquiring gold and silver streams on Adventus Mining's high-grade copper-gold Curipamba project for an upfront payment of $175.5 million. Wheaton is visibly in growth mode as this deal comes after the recent precious metal's streams on the Marathon and Blackwater projects solidify growth beyond the five-year outlook. The Curipamba gold-silver streams provide the company with 50% of payable gold and 75% of payable silver production from the project.
Vox Royalty Corp. announced that it has executed a binding agreement with a private South African registered company, to acquire two platinum group metals royalties for total consideration of up to C$10,400,000. The royalties include a 1.0% gross receipts royalty for the Dwaalkop Project and a 0.7% gross receipts royalty for the Messina Project.
Fortuna Silver Mines announced that in 2021, the company produced 207,192 ounces of gold and 7,498,701 ounces of silver. Fortuna said that gold production was 274% higher compared to 2020, whereas silver production was 5% higher over 2020.
Threats
Pan American Silver reported fourth-quarter production results that were sequentially higher, but below consensus. The company also disclosed that it would not provide 2022 production and cost guidance in January due to uncertainty over COVID-related reduced workforce levels.
The long-awaited rally in Treasury yields is shaking markets and, yet, gold stands aloof, with bullion over $1,800 per ounce. Gold pays no interest. Rising yields and less negative real rates are bad for gold. But thus far, at least, the yellow metal is standing its ground.
South Africa's Association of Mineworkers and Construction Union said it will consult members on a possible strike at Sibanye Stillwater's gold mines after being granted the legal go-ahead to embark on the action. They will also hold discussions with other unions that have been part of negotiations for a new wage deal at Sibanye's three gold mines, Secretary-General Jimmy Gama said.
*********