Gold Prices For Action $1880 And $1808
Gold is often soft on Tuesday and… today is Tuesday.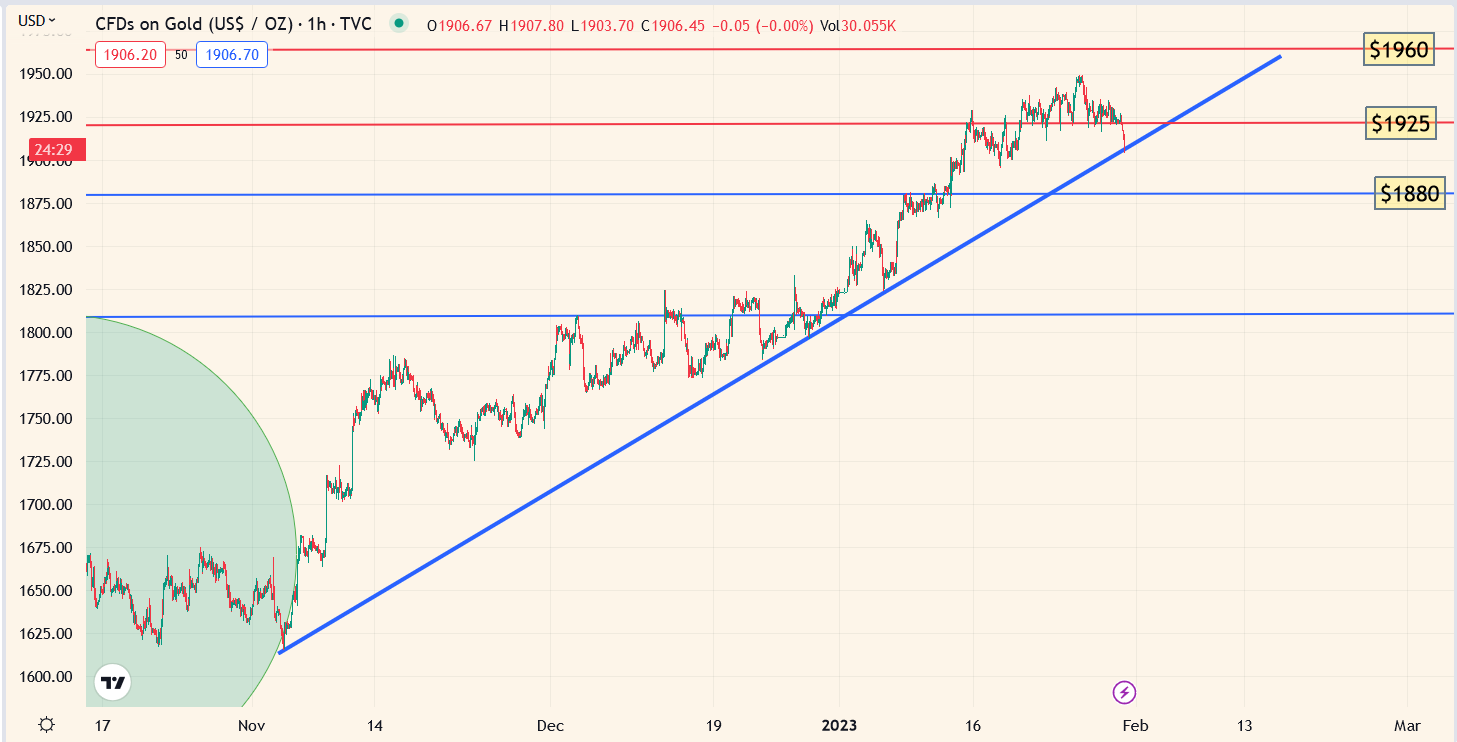 Short-term gold chart
The uptrend line is being tested today, which is not a surprise.
In just a few months, gold surged from about $1610 to $1950! I've urged investors to sell into this massive rally.   
A look at the daily chart,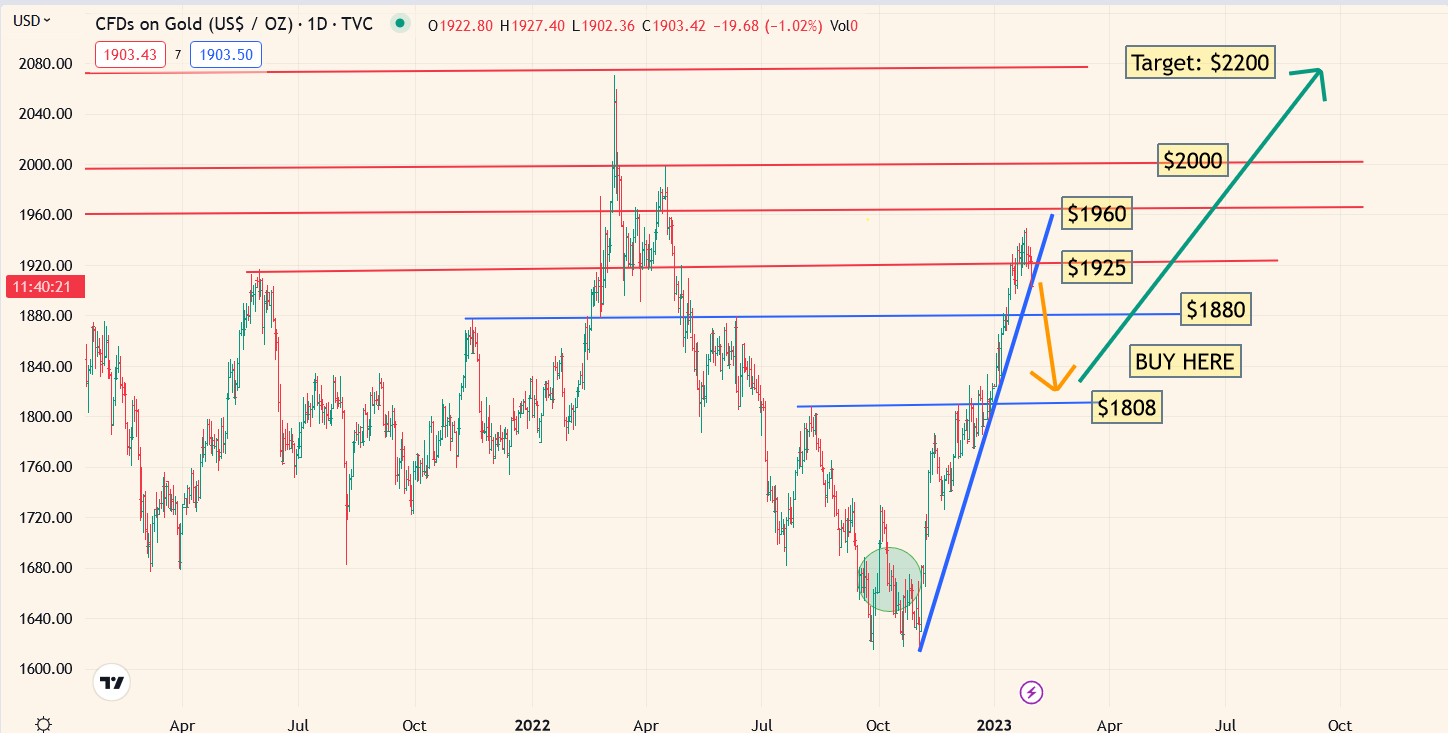 The $1880 is a key buy zone for gamblers/traders, and $1808 is for investors.
Demand in India has dropped to negligible tonnage, but citizens there are enjoying the additional wealth that the rally has created for them.  
When Indian demand dries up, it's almost always a good time for Western mining stock investors to book some juicy profits.
What about the COT report?
Modest commercial short positions are being added, but some longs too. There's nothing in the COT report that should trigger significant investor concern.
The Fed rates decision is tomorrow, and gold often declines around any Fed meeting, regardless of whether it's perceived to be positive or negative for gold.
A Fed-oriented dip from $1950 to $1880 is normal and expected after a $340/oz rally. 
What about $1808?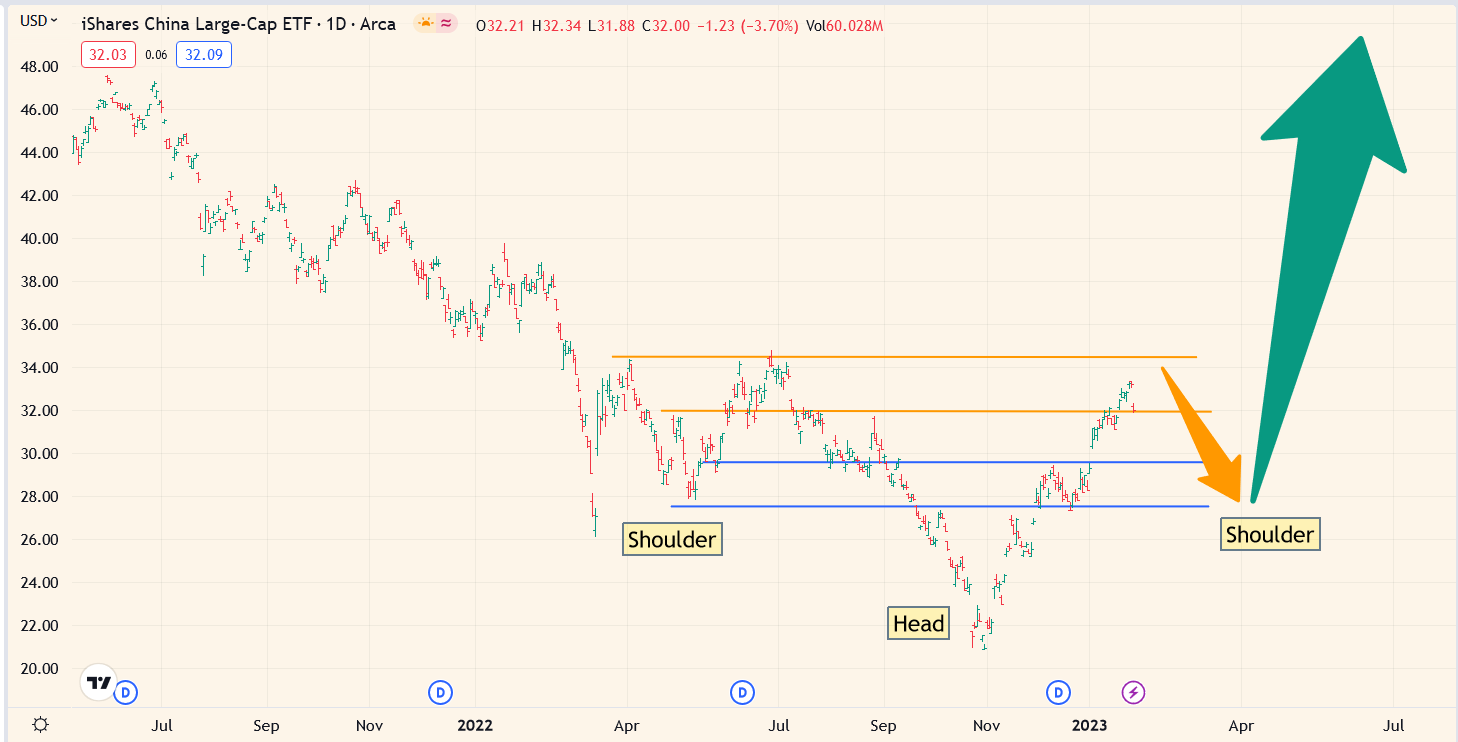 Gold has been in near-perfect sync with the Chinese stock market from the lows. A reaction is underway now for the FXI.
Most of the good news about the Chinese government Corona crisis pivot is already priced into the FXI. Chinese citizens buy gold to celebrate good economic news, but if their stock market is in correction mode, the mood sours.
The good news is the reaction could become the right shoulder of a large inverse H&S pattern… and that would be great news for gold!  
Daily oil price chart
As expected, the price action after the bull wedge "breakout" has been anemic. The bottom line:
Gold can rally in a falling rates/deflationary environment, and it's one of the reasons that gold is the ultimate all-weather asset and currency.
Having said that, to consistently attract Western mainstream money managers and retail investors to gold, inflation, war, and other fear-oriented themes need to be in play. 
With natural gas, oil, and gasoline languishing, fears of inflation are quickly diminishing.
Western governments have numbed their citizens to the horrors of the Ukraine war and turned many of them into cheerleaders for more wars (so long as they don't have to fight in the wars themselves).
War worshippers aren't afraid, so they don't buy gold. Instead, they buy the stock market, and on that note…
The Dow is not in a big investor greed zone where there is often a rise in inflation. It's not in a big fear zone where the Fed could turn dovish.  
It's in an area that is neutral for the price of gold.
Tactics for mining stock investors?
GDX versus gold chart
Since 2013, the miners have been in a huge base pattern. A breakout doesn't appear to be imminent, but the maturity of the pattern suggests it could happen by Q3 or Q4 this year.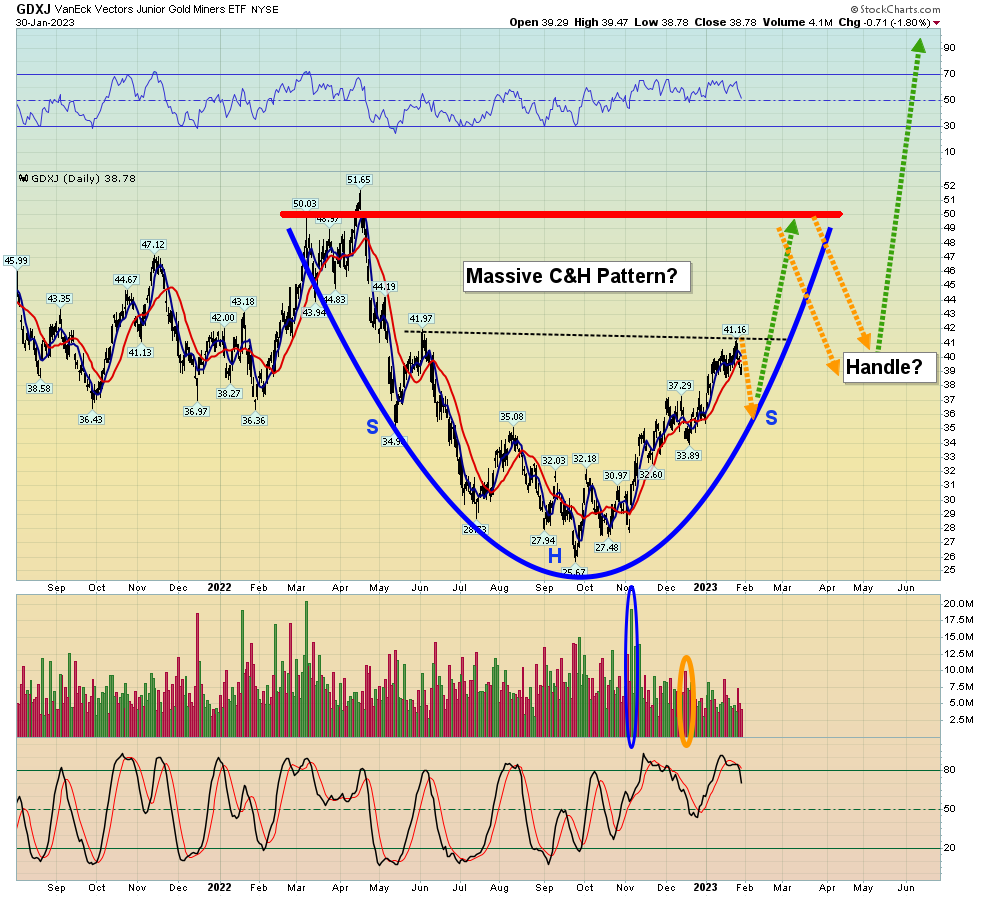 This GDXJ daily chart has a massive C&H (cup and handle) pattern forming. A pullback now would create symmetry in the pattern, if it ends at $34-$35.
The C&H target is $70-$80.If the Fed's actions and statements tomorrow are negative for gold, my $1808 buy zone becomes likely to happen. If the Fed is "more dovish than expected", and Euro growth continues to strengthen (boosting the euro vs USD), then $1880 may be as deep as this gold price reaction goes!
Special Offer For Gold-Eagle Readers: Please send me an Email to [email protected] and I'll send you my free "Gold Stock Lunar Landings!" report. I highlight key CDNX and GOEX miners that look truly ready for moonshot technical action. Key buy and sell tactics for investors are included in the report!
Thanks!
Cheers
St
Stewart Thomson
Graceland Updates
Note: We are privacy oriented. We accept cheques, credit card, and if needed, PayPal.
Written between 4am-7am. 5-6 issues per week. Emailed at aprox 9am dailyhttps://www.gracelandupdates.com/
Email:
Rate Sheet (us funds):
Lifetime: $1299
2yr: $299 (over 500 issues)
1yr: $199 (over 250 issues)
6 mths: $129 (over 125 issues)
To pay by credit card/paypal, please click this link:
https://gracelandupdates.com/subscribe-pp/
To pay by cheque, make cheque payable to "Stewart Thomson"
Mail to:
Stewart Thomson / 1276 Lakeview Drive / Oakville, Ontario L6H 2M8 Canada
Stewart Thomson is a retired Merrill Lynch broker. Stewart writes the Graceland Updates daily between 4am-7am. They are sent out around 8am-9am. The newsletter is attractively priced and the format is a unique numbered point form. Giving clarity of each point and saving valuable reading time.
Risks, Disclaimers, Legal
Stewart Thomson is no longer an investment advisor. The information provided by Stewart and Graceland Updates is for general information purposes only. Before taking any action on any investment, it is imperative that you consult with multiple properly licensed, experienced and qualified investment advisors and get numerous opinions before taking any action. Your minimum risk on any investment in the world is: 100% loss of all your money. You may be taking or preparing to take leveraged positions in investments and not know it, exposing yourself to unlimited risks. This is highly concerning if you are an investor in any derivatives products. There is an approx $700 trillion OTC Derivatives Iceberg with a tiny portion written off officially. The bottom line:
Are You Prepared?
********