Gold Rises 2.1% - Fed Loses "Patience" and Signals Loose Monetary Policies to Continue
Loose Monetary Policies to Continue
- Gold rose over 2% - Fed signals ultra-loose monetary policies to continue
- Fed dampens expectation of a rate hike in June
- Yellen no longer "patient" - notes weakness in recent US economic data
- Fed knows that fragile, debt laden U.S. economy cannot handle higher rates
- Despite recent dollar strength, dollar vulnerable in long term
- Sole reserve currency status threatened in currency wars
Gold rose sharply following yesterday's Fed announcement in which it was indicated that the Fed are unlikely to raise rates in June - although the possibility was not ruled out - due to the poorer economic data that has been emerging this year.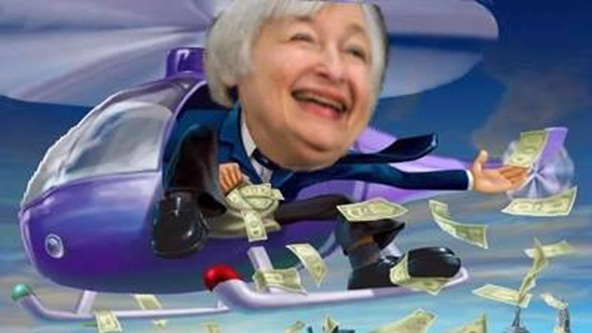 'Helicopter Janet'

Gold rose after Fed Chair Yellen said that economic growth had "moderated somewhat" which means that ultra-loose monetary policies look set to continue. The Federal Reserve dropped the word "patience" from its policy statement, stoking expectations for a mid-year rise in U.S. interest rates.
Many analysts regard this as further evidence that the Fed is caught in a bind. It needs to tighten monetary policy in order to rein in the developing bubbles in stock, bond and certain property markets. Stocks are seeing "irrational exuberance" once again and valuations surging despite declining earnings and dividends. Earnings and dividends are not likely to be improved given the weak economic data emerging from the U.S..
On the other hand, raising rates could cause the dollar to surge even higher in the short term, further undermining U.S. exports and the jobs market with a knock on effect on consumer confidence.
What is yet to be appreciated by most analysts is that it is unlikely that the massively over-leveraged and debt saturated financial system can weather increases in interest rates.
********
Courtesy of http://www.goldcore.com/us/