Gold Sees First Quarterly Drop In More Than Two Years
Strengths
The best performing precious metal for the holiday-shortened week was platinum, up 2.08%. The metal is expected to remain in deficit for 2021 as South African supplies will remain at risk of electricity disruptions and the growing use of fuel cells creates a new market where diesel fueled engines decline in the future.
Gold rebounded from a nine-month low on Friday as investors weighed the impact of President Biden's $2.25 trillion stimulus plan that would be paid for by a corporate tax increase. "The tax increase implications taking a bit of pressure off yields makes sense, and so it's net positive for gold, at the margin short-term," said Marcus Garvey, head of metals and bulk and commodity strategy at Macquarie Group Ltd.
Gold held onto its gain this weekend even as the U.S. manufacturing sector saw a significant rise in sentiment in March. ISM said its manufacturing index hit 64.7 last month, up from 60.8 in February.
Weaknesses
The worst performing precious metal for the week was silver, drifting down 0.36% on little price moving news. Gold extended declines on Thursday as the U.S. vaccine rollout and plans for more stimulus boosted both bond yields and the dollar. The yellow metal fell below $1,700 an ounce. Bullion had its first quarterly drop in more than two years and is having its worst start to the year since 1982, down 11%.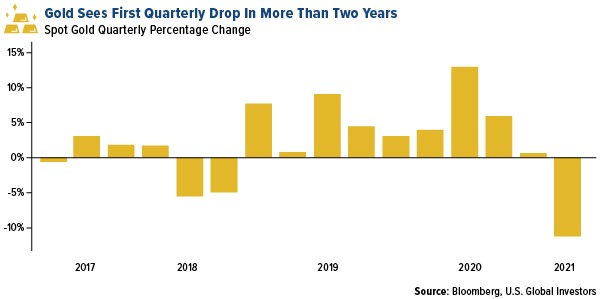 Due to a weakening market, Russia's GV Gold is putting its IPO on hold. The Blackrock-backed miner had hoped for a $1.5 billion valuation.
Norilsk Nickel, the world's largest producer of palladium and refined nickel, said it will resume full production of metals after stopping water inflows at a key mine. Bloomberg notes palladium prices fell as much as 4.4% after the announcement, while platinum dropped 1.8%.
Opportunities
The Public Investment Corp, which manages South African government worker pensions, said it has invested more than $7.4 billion in mining companies including Sibanye Stillwater, Anglo American Platinum and Impala Platinum Holdings, reports Bloomberg. Portfolio manager Mdu Bhulose said the platinum miner bet has brought "great" returns over the last three years. "The supply and demand dynamics are quite solid, and they are talking to a tightening market which should be supportive of prices."
Calibre Mining updated its mineral reserves and mineral resources at its mining complexes in Nicaragua, reports Kitco News. The miner said its mineral reserves were up 202% to 864,000 ounces of gold since year-end 2019 and after 2020 depletion. Andean Precious Metals, a silver producer focused on Bolivia, began trading on the Toronto Venture Exchange. The miner produced 5.9 million ounces of silver last year with all-in-sustaining costs of $15 per ounce.
Aberdeen Standard Investments is optimistic that gold can still rise to $2,000 an ounce, despite recent headwinds of a stronger dollar and rising bond yields. Steve Dunn, head of exchange-traded products, told Kitco News in a phone interview that the fundamental stories for gold are still in place. Dunn said that their base-case scenario is for gold to trade between $1,900 and $2,000 an ounce by the end of the year.
Threats
Bloomberg Intelligence senior commodity strategist Mike McGlone says the gold bull market has stalled. "The gold bull market has clearly stalled, and we believe it's transitioning toward a long-slog, range-bound market …Unless the higher price discovery process in Bitcoin reverses, the crypto represents a top gold headwind." Bullion could remain stuck in the trading range of $1,600 to $1,900 an ounce as the metal has lost support of ETF inflows and as investors focus more on Bitcoin and cryptocurrencies.
South African labor group National Union of Mineworkers is demanding a 15% to 20% salary increase. Workers are asking for a minimum of 15,000 rand a month and want to address wage disparity and housing allowances, reports Bloomberg.
Evolution Mining said it will focus exclusively on operations in Australia and Canada as the growth of China's influence and resource nationalism makes it increasingly difficult to develop projects in emerging countries, reports Bloomberg. CEO Jake Klein said, "they have cheap access to capital, and they have a government that has a strategic capacity to influence the national government because they're lending at a sovereign level." Klein said it will be more difficult for miners to get into Africa, citing Resolute Mining's recent termination of a mining lease in Ghana.
*********