Gold & Silver Update
Gold continues to slide down. Bears are clearly in control.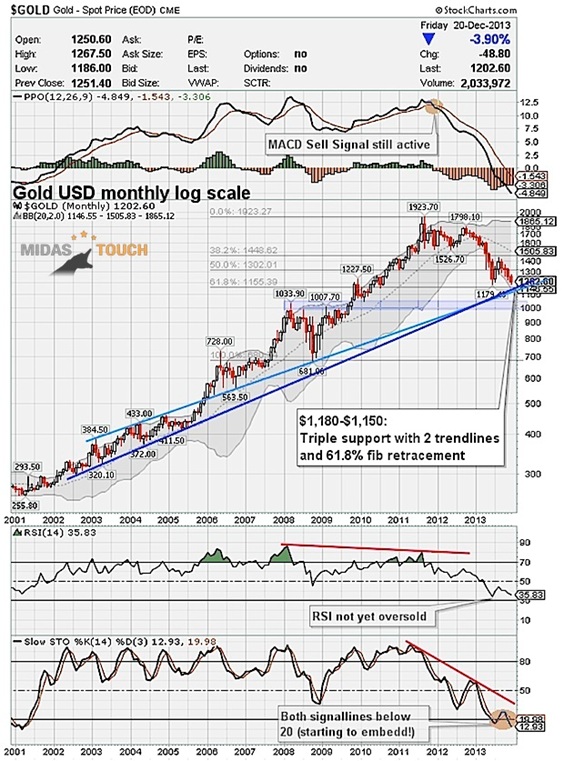 \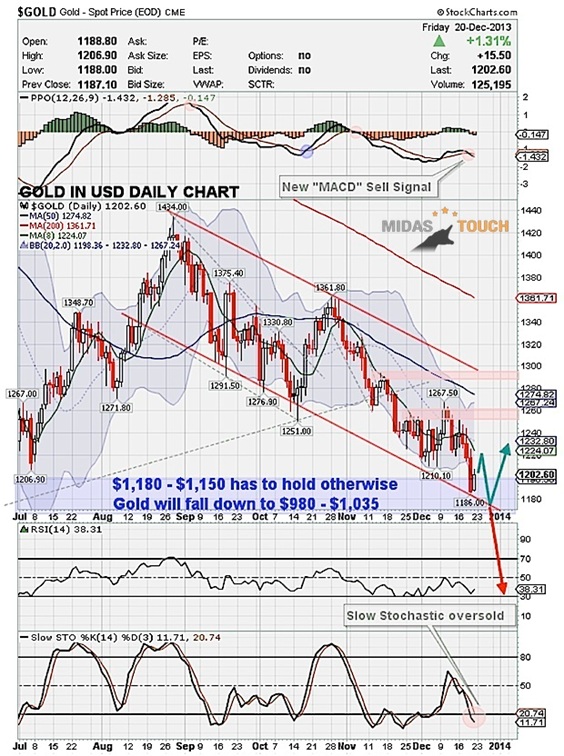 Conclusion
Gold continues to slide down. Bears are clearly in control.
1st scenario: Gold manages to hold important support zone between US$1,150.00 to US$1,180.00. This zone has triple support with two longterm trend lines and the 61.8% fibonacci retracement. Terrible sentiment, seasonality and CoT-Data support this scenario.
2nd scenario: Gold breaks below US1,150.00. In this case the door towards a test of US$980.00 to US$1,035.00 is wide open.
Personally I still believe that Gold and Silver are bottoming out here and that downside risk is limited.
Investors with a longterm perspective should continue to accumulate physical Gold and Silver while they are beaten down and trading below production cost.
Long-term
 
Nothing has changed
Precious Metals bull market continues and is moving step by step closer to the final parabolic phase (could start in summer 2014 & last for 2-3 years or maybe later)
Price target DowJones/Gold Ratio ca. 1:1
Price target Gold/Silver Ratio ca. 10:1
Fundamentally, Gold should soon start the final 3rd phase of this long term bull market. 1st stage saw the miners closing their hedgebooks, 2nd stage continuously presented us news about institutions and central banks buying or repatriating gold. The evolving 3rd and finally parabolic stage will end in the distribution to small inexperienced new investors who will be subject to blind greed and frenzied panic.
Personal note
Due to holiday preparations I am sending out a smaller analysis than normal.
I wish all my readers a very joyous and merry Christmas, full of love, fun, family and good food. Enjoy your holiday.
********
Germany