Gold Speculators Increased Bullish Bets For A Second Week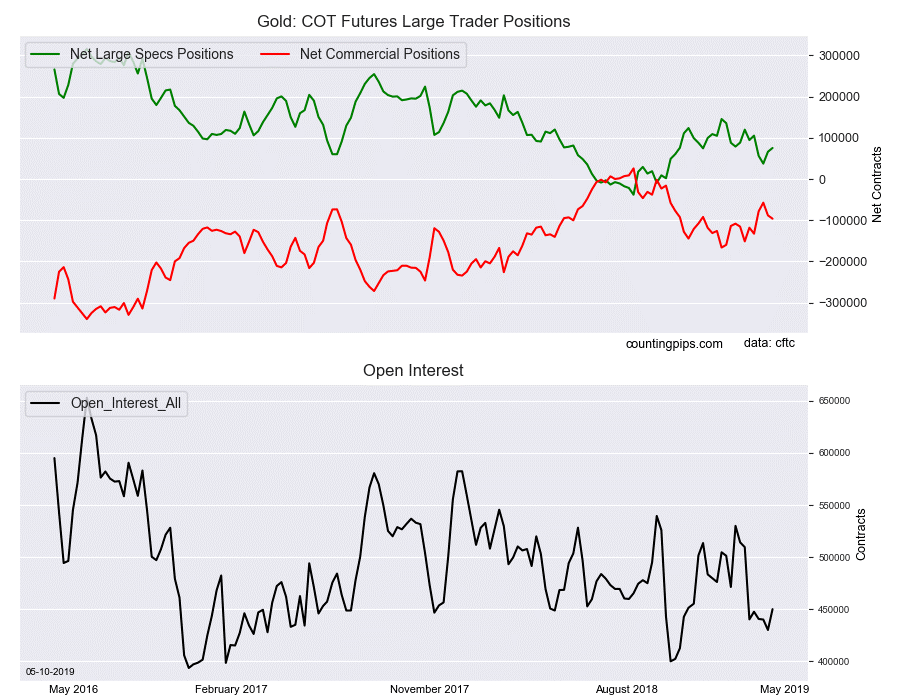 Gold COT Futures Large Trader Positions
Gold Non-Commercial Speculator Positions
Large precious metals speculators lifted their bullish bets higher in the Gold futures markets this week, according to the latest Commitment of Traders (COT) data released by the Commodity Futures Trading Commission (CFTC) on Friday.
The non-commercial futures contracts of Gold futures, traded by large speculators and hedge funds, totaled a net position of 75,411 contracts in the data reported through Tuesday, May 7th. This was a weekly gain of 9,192 net contracts from the previous week which had a total of 66,219 net contracts.
The week's net position was the result of the gross bullish position (longs) advancing by 8,526 contracts to a weekly total of 185,801 contracts while the gross bearish position (shorts) fell by -666 contracts for the week to a total of 110,390 contracts.
The net speculative position got a boost for a second straight week and has now risen to the best level in the past four weeks. Overall, gold speculator sentiment has remained positive since late October save for one bearish week in mid-January. Gold bets have fared much better than silver and copper, which are both in bearish positions currently.
Gold Commercial Positions
The commercial traders' position, hedgers or traders engaged in buying and selling for business purposes, totaled a net position of -96,359 contracts on the week. This was a weekly loss of -8,047 contracts from the total net of -88,312 contracts reported the previous week.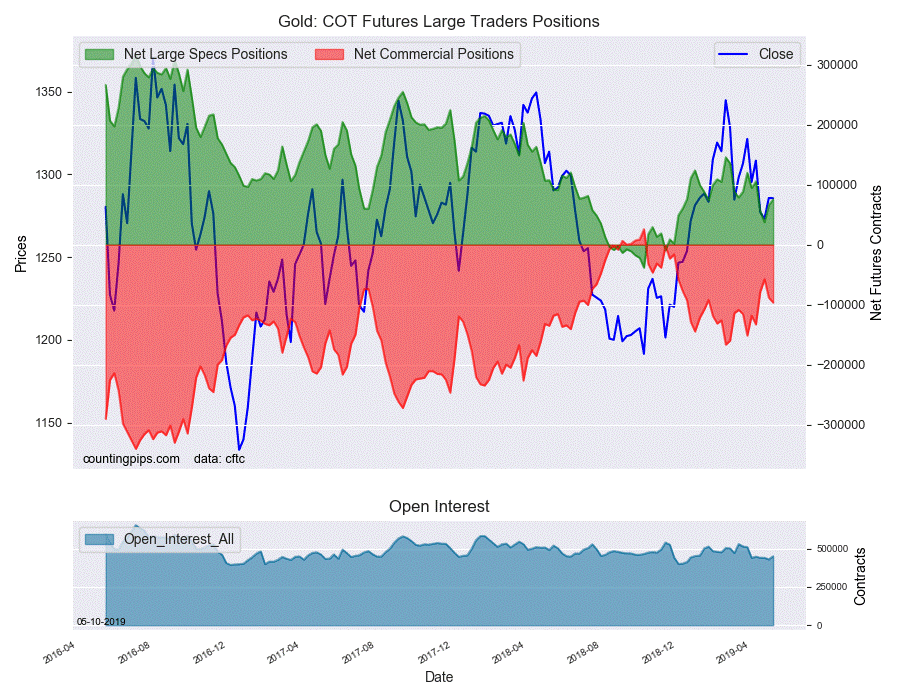 Gold COT Futures Large Trader Positions
Gold Futures
Over the same weekly reporting time-frame, from Tuesday to Tuesday, the Gold Futures (Front Month) closed at approximately $1285.60 which was a fall of $-0.10 from the previous close of $1285.70, according to unofficial market data.
*********