Gold Stocks: Buy In July And Watch Them Fly
"Buy in July to watch your gold stocks fly!"  That's a time-tested mantra from "Goldlion", who picks the junior mining stocks for my Graceland Juniors newsletter.
Sadly, this is not July.  It's the month of May, and May is part of the soft demand season for gold.  The strong demand season typically runs from August to February.
A lot of gold stock investors want gold stocks to roar higher now, but nothing happens before its time.  Interestingly, gold's strong season begins just as stock market crash season begins. 
Crash season for the US stock market typically runs from August to October.  As the business cycle matures, stock market crash season becomes more dangerous and the strong demand season for gold offers more potential reward.
The soft price action is seasonally expected and there's short term technical weakness, but there's nothing overly negative, let alone bearish, on this daily gold chart.
This is the magnificent weekly gold chart.  Like Ray Dalio, I've suggested the next crisis will be a US dollar crisis more than an economic growth crisis.
That's mainly because Trump administration is pro-growth and pro-business, but it's also continued to grow both the government debt and the overall size of the government, all in the name of "making citizens great". 
This approach to running the government has greatly strengthened the private sector economy while greatly weakening the ability of the government to fund its insane debt and size growth in even a mild economic downturn. 
In the next downturn, I expect the American private sector to weather the storm reasonably well while the government is forced to print money to fund itself.  The bottom line:
In the last downturn, QE was used to promote growth and it was deflationary.  In the next downturn, QE will be used to make up for lacklustre demand for government bonds, and it will be extremely inflationary.
Like America's Warren Buffett, India's Rakesh "RJ" Jhunjhunwala likes to heap praise on his government leaders instead of calling them out as extortionists and bullies. 
Having said that, RJ has the same outlook for the private sector of India that I do in the medium and long-term; a move back towards 8%-9% GDP growth, and then a long-term stay in the double-digits range. 
This gargantuan growth will increase gold demand quite substantially, and it's likely to happen as the US government begins devaluing the dollar to manage its outrageous spending and debt.  That will trigger fresh fear trade buying in America.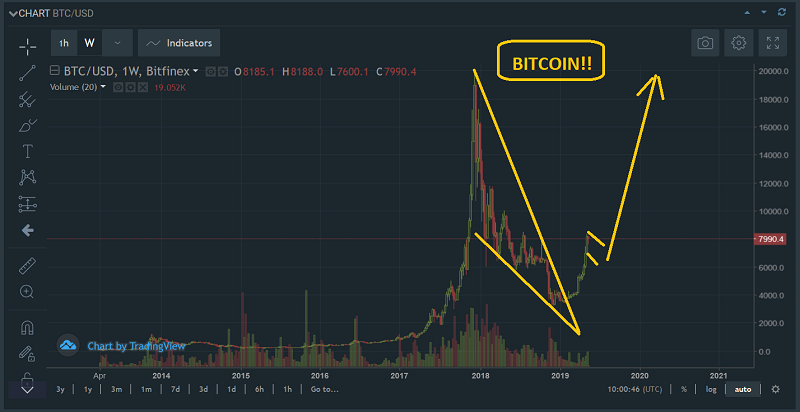 This is the spectacular bitcoin chart.  I expect a flag pattern will form, and then bitcoin should roar to the $20,000 area highs. 
Most investors try to make money by buying what is hot, and they tend to get emotional about it.  Bitcoin is not hot.  It's warm.
I focus on asset classes more than market timing, although I do that too.  Investors build the most wealth, and stay sane doing it, by reducing their focus on what is hot, and instead focusing on making sure they own a piece of the asset class action. 
The US stock market is part of the global stock markets asset class.  So are Chindian stock markets.  So, I own some US, Indian, and Chinese stock markets asset class action and I recommend that all investors own some too.  It's that simple.
Bitcoin and related crypto currencies are the newest asset class.  There's a lot of silly debate about whether gold is better than bitcoin, or vice-versa.  I take the stand that it doesn't matter which is better.  What matters is that both are asset classes and investors need to get involved if they want to get richer.  Period.   
Some analysts claim that bitcoin is already more widely used as a payment mechanism than Paypal.  That may or may not be true.  Regardless, in time I think crypto will become as widely used as most government fiat, and governments will eagerly tax it with an electronic money transaction tax. 
My prediction is that bitcoin isn't going away but governments will ultimately make the most money from it.  Investors who want to make money with it, albeit less than the government "people helpers" will make, can check out my crypto/blockchain newsletter at www.gublockchain.com. 
I'll make another prediction, which is that in the current pullback, gold stocks will bottom before bullion does. 
So far in this month of May, GDX is already showing solid strength relative to gold.  
Note the dramatic decline in volume from February.  Declining volume that accompanies a price decline is a sign of a very healthy market.
My Graceland "traffic lights" proprietary technical system indicates that a Friday close over $23 would see a lot of gold stocks begin a major rally.  I'll be watching gold stocks closely for signs of a bullish non-confirmation with bullion… to jump-start that rally!
Special Offer For Gold-Eagle Readers: Please send me an Email to [email protected] and I'll send you my free "Golden Mid Caps!" report.  I highlight gold producers that are not too big and not too small that are trading in the $2 to $10 price range with significant upside price action possible!
Stewart Thomson 
Graceland Updates
Note: We are privacy oriented.  We accept cheques, credit card, and if needed, PayPal.
Written between 4am-7am.  5-6 issues per week.  Emailed at aprox 9am daily.
Email:
Rate Sheet (us funds):
Lifetime: $999
2yr:  $299     (over 500 issues)
1yr:  $199     (over 250 issues)
6 mths: $129 (over 125 issues)
To pay by credit card/paypal, please click this link:
https://gracelandupdates.com/subscribe-pp/
To pay by cheque, make cheque payable to "Stewart Thomson"
Mail to:
Stewart Thomson / 1276 Lakeview Drive / Oakville, Ontario L6H 2M8 Canada
Stewart Thomson is a retired Merrill Lynch broker. Stewart writes the Graceland Updates daily between 4am-7am. They are sent out around 8am-9am. The newsletter is attractively priced and the format is a unique numbered point form.  Giving clarity of each point and saving valuable reading time.
Risks, Disclaimers, Legal
Stewart Thomson is no longer an investment advisor. The information provided by Stewart and Graceland Updates is for general information purposes only. Before taking any action on any investment, it is imperative that you consult with multiple properly licensed, experienced and qualified investment advisors and get numerous opinions before taking any action. Your minimum risk on any investment in the world is: 100% loss of all your money. You may be taking or preparing to take leveraged positions in investments and not know it, exposing yourself to unlimited risks. This is highly concerning if you are an investor in any derivatives products. There is an approx $700 trillion OTC Derivatives Iceberg with a tiny portion written off officially. The bottom line:  
Are You Prepared?
********