Gold Stocks & Gold A Bullish Divergence
As the Roman empire burned, the silliest citizens (with lots of tin and little gold) had a pipedream, which was that their favorite politicians would put out the fire.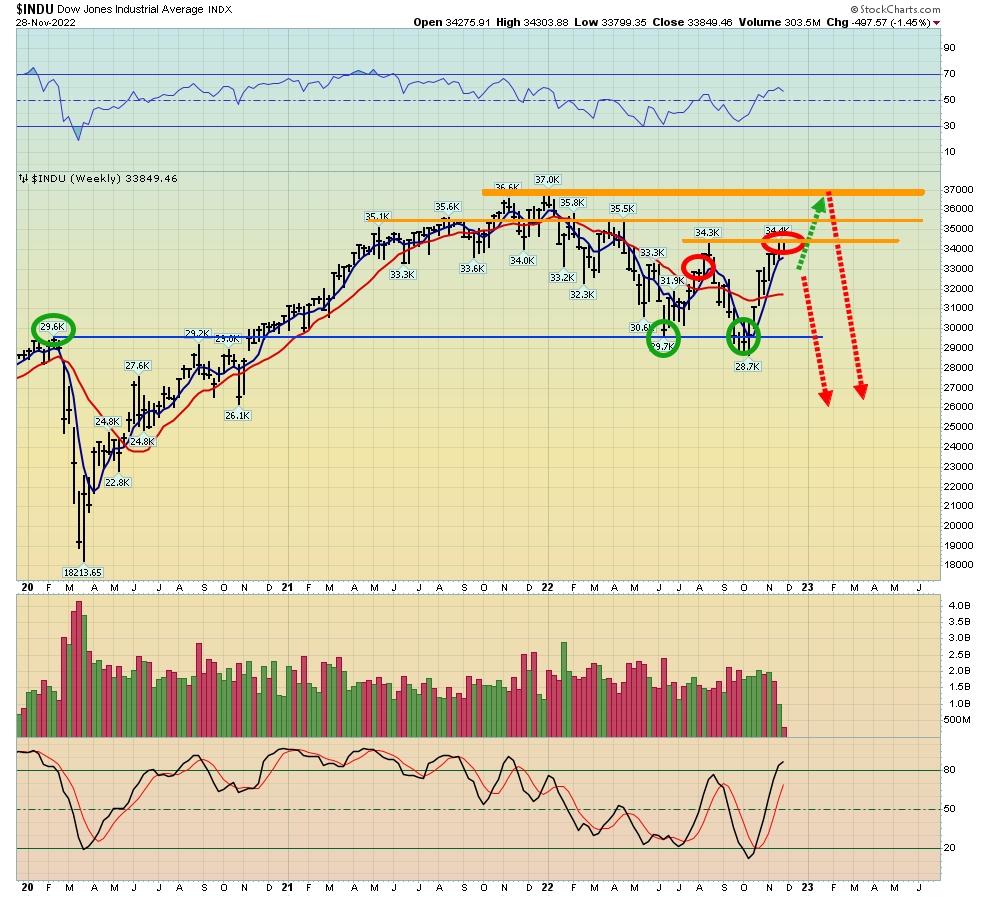 In America, the silliest citizens (who enjoy owning no gold) imagine that fiat-oriented politicians can replace gold, stop the inferno, and resurrect what is already ashes.
Sadly, that can't happen any more than one plus one can soon equal three, but citizens can do the simple math, and buy some gold.
Dare I say… lots of gold?
The old/basic/main economy Dow index could rise to a new high while the Nasdaq wallows (for decades) in a stagflationary gulag… but for the remaining 20-30 years of the American fiat empire, it's all about gold.  
What about the next 100 years?
The next century will look like a super-sized version of America's 1880s "Golden Age". 
India's GIFT city is set to become the world's main gold price discovery hub, dwarfing the COMEX, LBMA, and China's SGE. Mining stocks will become an institutional darling asset class as that happens.  
The gold charts look fantastic.
(Click on image to enlarge)
Yesterday's meltdown in the US stock market saw some selling in gold, but all that did was further sculpt a majestic right shoulder on what already looks like the work of Michelangelo!
A look at the weekly chart,
(Click on image to enlarge)
On this chart, all the technical lights are green.
To view some key moving averages,
(Click on image to enlarge)
A fresh buy signal is in play for the 5,15 series moving averages. These signals have a solid track record.
Also, there's a slight broadening pattern in play. These patterns suggest situations that are out of control.  
On that note,
In parts of Europe, inflation is out of control.  
The ECB is trying to fight 8%-10% inflation with 1%-2% interest rates. That's a strategy doomed to increase inflation rather than reduce it.
Lagarde acts shocked that her silly policy has failed… instead of stating that she's ashamed.
The lockdowns in China are adding to supply chain inflation. The Foxconn protests (riots?) are adding to concerns. Apple bills itself as a wonderful woke company, but thousands of its Chinese workers look more like caged (and enraged) animals and slaves.
Western governments are waving China-bashing flags and the fiat-oriented citizens of the West are cheering as instructed, but many Western companies are beginning to wonder if their own Chinese suppliers could turn mean. 
(Click on image to enlarge)
When the world goes out of control, of course, gold rises… and so does financial markets volatility. VXX is a great tool to profit from the action.
A US rail strike is still possible, and if it happens, VXX could stage a "rocket blast" higher! Even without the strike, the US stock market is currently skating on very thin ice.
Gold looks stellar on all the charts and mining stocks allow investors to leverage the gold price action… without borrowing money.
A look at a key GDX chart,
(Click on image to enlarge)
Note the two blue circles on the chart; GDX has risen above its July high, while gold has not.
That's a significant bullish divergence. Also, there's not much overhead resistance for gold, meaning it's now quite likely that GDX can push through its $29-$30 resistance zone with "less effort than expected".
(Click on image to enlarge)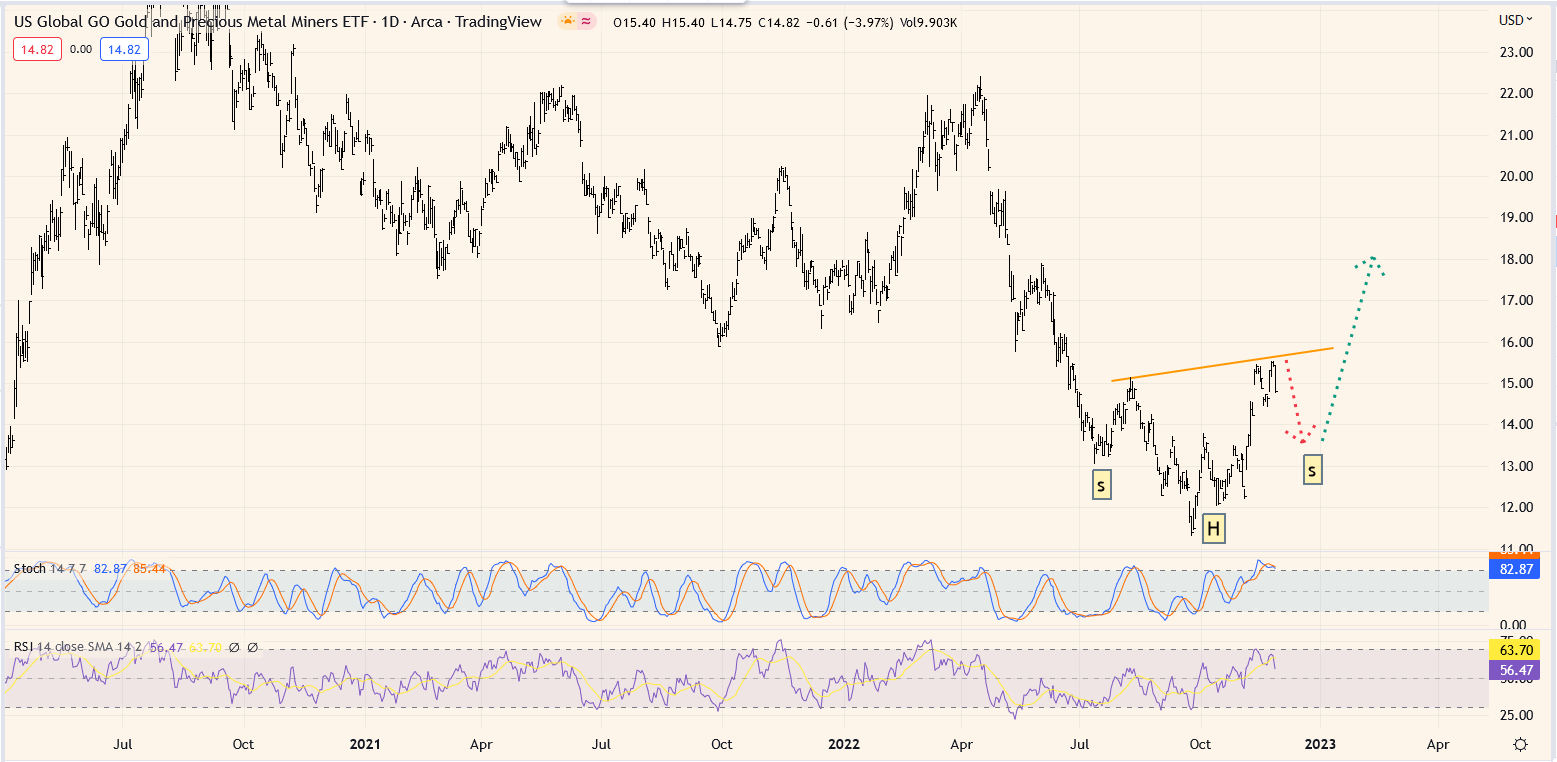 The situation is similar for GOAU; higher highs are in play and the chart is bullish!
The US jobs report is on Friday and gold is often soft ahead of the report… and then it rallies nicely in the days that follow. The current consolidation in the miners is creating an ideal entry point for gold and silver stock enthusiasts around the world!
Special Offer For Gold-Eagle Readers: Please send me an Email to [email protected] and I'll send you my free "Golden Sweet Spot" report. I highlight ten gold miners trading in the $3-$5 price range that are showing bullish price action. Key tactics for each stock are included in the report!
Thanks!
Cheers
St
Stewart Thomson
Graceland Updates
Note: We are privacy oriented. We accept cheques, credit card, and if needed, PayPal.
Written between 4am-7am. 5-6 issues per week. Emailed at aprox 9am dailyhttps://www.gracelandupdates.com/
Email:
Rate Sheet (us funds):
Lifetime: $1299
2yr: $299 (over 500 issues)
1yr: $199 (over 250 issues)
6 mths: $129 (over 125 issues)
To pay by credit card/paypal, please click this link:
https://gracelandupdates.com/subscribe-pp/
To pay by cheque, make cheque payable to "Stewart Thomson"
Mail to:
Stewart Thomson / 1276 Lakeview Drive / Oakville, Ontario L6H 2M8 Canada
Stewart Thomson is a retired Merrill Lynch broker. Stewart writes the Graceland Updates daily between 4am-7am. They are sent out around 8am-9am. The newsletter is attractively priced and the format is a unique numbered point form. Giving clarity of each point and saving valuable reading time.
Risks, Disclaimers, Legal
Stewart Thomson is no longer an investment advisor. The information provided by Stewart and Graceland Updates is for general information purposes only. Before taking any action on any investment, it is imperative that you consult with multiple properly licensed, experienced and qualified investment advisors and get numerous opinions before taking any action. Your minimum risk on any investment in the world is: 100% loss of all your money. You may be taking or preparing to take leveraged positions in investments and not know it, exposing yourself to unlimited risks. This is highly concerning if you are an investor in any derivatives products. There is an approx $700 trillion OTC Derivatives Iceberg with a tiny portion written off officially. The bottom line:
Are You Prepared?
********