Gold Stocks Pause, But Not For Long
Most junior gold and silver stocks have taken a horrific beating over the past few years, even while gold prices have remained relatively elevated.
Bank analysts suggest that high mine costs are largely to blame for this sell-off.  
Recently, naked shorting seems to have diminished.  Gold stocks have rallied very strongly over the past month, on enormous volume.
Can the rally continue, and is it related to lower mining costs?  In the short term, there's no question that gold and gold stocks are technically overbought.
Note the position of my stokeilllator (14,7,7 Stochastics series) on this daily gold chart.  After reaching about 90, the lead line is rolling over. 
It could be said that this key oscillator has a nosebleed, from altitude sickness. 
So, light trading profits in gold and related items should be booked by aggressive investors now.
In the bigger picture, a rise above the light blue trend line in the $1270 area could attract strong technical buying, initiating a very powerful move to the upside.
From a fundamental perspective, the cost of energy is very important to mining companies.  Lower mine costs, combined with a relatively stable gold price, mean more profits for mining companies.  Larger profits can attract very strong institutional buying of high quality gold shares.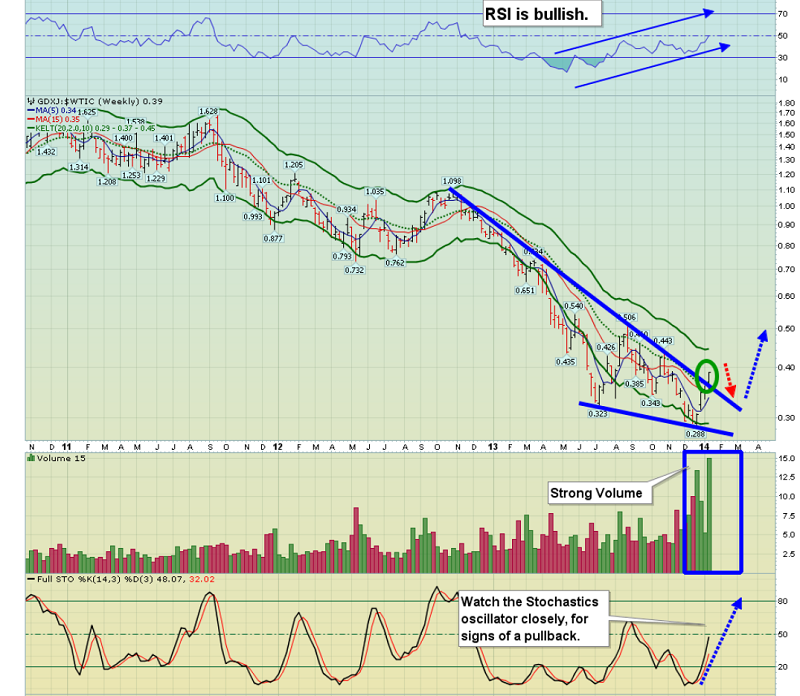 This interesting weekly chart compares GDXJ to oil.  The 14,3,3 Stochastics and RSI oscillators are both very bullish, and volume is powerful.
Against oil prices, junior gold stocks appear to have broken out to the upside.  A short term pullback after such a strong breakout is to be expected, followed by a much bigger rally.
I've compared the recent price performance of junior gold stocks to heavyweight boxer George Foreman, because they are crushing every other asset in their path.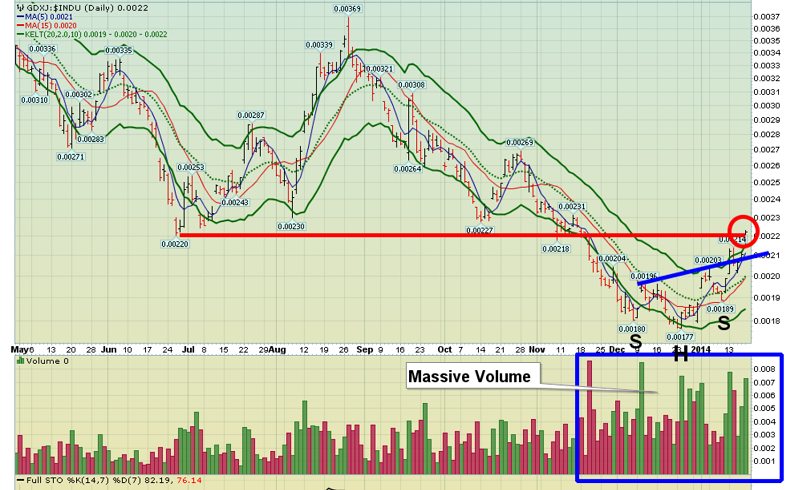 This daily chart shows that over the past month, GDXJ has gained about 25% against the Dow. 
It's now running into some overhead HSR (horizontal support and resistance).  I've marked that in red colour on the chart.  After such a powerful move to the upside, a brief pause is perfectly normal.
The "health" of an intermediate trend rally is maintained by the occurrence of regular minor trend sell-offs.  If that doesn't happen, a much more painful sell-off often ensues.
Many investors sold gold stocks for a "tax write-off" in December, and some of them bought the Dow with the proceeds of that transaction.  I think investors should sell gold stocks at a profit, not a loss, and I wouldn't buy the Dow with any of those profits.
As 2014 progresses, the Fed will probably taper more aggressively, because money supply velocity (via M1V and M2V) is likely to accelerate, catching the Fed by surprise. 
That accelerated taper is likely to cause the economy to slow a bit, weighing on energy prices.
Institutional money managers would then be quite likely to move funds from the Dow into gold stocks.
Yesterday was a US holiday, and stock markets were closed.  The Toronto market was open, and gold stocks had a good day of trading.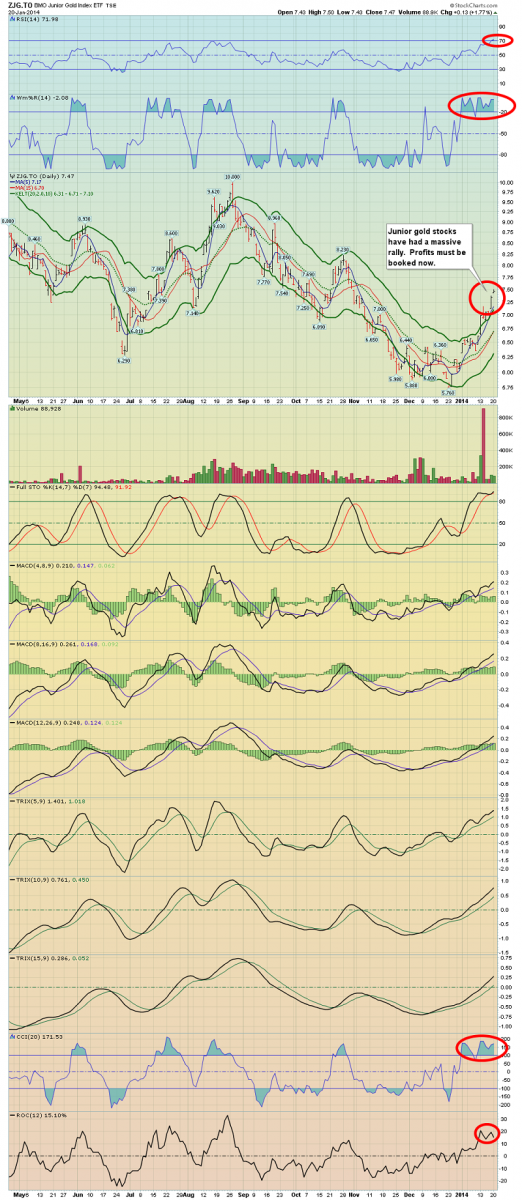 This daily ZJG.TO chart (Bank of Montreal junior gold stocks ETF) is the Canadian version of GDXJ.  Investors in Canadian gold stocks should book light trading profits, but be open to the possibility that a much bigger rally will follow any pullback.
The US markets are all open again today.  Where should US junior gold stock investors look to re-enter the market, using the GDXJ chart?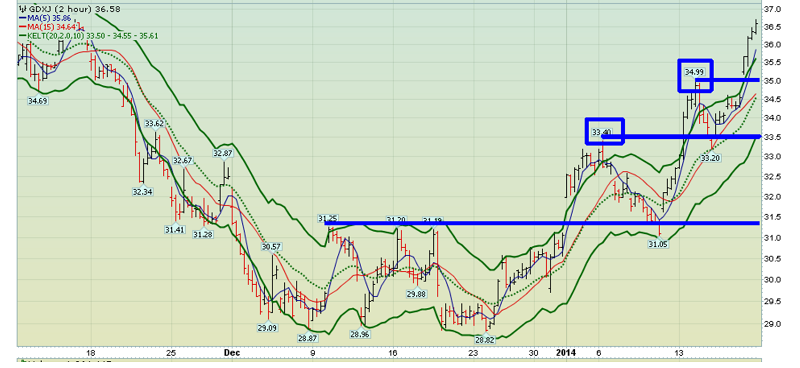 On this two hour bars chart, I've highlighted three key re-buy price zones.  Gamblers could buy in the $34.99 area, with an optional stoploss order placed under the minor trend low at $33.20.  I don't use stoplosses, and I'm not a big gambler, but I will lightly buy that $34.99 area. 
On any potential pullback for junior gold stocks, the buy-side HSR at $33.40 is what should be the "meat and potatoes" buy zone.  It's where junior gold stock investors may want to re-buy GDXJ, and their favourite individual stocks, with a bit more size! 
********
Special Offer For Gold-Eagle Readers:  Please send me an Email to [email protected] and I'll send you my free "Cameco & Barrick Parade Leaders!"  report.  Both Cameco and Barrick may be key leading indicators of what is coming for junior uranium and precious metal stocks.  I'll show you why that is, and which juniors may be poised to lead phase two of the gold stocks rally!
Note: We are privacy oriented.  We accept cheques.  And credit cards thru PayPal only on our website.  For your protection.  We don't see your credit card information.  Only PayPal does.  They pay us.  Minus their fee.  PayPal is a highly reputable company.  Owned by Ebay.  With about 160 million accounts worldwide.  
Email: [email protected]
Rate Sheet (us funds):
Lifetime: $799
2yr:  $269  (over 500 issues)
1yr:  $169  (over 250 issues)
6 mths: $99 (over 125 issues)
To pay by cheque, make cheque payable to "Stewart Thomson"  
Mail to:
Stewart Thomson / 1276 Lakeview Drive / Oakville, Ontario L6H 2M8 Canada
Risks, Disclaimers, Legal
Stewart Thomson is no longer an investment advisor. The information provided by Stewart and Graceland Updates is for general information purposes only. Before taking any action on any investment, it is imperative that you consult with multiple properly licensed, experienced and qualifed investment advisors and get numerous opinions before taking any action. Your minimum risk on any investment in the world is: 100% loss of all your money. You may be taking or preparing to take leveraged positions in investments and not know it, exposing yourself to unlimited risks. This is highly concerning if you are an investor in any derivatives products. There is an approx $700 trillion OTC Derivatives Iceberg with a tiny portion written off officially. The bottom line:   
Are You Prepared?