Gold Stocks Versus The Dow
Gold is the ultimate safe haven. Therefore, when global financial risks rise or fall substantially, enormous institutional liquidity can flow into gold…or out of it.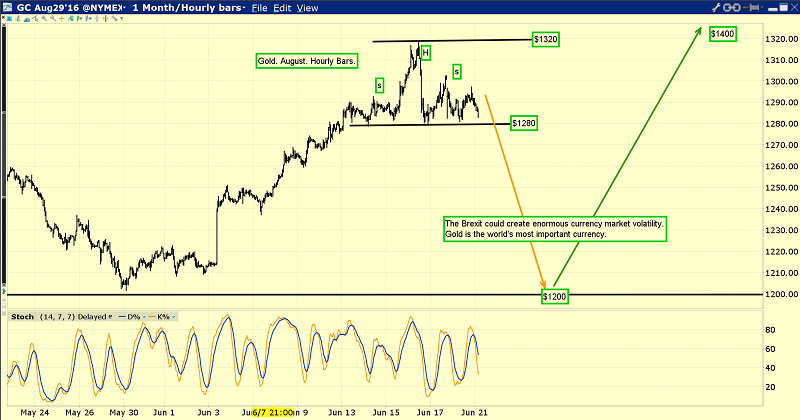 Above is the hourly bars gold chart.  In just a few weeks, gold surged on Brexit fears from about $1200 to $1320.
All of that upside gain can easily be unwound if the "stay" vote wins.  The "unwind" would only be a short-term event, partly because more key EU member states may soon launch their own referendums.
Most retail investors tend to invest excessive amounts of capital in their trade ideas.  That leads to dramatic swings in fear and greed that few investors are capable of withstanding. 
In the event gold drops from $1300 to $1200…followed by a subsequent rally to $1400, it should not be something that creates significant fear or greed for any investor in the Western gold community. 
To be sure heightened volatility is expected around events like the Brexit, especially as the US business cycle peaks and turns down.

George Soros correctly argues that there could be substantial financial pain with a "Leave" victory in the Brexit vote.  He fails to mention the word "freedom". 
National elections and referendums are no longer about citizen freedom.  They are only about economics.  If a slave gets a bit more money, the slave is supposed to rejoice.  Unfortunately, that doesn't free the slave.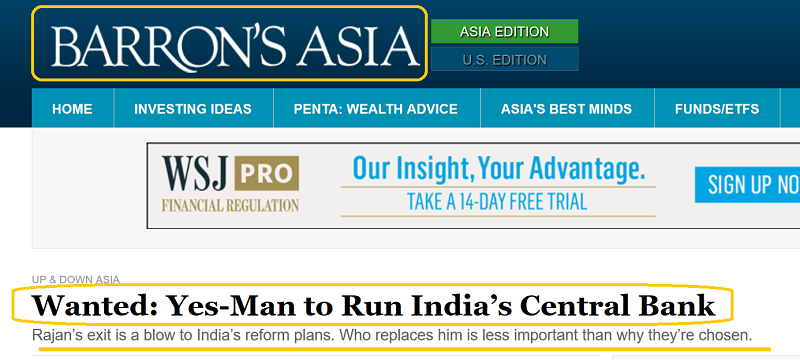 In my professional opinion, India has the most corrupt government of all major industrializing nations. 
To enrich themselves, Indian politicians make extensive use of bribery, theft, and extortion.  In contrast, I view India's central bank chief, Raghuram Rajan, as… the Elliot Ness of India. 
His unbreakable integrity has been a major thorn in the side of the government despots.  Influential Barron's writers appear to believe his sudden official resignation over the weekend was a "hatchet job".
Consistently, Indian citizens are the world's largest gold buyer class. However, they also own the largest amount of gold.  The reason is they understand better than everyone that government power corrupts, and absolute power corrupts absolutely.  It is that simple.
Will Western citizens ever learn to vote for gold before voting for their favourite government politician?  Unfortunately, I think it will take another thousand years of dealing with corruption in government, before most Western citizens begin voting to make gold bullion their personal Prime Minister and President.
In the big picture, the loss of Rajan in India is probably very positive for the price of gold.  With a "yes man" installed as the head of the central bank, India will quickly join the rest of the world's central banks in chopping rates and printing money.  That will inspire Indian citizens to buy gold very aggressively.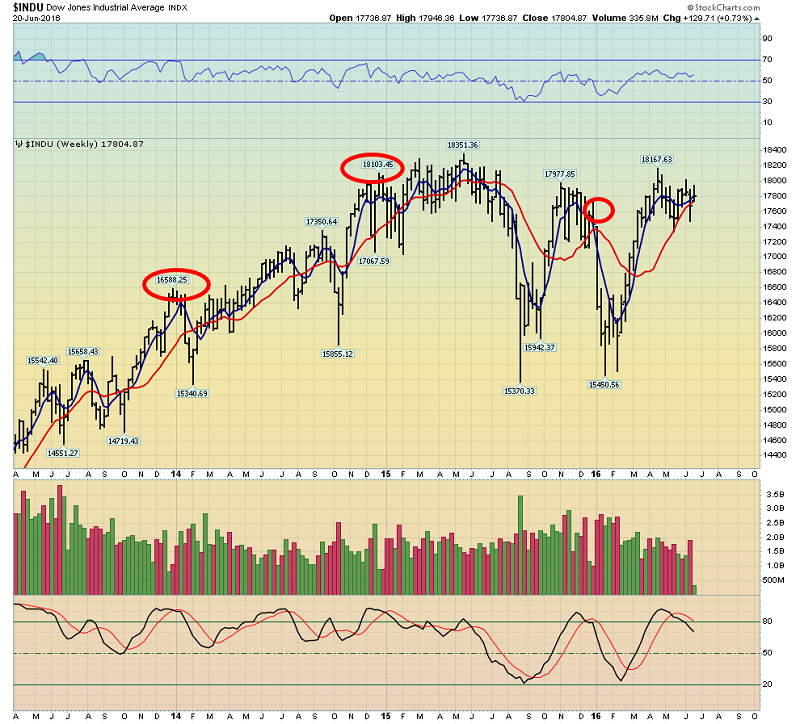 This is the weekly bars chart of the Dow.  I have highlighted the end of the year timeframe for 2013, 2014 and 2015. 
Investors who sold gold stocks aggressively at those times to get in on the upside action that had earlier occurred in the Dow are already disappointed.  The Dow has essentially gone nowhere for three years.  Value players have left the stock market building as the business cycle wanes. Furthermore, they are not coming back.  The Dow is probably running on fumes.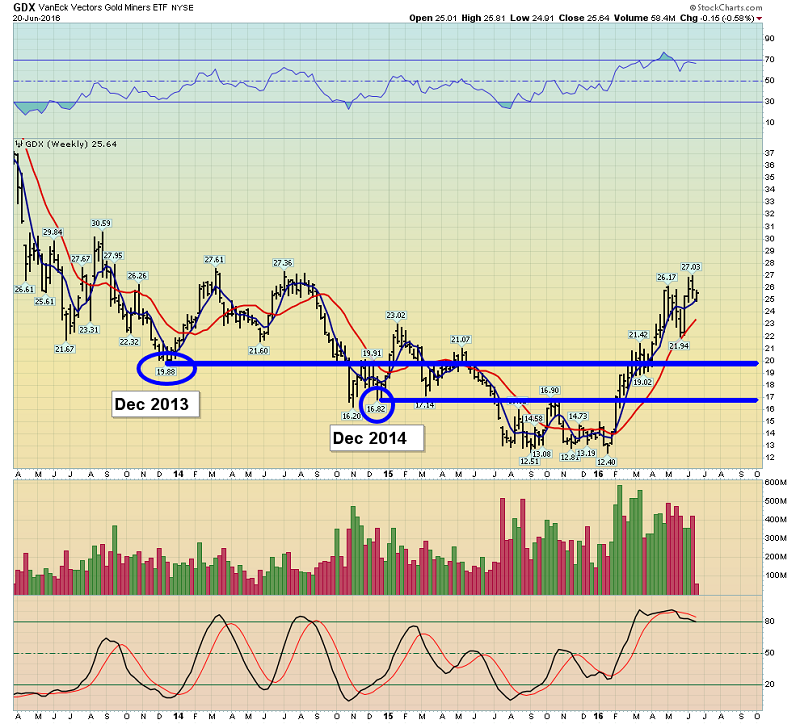 This is the fabulous GDX weekly chart.  I adamantly told the entire Western gold community during "tax loss season" of each the past three years that gold stocks were making generational lows, and those tax-loss seasons (December) were critical buying areas.
Without even mentioning the fantastic price action from the 2015 low, the simple fact is that GDX is up solidly from both the 2014 and 2013 lows!
Investors who use technical trading systems, COT reports…and other market timing theories to place large bets for or against gold will almost never beat the diligent value-oriented investor. And if they do, their victory will be very short-lived.  The bottom line:
While the Dow has essentially gone nowhere, GDX is up about 20% from its 2013 low, 35% from its 2014 low, and 100% from its 2015 low!
Investors who want to build serious wealth, they must approach the market with intestinal fortitude and the search for value as their main weapons.  Gold stocks offered stupendous value in 2013, 2014, 2015, and now in 2016. However, the key question is, how many investors had the amount of intestinal fortitude required to take buy-side action?   
This is the important quarterly bars chart of the XAU gold stocks index versus gold.  It is arguably the most important chart in the world, or certainly one of them. 
The twenty-year bear market in gold stocks against gold was caused by a "perfect deflationary storm".  That storm itself was caused by a bear market in money velocity and bank loan profit margins.  The storm is ending.  Inflation is beginning to creep higher, and doing so at a time when the US business cycle is peaking. 
Aggressive rate hikes (and arguably even one more) will crush the US stock market and incentivize commercial banks to pull money out of government bonds at the Fed.  Rate cuts now won't help the economy, so the next step is likely some kind of government infrastructure spending programs.  That's inflationary…and it's going to fuel more institutional buying of gold stocks.  Gold stocks are beginning what will probably become the biggest upside price movement in the history of financial markets!
Special Offer For Gold-Eagle Readers:  Please send me an Email to [email protected] and I'll send you my free "Golden Outperformers!" report.  While ETFs like GDX and GDXJ have dramatically outperformed gold in 2016, some individual stocks are staging even bigger gains!  I highlight ten outperformers that appear set to widen their lead, with key buy and sell tactics for each of them!
Note: We are privacy oriented.  We accept cheques.  And credit cards thru PayPal only on our website.  For your protection.  We don't see your credit card information.  Only PayPal does.  They pay us.  Minus their fee.  PayPal is a highly reputable company.  Owned by Ebay.  With about 160 million accounts worldwide.
Email: [email protected]  
Rate Sheet (us funds):
Lifetime: $799
2yr:  $269  (over 500 issues)
1yr:  $169    (over 250 issues)
6 mths: $99 (over 125 issues)
To pay by cheque, make cheque payable to "Stewart Thomson"
Mail to:
Stewart Thomson / 1276 Lakeview Drive / Oakville, Ontario L6H 2M8 Canada
Stewart Thomson is a retired Merrill Lynch broker. Stewart writes the Graceland Updates daily between 4am-7am. They are sent out around 8am-9am. The newsletter is attractively priced and the format is a unique numbered point form.  Giving clarity of each point and saving valuable reading time.
Risks, Disclaimers, Legal
Stewart Thomson is no longer an investment advisor. The information provided by Stewart and Graceland Updates is for general information purposes only. Before taking any action on any investment, it is imperative that you consult with multiple properly licensed, experienced and qualified investment advisors and get numerous opinions before taking any action. Your minimum risk on any investment in the world is: 100% loss of all your money. You may be taking or preparing to take leveraged positions in investments and not know it, exposing yourself to unlimited risks. This is highly concerning if you are an investor in any derivatives products. There is an approx $700 trillion OTC Derivatives Iceberg with a tiny portion written off officially. The bottom line:  
Are You Prepared?