Gold Succumbs Sober To Another October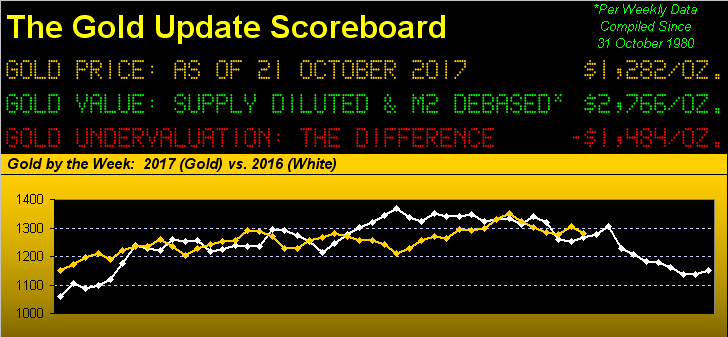 We begin straightaway with a set of our hidden microphones still placed after all these years inside the Salzburg clinical offices of Dr. Youara Nichtsogut, noted analyst in the psychosis of precious metals…
Dr. Nichtsogut: "Well, Liebling, according to your chart, you've not graced us with your presence here at zee clinic since 19 March 2011. Zen you were 1419, today you are 1282."
Gold, (lying upon the couch): "Not to mention hitting 1923 soon after that. I still don't understand it, Nichty. I've had every fundamental reason to ascend to far higher levels."
Dr. Nichtsogut: "Zat's exactly what you said last time, zat you felt you were being treated like a common commodity of zee lower classes. Recall our recommendation was to simply go with zee flow, Liebling."
Gold: "I know that, Nichty, but the flow has become so irrational! The US money supply then was $8.9 trillion: today it's $13.8 trillion, and yet, I'm flowing backwards! I should be at almost 3000 today! Instead, I keep getting stuck in a box around 1280-1240! I gotta be going certifiably nuts...."
Dr. Nichtsogut: "Which is why we are here for you, Liebling. Besides, you're not alone. Confidentially, the clinic has as a patient a stocks index at hyper extremes over being loved and adored by one and all, but with less than half zee earnings necessary to support itself. You think you've got problems..."
Gold: "But what am I to do, Nichty?"
Dr. Nichtsogut: "For zee future? Nothing, Liebling. Just be yourself and they'll be flocking to you in droves. For zee present, our time is up for today and zat will be three Krugerrands please."
Gold: "Last time it was two!"
Dr. Nichtsogut: "Inflation, Liebling."
Gold: "Aaaggghhh!"
The exasperation felt by gold, and thus that of the investing world's still tiny percentage that buy it -- and by it will be rightly rewarded up the road -- is palpable. Yet one might query: is price bound to be boxed-in in perpetuity 'round the 1280-1240 zone? Of the 203 trading sessions-to-date in 2017, gold has traded at least intra-day (if not all day) inside of The Box on 100 different days. As measured over the 455 trading days from 2016-to-date, 195 of them have found gold's price in The Box. So much draw has price to the 1280-1240 zone that perhaps it ought be renamed from "The Box" to "The Magnet", or perhaps for the gold disbelievers out there, "The Coffin". (Better we reserve that latter descriptor for funds in the screwball stock market).
Still, as we turn to gold's weekly bars, price appears poised to trip over the rising blue dots of parabolic Long trend, flipping it to Short, and falling into The Box en route to becoming the 11th losing October in the last 18, (and fifth of the last six). With almost no room for downside error, such demise for this month can be prevented by price basically trading straight up out of the ensuing week's chute: to be precise, in settling yesterday (Friday) at 1281.8, any trade next week sub-1277.6 and our ascending blue dots shall turn to descending red dots: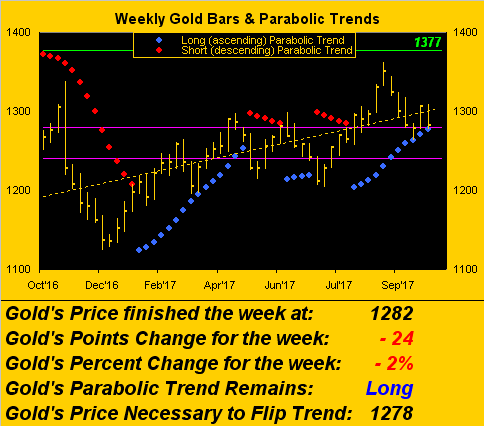 Meantime, continuing their respective ascents are the S&P 500, and more recently, the Economic Barometer, neither condition working well for our Golg. For the Econ Baro, more than mitigating the 0.2% decline in the lagging measure of Leading Indicators, came this past week reported improvements in Industrial Production and Capacity Utilization, Export Prices, the New York Empire State Index, the Philly Fed Index, the National Association of Home Builders Index, and Existing Home Sales. "Inflation, Liebling"? To a degree. Halloween rate-hike fright from the Fed? We doubt it:
Next we pair up trading trend with pricing profile. And below left for Gold across its three months of daily bars we see the "Baby Blues" of 21-day linear regression trend consistency just now perhaps running out of upside puff rather than completing a run up to the +80% level. That coincides well with the weekly parabolic Long trend apparently at its end. Still, we'd certainly revere a bounce from here. That noted, below right we see price having retraced the entirety of its 10-day Market Profile from the top a week ago to the bottom this past week, the thicket of resistance from 1283-1295 threatening to keep the 1300s at bay in the trading fray: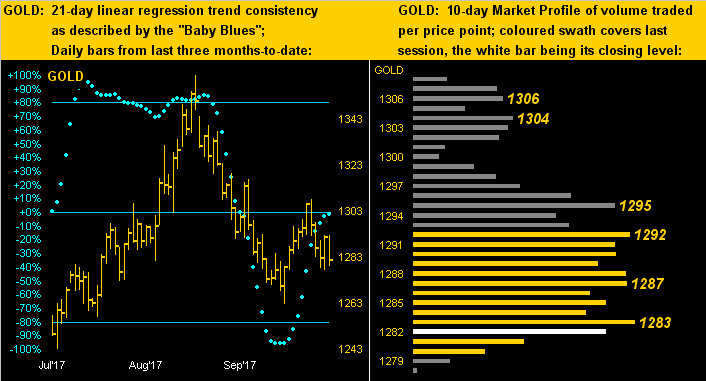 At first blush for Sister Silver, her Baby Blues still show "up" as the way ... but we await their decay, price having fallen away. Settling the week at 17.05, her Mr. Resistor sits up there at 17.20: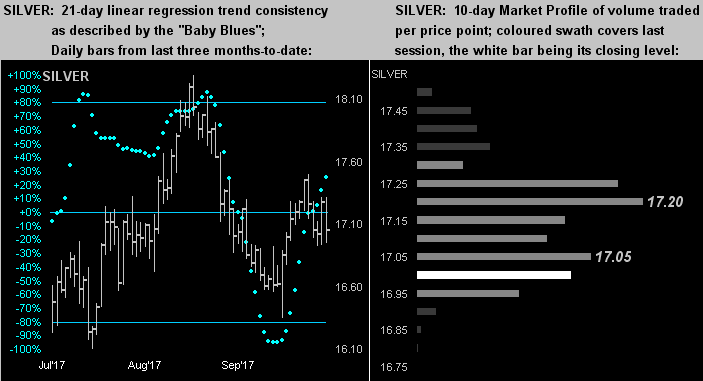 And from the "We Can't Resist To Show This Dept." here is the same two-panel drill for the S&P 500 per its futures contract (SPOO). To defy earnings gravity is one thing ... but have we ever seen anything like this? No: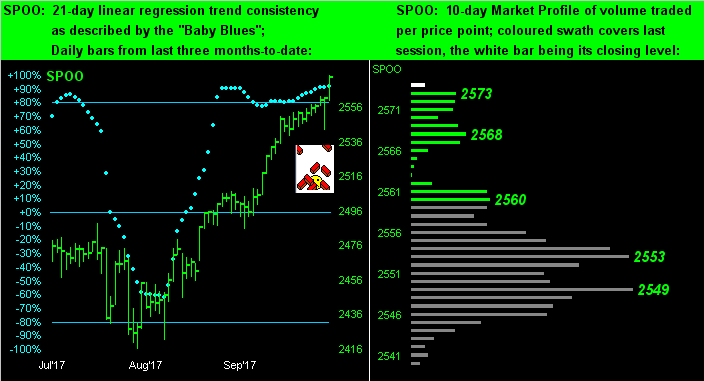 Here's our wrap with the Gold Stack:
The Gold Stack
Gold's Value per Dollar Debasement, (from our opening "Scoreboard"): 2766
Gold's All-Time High: 1923 (06 September 2011)
The Gateway to 2000: 1900+
Gold's All-Time Closing High: 1900 (22 August 2011)
The Final Frontier: 1800-1900
The Northern Front: 1750-1800
On Maneuvers: 1579-1750
The Floor: 1466-1579
Le Sous-sol: Sub-1466
Base Camp: 1377
2017's High: 1362 (08 September)
10-Session "volume-weighted" average price magnet: 1291
Neverland: The Whiny 1290s
Trading Resistance: 1283 / 1287 / 1292 / 1295 / 1304 / 1306
Gold Currently: 1282, (expected daily trading range ["EDTR"]: 13 points)
The Box: 1280-1240
Trading Support: none, per the 10-day Market Profile
10-Session directional range: down to 1278 (from 1308) = -30 points or -2%
The Weekly Parabolic Price to flip Short: 1278
The 300-Day Moving Average: 1257 and falling
2017's Low: 1147 (03 January)
The new week culminates on Friday (27 October) with our first peek at StateSide Gross Domestic Product for Q3: the annualized growth rate is expected to come in at 2.4%, slower than the 3.1% recorded for Q2. That makes sense given the negative Leading Indicators report as noted, as well as the overall downtrend of the Econ Baro through the entirety of Q3, (notwithstanding its rise since then). As for Gold, 'tis turned to enduring another sobering October, barring its slipping under The Box, (i.e. sub-1240). Yet as November nears ... and should The Box hold...up off the couch should come our Gold!