Gold SWOT: Central Banks May Be Regaining an Appetite for Buying Gold
Strengths
The best performing precious metal for the week was gold, up 1.18%. Compass Gold reported the results of the recently completed drilling at the Old Sam and Dialéké prospects, located on the Company's Sikasso Property in Southern Mali. The first drilling results at the Old Sam target, 40 km south of Tarabala, are highly encouraging. Initial drilling has discovered a shallow zone of low-grade gold.
Gold continued to climb above $1,800 an ounce this week as Treasury yields and the U.S. dollar fell ahead of the release of Federal Reserve minutes. Central banks may be regaining their appetite for buying gold after staying on the sidelines for the past year. Central banks from Serbia to Thailand have been adding to their gold holdings, writes Bloomberg this week, and Ghana recently announced plans for purchases, as the specter of accelerating inflation looms and a recovery in global trade provides the firepower to make purchases. A rebound in buying, which had dropped to the lowest in a decade, would bolster the prospects for gold prices as some other sources of demand falter, the article continues.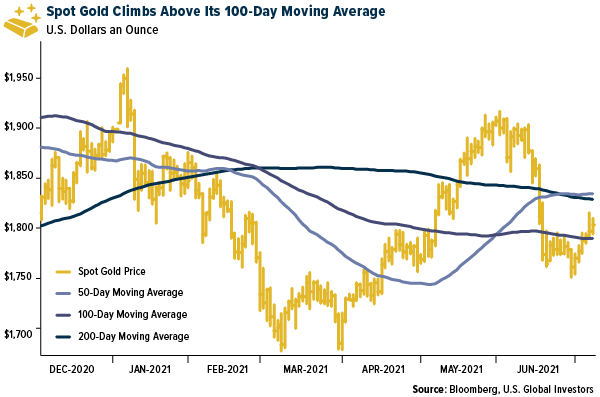 Gold is once again pricing a Goldilocks scenario of moderate inflation and continued global recovery and is thus trading at a large discount to the market real rate. Goldman estimates that the current gold price is consistent with a real rate of 0.1% versus the -0.87% that is currently priced by the market. Goldman's price target remains at $2,000 per ounce. However, in a scenario where the global economic recovery does not play out as expected or inflation begins to move above expectations, they see material upside to gold given its undervaluation and low allocation from the investment community. 
Weaknesses
The worst performing precious metal for the week was silver, down 1.39% after two consecutive weekly gains. Exchange-traded funds cut 168,278 troy ounces of gold from their holdings in the last trading session, bringing this year's net sales to 6.4 million ounces, according to data compiled by Bloomberg. The sales were equivalent to $299 million. Total gold held by ETFs fell 6% this year to 100.7 million ounces, the lowest level since May 2020.
The Perth Mint says gold coin and minted bar sales totaled 72,910 ounces last month, according to figures on its website. Sales compare with 91,146 ounces in May, according to previously released data.
Facing several headwinds (expensive valuations and pandemic travel restrictions), global gold M&A (merger and acquisition) activity in the second quarter slowed quarter-to-quarter. Just nine transactions were announced versus 14 in the first quarter.
Opportunities
Roscan Gold reported positive results from an additional 14 diamond drilling and reverse circulation holes totaling 3,066 meters at the Southern Mankouke Zone. Mankouke Discovery Zone, or MS1, confirmed mineralization open at depth and Mankouke Discovery Zone, or MS3, shows a potential high-grade extension to the west, the company said in a news release.
AngloGold Ashanti appointed former BHP Group executive Alberto Calderon to its top job, ending a nearly year-long head hunt that has weighed on the shares of the No. 3 gold producer. AngloGold has not had a permanent CEO since Kelvin Dushnisky's abrupt departure last September after holding the position for just two years. The Johannesburg-based miner's shares have underperformed its peers in the past year as the CEO hunt dragged on and the company had to suspend operations at a mine in Ghana.
Silvercorp reported assays from the 2021 exploration program at the SGX mine at its Ying Mining District. The gold exploration results are encouraging given the geological belt hosting the Ying Mining District is known more for its gold endowment than silver and base metals. The market is not ascribing any value to the gold potential at Ying and offers investors a free option to considerable exploration upside.
Threats
First Mining reports that a forest fire is currently active within one kilometer of the camp at the company's Springpole Gold Project located in northwestern Ontario. Fire crews from the Ministry of Natural Resources and Forestry have been working on containment measures over the weekend, including both ground and aerial suppression using water bomber aircraft and helicopters. Due to the proximity of the forest fire, First Mining has suspended operations at Springpole, and MNRF firefighters are currently staged at the Springpole site working to contain the fire. 
Bank of America lowered its 2021 silver price forecast 3.9% to $27.71 per ounce. Despite this, they prefer silver due to rising demand in solar panels and growth in electrical applications.
Russia's second-biggest gold miner plans to plant a forest two-thirds the size of Manhattan to comply with new legislation as President Vladimir Putin tries to curb the nation's carbon emissions. Russian companies must plant a new tree for every tree they cut down under new legislation that started taking force earlier this year. In addition to the forest, to offset emissions, diesel-fueled power stations and other equipment will be switched to electric.
*********