Gold SWOT: Silver Lake Resources has purchased an 11% stake in RED5
Strengths
The best performing precious metal for the week was silver, up 1.86%. AngloGold Ashanti agreed to sell its entire 50% indirect interest in the Gramalote Project to B2Gold for a total consideration of up to $60 million. B2 owns the other 50% already. Under the terms of the deal, B2Gold will pay $20 million upon deal closing. There are also additional milestone payments of $10 million each.


According to Scotia, Centerra Gold announced its strategic plan for each asset in its portfolio along with its capital allocation strategy. Focus at Mount Milligan is to advance work on productivity and cost efficiencies together with mine plan optimization. At Öksüt, the company provided an updated the LOM plan, with a 6 year-mine life and elevated production expected through mid-2024. Production is estimated at 190,000-210,000 ounces at an all-in sustain cost (AISC) of $800-$900/ounce in 2024.


Gold gained for the first three trading days of the week as investors waited for an interest rate decision by the Federal Reserve. Upon leaving rates unchanged but still with a hawkish tone of rates staying higher for longer, gold sunk 1.40% on Thursday but bounced back on Friday to get finish with a slight loss for the week in the futures market but there was a slight weekly gain in spot prices.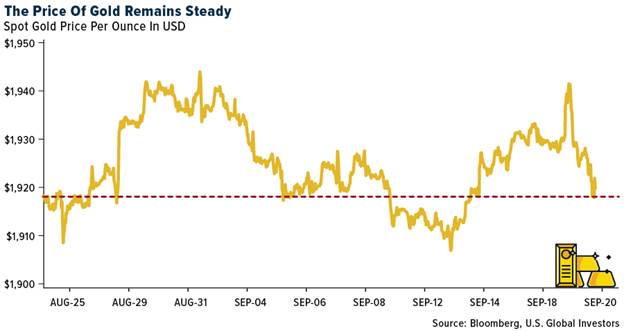 Weaknesses
The worst performing precious metal for the week was gold, down 0.05%. According to BMO, Hecla announced that the fire at Lucky Friday's shaft #2 has been extinguished with normal ventilation re-established. The company expects the mine to remain suspended for the remainder of 2023 as it conducts underground development to bypass the damaged portion of the shaft and re-establish secondary egress for the mine. 2024 guidance is unchanged, and the company expects insurance compensation for both property damage and lost production.


At the Gold Forum Americas, Newmont said it expects to leverage its previous experience at Boddington and Penasquito where it delivered over $700 million in synergies at each asset to deliver synergies from the Newmont portfolio. Penasquito remains on strike and Newmont noted that it will not offer back pay, change the bonuses, or pay a bonus in 2023, considering how long the asset has been shut down as a result of the strike. Workers have not been paid since the strike commenced 104 days ago.


According to CIBC, Sierra Metals announced that is has put its Cusi silver mine in Mexico into care and maintenance and initiated a sale process for the asset. Earlier this year, new management had classified the asset as non-core. They value the asset at $22 million, but expect that certain liabilities held on the balance sheet at the corporate level can imply a transaction price of $10 million to $15 million.
Opportunities
Calibre announced an initial open pit Mineral Resource Estimate for its 100% owned Cerro Volcan Gold Deposit located five kilometers from the Libertad processing facility. The company has also identified two target areas, Calvario and Salvadorita, where high-grade surface samples.


According to Scotia, many mining executives highlighted an apparent valuation disconnect as development companies are trading at a fraction of Net Asset Value (NAV). Within their coverage universe for example, gold development companies are trading an average spot price-to-NAV (P/NAV) of 0.34x, or an adjusted average of 0.28x when excluding the highest-valued firm. 


Silver Lake Resources has purchased an 11% stake in RED5, securing 383 million shares at $0.26/share through a block trade for a cost of A$100 million. SLR finished FY23 with A$332 million in cash and bullion with no debt.
Threats
According to National Bank Financial, Mali's existing gold operations will not be affected by the nation's new mining code, a senior lawmaker said. The updated rules – which entitle the state to a bigger stake in producing assets – are not intended to apply, while existing contracts remain in force, to these established operations, according to Assane Sidibe. "Valid mining titles benefit from stability clauses that will be respected," Sidibe, president of the mining commission within Mali's National Transition Council, the nation's legislative body, said by email. The new code "applies in its entirety to new projects or to projects that are being renewed," he said.


According to Scotia, for i-80 Gold, they ascribe a neutral bias to announcement of additional $20 million funding. It provides upfront financing for i-80 to advance its key projects, the facility utilizes an $1,500/ounce gold price for the prepaid ounces, representing a discount of 21% to spot price or 12% to their $1,700 LT price, thus, reducing leverage to rising gold prices.


According to an RBC report titled "You Could Hear a Pin Drop," the gold mining industry's largest conference was hosted by the Denver Gold Group in Colorado Springs. Overall, the conference was reasonably well attended, with approximately 900 registered participants, up 4% year-over-year. Buy-side attendance was noticeably quieter, representing 240 participants in total—flat on a year-over-year basis but down more than 20% from pre-COVID levels.
*********