Gold Traders At Their Most Bullish In A Year
Strengths
·         The best performing metal this week was palladium, up 9.16 percent on concerns new Russian sanctions announced at the start of week could disrupt supplies. Gold traders and analysts are at their most bullish on the gold price in a year, according to the weekly Bloomberg survey. Gold ETFs saw holdings increase for seven consecutive days with total holdings at their highest levels since May 2013. This year so far there have been 2.5 million troy ounces added to holdings. According to Bank of America Merrill Lynch, investors have added $7 million into funds that are linked to gold.
·         Recent tensions in the market have pushed traders into gold as the cost of bullish options on the SPDR Gold Shares ETF surged to a record relative to bear contracts. Outside of the U.S., investors in Germany are also rushing into gold on fears of trade tensions. According to Bloomberg, the Frankfurt-listed Xetra-Gold stock hit a record high this week.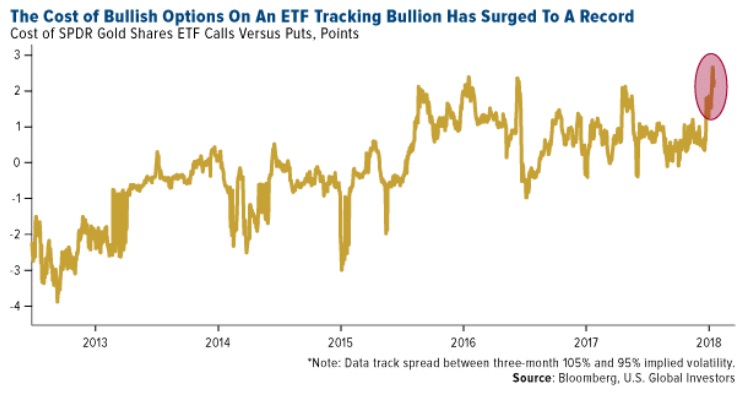 ·         Japan's biggest gold retailer, Tanaka Kikinzoku K.K., says that gold bar sales are up 41 percent in the first quarter of this year compared to the year prior. Bloomberg writes that the local price of bullion in Russia rallied this week to the highest since 2016 on the heels of more sanctions from the U.S. The Russian Central Bank is the fifth-largest sovereign holder of gold.
Weaknesses
·         The worst performing metal this week was gold, still up 0.88 percent. Gold futures saw their biggest loss in two weeks as the dollar rose on the heels of President Donald Trump signaling that an attack against Syria would not be imminent. (Since the initial publication of this SWOT on Friday afternoon, however, the situation regarding Syria has changed.) Equities rallied and gold fell earlier this week as Chinese President Xi Jinping is expected to calm the trade dispute between China and the U.S., writes Bloomberg.
·         India, the second largest consumer of gold, fell by 47 percent in March to just 64.2 metric tons, down from 121 tons a year earlier. Imports for the first three months totaled 159 tons, down from 42 percent a year prior, according to Bloomberg. Dubai also saw gold sales fall around 50 percent this past quarter after implementing a valued-added tax. Bloomberg News writes that gold demand in the United Arab Emirates has not recovered from the pre-financial crisis levels in 2008 and dropped to a 20-year low in 2017.
·         Harmony Gold says that $519,000 of gold was stolen from its Kalgold mine on Tuesday morning in South Africa, totaling 386 ounces of the precious metal.
Opportunities
·         This week saw several more indicators that inflation is on the rise, which has historically been positive for the gold price. Royal Bank of Canada noted that the March employment report saw employees quitting their jobs at a rate of 13 percent, the highest level in 17 years. This indicates wage inflation and a tightening labor market. The U.S. Treasury has asked primary dealers about potentially increasing issuance of TIPS over the next 12 months. The Treasury  also requested comments from the primary dealer on the drivers and outlook for foreign private and official demand for U.S. Treasuries. It's interesting that the Fed wants to know what it will take to entice foreign buyers to fund budget deficits.
·         This week Jeff Gundlach, who manages over $100 billion at DoubleLine Capital, had very positive thoughts on gold. Gundlach said: "We see that gold broke above its downtrend line. But now we see a massive base building in gold. Massive. It's a four-year, five-year base in gold. If we break above this resistance line one can expect gold to go up by, like, a thousand dollars." He continued on to say that now is "a great time to be buying gold straddles."
·         Bridgewater Associates co-Chairman Ray Dalio wrote on LinkedIn this week that he has raised his probabilities of a trade war and other types of wars, such as cyber wars. Dalio said that "one should consider the possibility that this trade war could almost become a capital war," which "will be even uglier than a trade war," reports Bloomberg. Robert Burgess wrote on Bloomberg View that investors are losing confidence in President Trump. He reports that Nader Naeimi, an Australian money manager says that "For a growing number of global money managers, the risks of investing in the U.S. are too great right now given all the political uncertainty."  Fewer foreign investments could lead to a depreciated dollar.
Threats
·         The risk of an inverted Treasury yield curve, when short-term yields are higher long-term yields, is back on analysts' radars. An inverted yield curve has proceeded most U.S. recessions over recent decades.
·         Bloomberg reports that China is looking into the possibility of gradually devaluing their currency, the yuan, as a tool in trade negotiations with the United States. Senior China officials are said to be examining what would happen if they devalued the yuan to offset any impact of a trade deal that curbs exports.
·         On Monday President Donald Trump expressed his optimism that the U.S. will be able to reach a deal with China over trade disputes that have brought volatility and uncertainty to markets in recent weeks. However, not all are confident that a deal with be reached soon, as a former Chinese diplomat suggested that Beijing was not yet ready to hold talks.