A Golden Moon
I don't like to spend a lot of time in the grocery store, but I love the price sales…and gold's superb seasonal price sale continues in orderly fashion.
Astute investors are now calmly booking fabulous gold and silver Put Option profits, and filling their "grocery carts" with modest amounts of quality mining stocks.
This is the beautiful daily gold chart.
Gold often rallies significantly from early July. There is strong price support in the $1225 -$1250 zone and major rallies tend to begin at this type of support.
Some analysts have noted a good statistical correlation between full moons and gold price rallies. That might rise an eyebrow or two amongst rational thinkers, so I'll shed some light on why the correlation exists.
First, the bulk of global price discovery for gold occurs on the COMEX, LBMA, and SGE.
Gold price rallies generally begin when Western commercial traders anticipate a pick-up in Asian physical market demand. Since they supply most of the gold that Asia imports, they are keenly aware of any uptick in demand.
In India, full moons are generally auspicious days. Tuesdays are generally inauspicious days. Gold often declines on Tuesdays and has great rallies from full moons (but not always).
The next full moon is June 28. I expect that to roughly mark the beginning of the next major gold price rally. Ideally, it will begin from the $1225 - $1250 support zone.
While the correlation between gold price action and Hindu religion inauspicious and auspicious time frames is quite tenuous, it will become much stronger as the Indian economy grows vastly bigger.
India's banking system is undergoing positive overhaul, and the government has just committed to a program of enormous annual infrastructure spending over the next decade.
The AIIB will likely play a key role in making that happen. The AIIB is the "Asian Infrastructure Investment Bank". It's led by China…and India is the main recipient of its funds.
I've predicted a significant reduction in Western gold bug fear on price sales would occur, and I've recently noticed it starting to happen. That's good news. It's due in large part to the rise of gold-oriented Asia as an economic powerhouse. Over the next year or two, I expect Western investor fear during price sales to go the way of the dodo bird. It's a positive evolution of the gold market and its investors.
The US dollar peaked against the yen as the Fed began moving away from balance sheet expansion and towards contraction.
The ECB (Europe) and BOJ (Japan) are reducing their rate of balance expansion and will soon be in contraction mode. This is inflationary because it pushes money out of government bonds and into the fractional reserve banking system.
Balance sheet contraction is very negative for global stock markets. Many analysts think Jay Powell is going to blink like his predecessors blinked as the stock market fell. I think they are in for a nasty surprise.
Jay has already stated publicly that he doesn't pay attention to the stock market, and it seems that Wall Street price chasers want to learn that fact the hard way.
July can be a decent month for the stock market but I think August – September (stock market crash season) could see an enormous increase in price volatility as the bull market dies.
This bull market is eerily similar to the bull run that ended in the mid 1960s. Then, the Fed kept raising interest rates and inflation kept rising too. A period of stagflation was born as baby boomers tuned out rather than getting a job.
Now, millennials have their own way of tuning out; they go to work but they don't trust the government, they don't trust banks, and they like items like bitcoin and precious metals. As inflation rises, I expect them to become vastly more interested in these "non-approved" assets!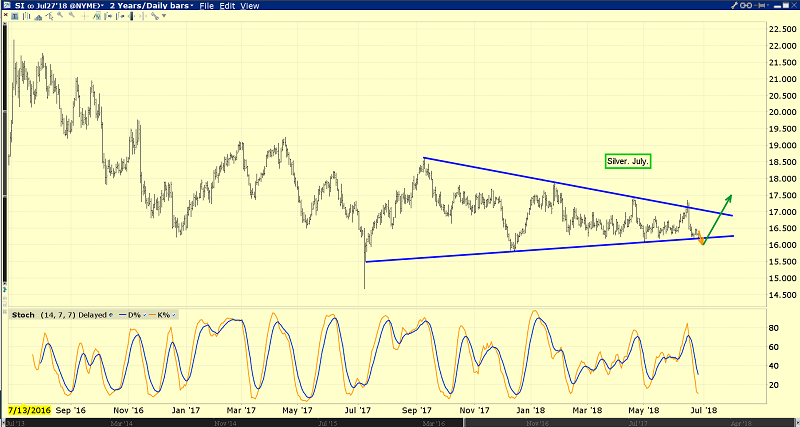 This is the great silver chart. The upside breakout from the symmetrical triangle pattern was false, and I expect a downside breakout will also be false. The next real trending move is almost certainly going to be to the upside.
I expect that Friday's COT report will show gargantuan commercial trader buying taking place through today in both gold and silver on the COMEX. Amateur investors should not attempt to back up any trucks to buy, but without exception, they should all be modest buyers alongside these commercial traders.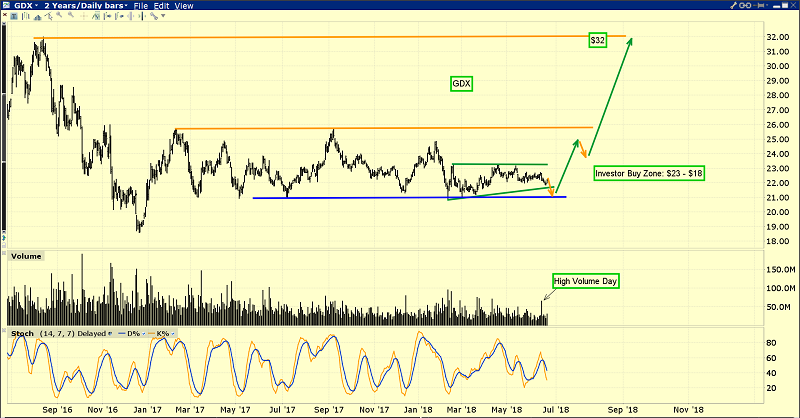 GDX is coiled and ready to stage a major rally up from the sideways consolidation zone. The new breed of gold stock investor can feel totally comfortable buying this price sale in anticipation of substantially higher prices.
The bottom line for today: All investor eyes should be focused on the $1225 -$1250 price zone as major support, with June 28 being a possible launch day for the next intermediate trend rally!
*********
Special Offer For Gold-Eagle Readers: Please send me an Email to [email protected] and I'll send you my free "Golden Moon Shots!" report. I highlight ten great gold stocks ready to stage 50% price gains during my projected summer gold price rally! I include key buy and sell tactics for each stock.
Note: We are privacy oriented. We accept cheques, credit card, and if needed, PayPal.
Written between 4am-7am. 5-6 issues per week. Emailed at aprox 9am daily.
Email:
Rate Sheet (us funds):
Lifetime: $999
2yr: $299 (over 500 issues)
1yr: $199 (over 250 issues)
6 mths: $129 (over 125 issues)
To pay by credit card/paypal, please click this link:
https://gracelandupdates.com/subscribe-pp/
To pay by cheque, make cheque payable to "Stewart Thomson"
Mail to:
Stewart Thomson / 1276 Lakeview Drive / Oakville, Ontario L6H 2M8 Canada
Stewart Thomson is a retired Merrill Lynch broker. Stewart writes the Graceland Updates daily between 4am-7am. They are sent out around 8am-9am. The newsletter is attractively priced and the format is a unique numbered point form. Giving clarity of each point and saving valuable reading time.
Risks, Disclaimers, Legal
Stewart Thomson is no longer an investment advisor. The information provided by Stewart and Graceland Updates is for general information purposes only. Before taking any action on any investment, it is imperative that you consult with multiple properly licensed, experienced and qualified investment advisors and get numerous opinions before taking any action. Your minimum risk on any investment in the world is: 100% loss of all your money. You may be taking or preparing to take leveraged positions in investments and not know it, exposing yourself to unlimited risks. This is highly concerning if you are an investor in any derivatives products. There is an approx $700 trillion OTC Derivatives Iceberg with a tiny portion written off officially. The bottom line:
Are You Prepared?