Golden Opportunity
Gold is signaling its next move up in its long term secular bull market. That's good news for the miners, which are also signaling "Buy, Buy, Buy". For gold bugs, there is always a good reason to buy gold. As it turns out, now may the opportune time to buy as these bargain prices may not be available for long.
Technical analysts know that price action and trading volume over time establish recognizable chart patterns. Valid chart patterns are reliable predictors of future price levels. Because historical data show that the most reliable patterns are accurate about 70% of the time, many professional traders include technical analysis when making investment decisions. Some successful traders rely almost exclusively on the "technicals".
As subscribers to The Gold Speculator know, on July 11th and July 20th, we issued buy recommendations on gold, silver and selected gold and silver stocks. Today we are gratified to see gold and silver climbing above our identified breakout levels, on their way to higher targets. Also today, respected Wall Street analysts upgraded their opinions of some gold and silver stocks we own in our Model Conservative Portfolio. Welcome aboard, Macquarie!
Here is the analysis that backed our bullish call on gold and gold stocks of last week: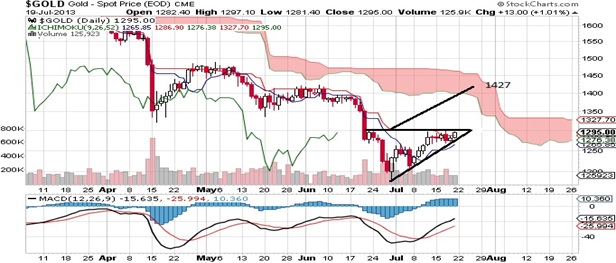 "Gold is trading in a consolidation manner, creating a bullish ascending triangle pattern from the July low. The breakout to the target price of 1427 could happen with a close above 1303 (top trend line level) on volume.
            The Ichimoku indicators are bearish at the moment, but these signals are tending toward a bullish bias. For instance, the Tenkan Sen is in bearish territory below the Kijun Sen, but it has moved up toward a bullish cross. Likewise, the Chikou Span is currently in bearish territory, but may emerge above price action by moving sideways or slightly higher over the next several trading sessions. Support is now 1265.90 with resistance at 1337."
Tuesday's chart shows the breakout from the bullish ascending triangle pattern. The close above the top trend line is the most significant signal. Also important, but difficult to see on this chart is the bullish cross of the Kijun Sen by the Tenkan Sen from below. Such a cross signals the beginning of a new trend. The Ichimoku indicators will confirm the bullish trend is complete when the three remaining Ichimoku indicators turn bullish, which each appears to be doing. Price action needs to break through the cloud, which can happen with even sideways trading from here. The projected cloud needs to "flip" from bearish to bullish (the cloud is already narrowing prior to such a "kumo flip"). And finally, the Chikou Span (green trace) needs to move above price action, where it appears to be headed. The separate MACD indicator is also bullish. We have found such MACD crosses useful in identifying trend reversals earlier than the Ichimoku indicators. We have referred to these MACD crosses as trade "triggers".
The bullish ascending triangle was formed by price action beginning in early July. The measured move brings a target price of 1427 for spot gold. If price action on the way up prints higher highs and higher lows, then a price action may form a larger, more powerful ascending triangle pattern dating back to mid-June. This is not uncommon in a strong uptrend. We will be watching for that happy case to play out.
Last week, we recommended clients buy selected gold and silver mining stocks. We had seen similar bullish chart patterns develop for our recommended names. The AMEX Gold Bugs Index (HUI) has some bullish features, although not as well defined as those of selected issues. The HUI gapped up on Monday's open and continued higher in trading Tuesday. In general, miners are catching the bid. That's good news for gold bugs everywhere.
The miners have been neglected by investors for a while. Now their stock prices are at very attractive levels for value investors. Mining stocks tend to be more volatile than the price of the underlying metal, so the mining stocks may climb faster in an uptrend. We believe that to be the case for several gold and silver producers right now.
The planets are lining up for the next leg up in the long term bull market for gold and gold stocks. Don't miss your golden opportunity to profit.
Responsible citizens and prudent investors protect themselves and their wealth against the ambitions of over-reaching government authority and debasement of the currency by owning gold. Gold is honest money. Investors from around the world benefit from timely market analysis on gold and silver and portfolio recommendations contained in The Gold Speculator investment newsletter, which is based on the principles of free markets, private property, sound money and Austrian School economics.\
The question for you to consider is how are you going to protect yourself from the vagaries of the fiat money and economic uncertainty?  We publish The Gold Speculator to help people make better decisions about their money. Our Model Conservative Portfolio has outperformed the DJIA and the S&P 500 by more than 3:1 over the last several years. Follow @TheGoldSpec   Subscribe at our web site www.thegoldspeculatorllc.com  with credit card or PayPal ($300/yr) or by sending your check for $290 ($10 cash discount) The Gold Speculator, 614 Nashua St. #142 Milford, NH 03055
editor@thegoldspeculatorllc.com