Goldman Lowers Its Gold Price Forecast To $2,000, Down From $2,300
Strengths
The best performing precious metal for the week was palladium, but still down 2.51%. Palladium was buoyed by the partially suspended operations at Russia's Nornickel mine due to flooding.  AngloGold Ashanti boosted its dividend more than fivefold to 48 cents, up from 9 cents in 2019 after profit climbed to $953 million in 2020. The move follows similar dividend increases from rivals Barrick Gold and Newmont.
Gold Fields said regulators approved its plan to build a 40-megawatt solar plant at its South Deep mine in South Africa, reports Bloomberg. The new plant will supply 20% of the mine's electricity needs and help limit operational losses from power outages.
African Gold Acquisition Corp, a special purpose acquisition company (SPAC) targeting gold assets in Africa, raised more than $360 million ahead of its New York listing. Bloomberg reports the offer was set to raise $300 million and saw stock sold at $10 a share. Founder and chairman Rob Hersov says potential acquisitions will be in "well-trodden mining countries, so no surprises. And we will likely buy a mining company and possibly add others thereafter."
Weaknesses
The worst performing precious metal for the week was platinum, down 6.93%, perhaps on the production expansion plans announced by Anglo American Platinum. Gold had a second weekly drop as 10-year Treasury yields rose to the highest in a year on Tuesday. Spot gold fell 1.9% to $1,770 an ounce on Wednesday and was down as much as 4% for the month. "The broad-based rally on the commodities markets is continuing to bypass gold completely," Commerzbank AG analyst Carsten Fritsch said in a note.
Platinum continued its decline, falling from a six-year high reached earlier this month. Bloomberg reports the metal fell 3.7% on Tuesday to $1,228 an ounce along with other base metals as investors reassess the demand outlook.
Goldman Sachs lowered its gold price forecast to $2,000 an ounce, down from $2,300, after a rocky start to the year. Analysts wrote in a note: "We think the strong rotation into risky assets on the back of repricing of global growth has been the main reason behind gold's underperformance."
Opportunities
De Beers, the world's largest diamond producer, raised prices by 4% at its second sale of this year, marking a third straight sale with higher prices. Strong holiday sales in the U.S. and positive signs from Chinese New Year have seen buyers rush to replenish their stocks of rough stones, reports Bloomberg. De Beers, an Anglo American Plc business, made massive discounts last year as the pandemic hit demand.
Anglo American Platinum Ltd plans to boost production of platinum-group metals 20% to 3.6 million ounces by 2030 through ramping up South African operations. Chief Executive Officer Natascha Viljoen expects prices to remain robust in 2021, even as the platinum market will likely turn to a surplus. "If you consider the momentum in battery electric vehicles and fuel cells, we believe the future lies in a mixed drive train where platinum certainly plays a significant role."
Harmony Gold Mining, South Africa's top producer, is considering digging further at the Mponeng mine, already the world's deepest mine at 2.5 miles underground. CEO Peter Steenkamp says ore reserves below the current level are "massive" and the company is looking at ways to find the investment needed to keep extracting. Harmony purchased the legendary and aging Mponeng mine from AngloGold Ashanti last year.
Threats
Citigroup says gold is losing luster to cryptocurrencies in a new report, which compares net outflows from gold-backed ETFs to the increase in outstanding shares for the Grayscale Bitcoin Trust. "While a few months does not imply a structural trend, it appears rotational flow impacts are favoring cryptocurrencies to the detriment of gold this year," analyst Aakash Doshi writes. The bank cut its six-to-12-month price target for gold by $150 an ounce to $1,950.
Fed Chairman Jerome Powell spoke on Tuesday and signaled the central bank will continue to support the economy and is nowhere close to unwinding its easy policy. "Gold is still in the danger zone since Powell did not deliver a response to the recent surge in yields," said Edward Moya, a senior market analyst at Oanda Corp. "Treasury yields can probably go a lot higher before the fed will step in, and that could derail gold's outlook in the short term." Higher yields hurt gold's appeal since it does not pay interest.
Bloomberg's Jake Lloyd-Smith says shrinking holdings in gold-backed ETFs are a bad omen for bullion prices as outflows have remained steady since peaking in September. "Bullion faces stiff headwinds this half, with Treasury yields pushing higher amid investor optimism about the pandemic's endgame and the dollar off its lows." The analyst thinks investors might be taking the opportunity to exit gold positions during a time of relative strength. Another Bloomberg analyst, Eddie van der Walt, says "it's always worrying to see gold sell off along with risk assets." He also points out that bullion is usually among the first to rebound in episodes of acute market volatility, as seen in the chart below from 2008.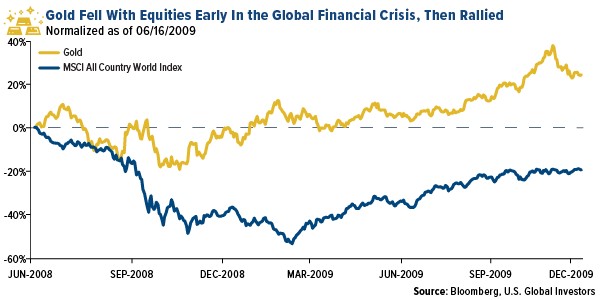 *********