Industrial Metal Demand Expected To Surge In 2022, Amid Automobile Restocking
Strengths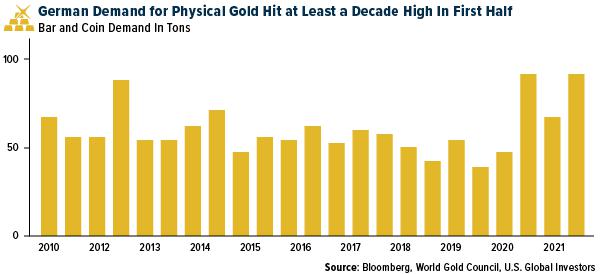 The best performing precious metal for the week was palladium, up 6.44%, despite hedge funds cutting their net long positioning to a 14-month low. Gold rose the most in two weeks, up 1.40% on Friday, as Federal Reserve Chairman Jerome Powell's testimony signaled central bank tapering may be appropriate this year and that it won't be in a hurry to raise interest rates thereafter.

Sibanye Stillwater, the world's biggest platinum miner, announced a record first-half dividend after metals prices soared. Sibanye joins other South African platinum-group metals producers in reaping windfall profits after supply deficits pushed palladium and rhodium to record highs. The Johannesburg-based company will pay a first-half dividend of about 8.5 billion rand ($570 million), at the top end of its 25% to 35% payout ratio.

Polymetal International, Russia's second-biggest gold miner, will speed up a new silver project as it sees demand for the metal, including in solar panels, pushing up prices to $30 an ounce. The miner will fast-track development of the open-pit mine at the Prognoz deposit in Russia's Yakutia region and process the ore at Polymetal's existing Nezhda concentrator. The first payable concentrate production is expected in the third quarter of 2023.
Weaknesses 
The worst performing precious metal for the week platinum. OceanaGold has temporarily suspended gold mining operations in New Zealand as the nation's Covid-19 lockdown restrictions start up.

Exchange-traded funds continued to reduce gold holdings, bringing this year's net sales to 7.2 million ounces, according to data compiled by Bloomberg. There were six straight days of declines, the longest losing streak since July 8. Total gold held by ETFs fell 6.7% this year to 99.9 million ounces, the lowest level since May 10.

Steppe Gold released second-quarter results, producing 7,200 ounces of gold, lower than consensus of 9,700 ounces of gold. The company also ceased leaching in early July due to cyanide supply import issues.
Opportunities
Citi sees palladium demand surging in 2022 through 2023 as its analysts expect the automobile industry to enter a strong restocking phase. The bank notes that car inventories are at their lowest level in over 50 years of data. Demand for platinum, palladium and particularly rhodium is minting South Africa largest trade surplus in history. The tripling of rhodium prices has made it South Africa's most valuable export, as noted on Bloomberg.

Silvercorp announced a normal course issuer bid to acquire up to 7,054,000 shares, representing approximately 4% of the shares issued and outstanding. The repurchase program will run until August 26, 2022.

The specter of rising inflation caused the Ontario Teachers' Pension Plan to increase its exposure to inflation-sensitive assets including gold and "a broad basket of commodities" in the first half of the year as investment teams continued to grapple with fallout from the global COVID-19 pandemic. Net investments in commodities accounted for 12% of the asset mix in the first half of the year, up from 8% at the end of 2020.
Threats
Climate issues regarding drought and fires in the western U.S. and Canada are causing some operators to curtain field activities. Parts of Europe and eastern Siberia are also seeing massive fires. Drought has captured more than 95% of the land in 11 western states, including all of California, Oregon, Nevada, Idaho, Montana and Utah, according to the U.S. Drought Monitor. Jim Rouiller, who's been a meteorologist for 40 years and heads the Energy Weather Group, says the summer has forced some rethinking among him and his colleagues. "This is very abnormal," he said. "There is also a stronger signal for global warming in the picture. I do believe now more than I have that it is occurring. I just don't know the magnitude but the change is happening and it is going to keep on increasing."

Kinross's stock continues to decline and lose value. The company's shares are 1.2% above the 52-week low of $5.64, giving the company a market cap of $7 billion. The stock is currently down 21.7% year-to-date, down 34.6% over the past 12 months, and up 17.5% over the past five years.

Gold jewelers across India closed shop for a day on August 23 to protest against the new "arbitrarily implemented" quality standards in the country, the National Task Force on Hallmarking, representing 350 jewelry associations, said in a statement. About 160 million to 180 million pieces of jewelry are estimated to be certified under the new standards this year. At the current capacity of hallmarking centers of about 200,000 pieces daily, it will take almost four years to certify this year's production, Task Force member Dinesh Jain said in the statement.
*********