Latest Gold Market Update
There was a particularly interesting article from Peter Tenebrarum of The Acting Man blog posted in the GATA forum earlier this week that is probably one of the best summaries of technical conditions for gold which included a really good assessment of sentiment. As you all have read in my work, this is one of the strangest combinations of sentiment and technical conditions that I have ever witnessed. Here we are in year three of a bonafide bull market in gold, having bottomed in December 2015 at around $1,045-1,050 per ounce. However, the gold mining stocks (HUI) remain in a clearly-defined downtrend from the August 2016 high above HUI 280. We are 5.4% below the 2016 peak price for gold seen around $1,365…but we are more than 37% off the 2016 peak for the HUI. You want to recall the explosive move in the miners off the January 2016 lows that coincided with the big rebound in the metals. I see the same set-up in the Gold Miners today.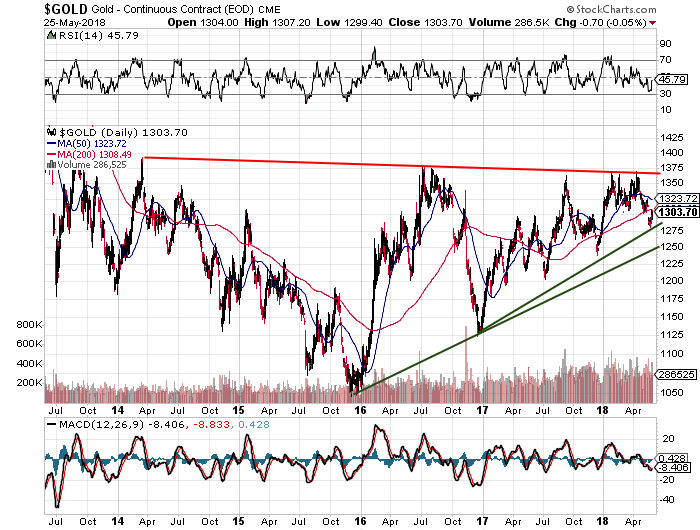 The Junior Gold Miners are also mired in a trading range that neither threatens to break either down or up and volumes are particularly anemic in the GDXJ ETF. This apathy is no better illustrated than in the Gold-to-Silver-Ratio ("GTSR") which up until quite recently was above the all-important 80 level for the second time since gold bottomed in late 2015. A GTSR above 80 is the ultimate sentiment indicator as silver is always the speculator's choice over gold in the manner of car enthusiasts choosing the Maserati over the BMW when left to an afternoon on the Autobahn.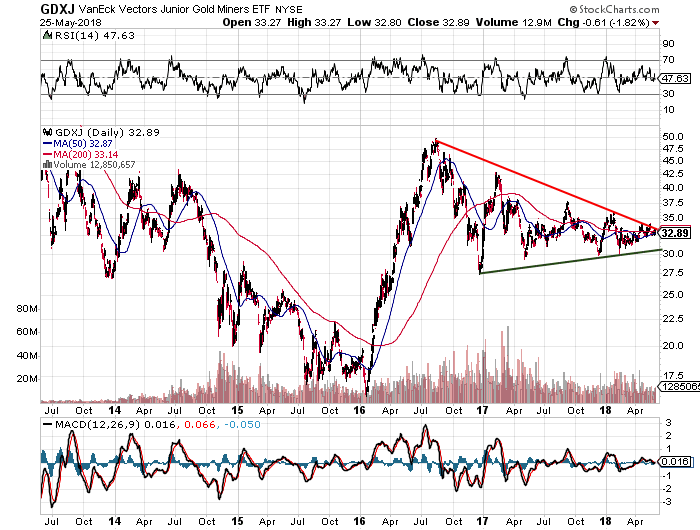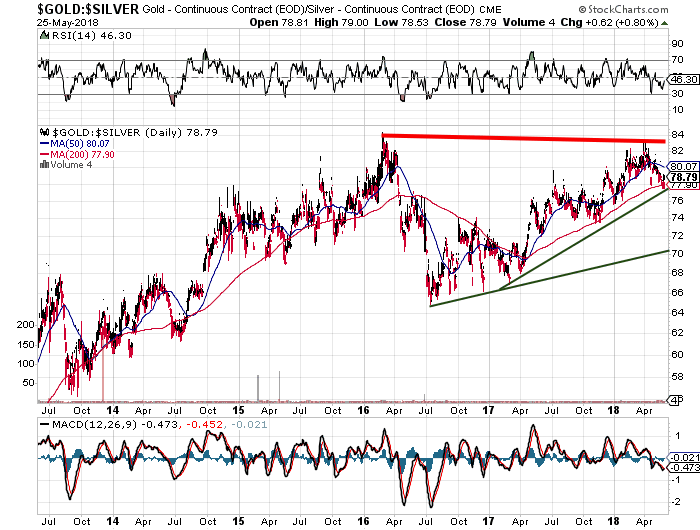 I have stated my reasons for being a staunch bull on gold and silver (with emphasis on the latter) for the second half of 2018 but rather than my repeating my reasons again in this forum, please take the time to read Peter Tenebrarum's piece and consider what will happen to the junior gold/silver miners (GDXJ) and the exploration issues (SRC, CDA, BVG etc.) if we are proven right over the balance of the year. If the precious metals respond in the second half, sentiment for the juniors will shift quickly and the valuation gaps present out there will evaporate allowing these "penny dreadfuls" to double and triple before the masses have actually woken up.
Therein lies the opportunity.