Looking Ahead To April
The month of March has been a wild one for the COMEX digital metals, and despite the war in Ukraine, this is not unusual. But soon we'll turn our attention to April, and we'll wait to see if a renewed rally toward $2000 gold is forthcoming.
First of all, yes, the war in Ukraine played with emotions and volatility all through the month of March. COMEX gold nearly tapped its all-time highs from August 2020 before falling backward, and now as the month finally draws to a close, we wait to see where price finishes.
Why is this important? Because the month of March and the end of the first quarter are always important for the precious metals. Over the past few years, the April COMEX gold contract has become quite volatile and has also seen a surge in "deliveries" once the contract goes off the board in late March. At present, the Apr22 COMEX gold is due to go off the board and into "delivery" at the COMEX close on Wednesday, March 30. Will we see more shenanigans before this event?
We've certainly seen the usual games over the past few weeks. Since late 2021, we've written often of the latest strategy for managing price on COMEX into month-end. Just two weeks ago, this most recent post warned that you should expect another bout of price weakness as spread trades placed through the TAS system were again "legged out" for maximum impact.
That article was written on Saturday, March 12 and posted on Tuesday, March 15. Next, let's check the price chart since those dates. Note the abundance of big red bars in the volume section.
So, just as in late November and late January, the price of COMEX gold has been driven backward into front month contract expiration. You should be certain to watch for this again in late May ahead of the Jun22 expirations.
Next, we'll have to deal with LBMA options expiration. These over-the-counter contracts will expire and price off of the London PM Fix this Thursday, the 31st. It's impossible to know the volume of these options that are outstanding, but past experience shows that volatility will continue through the expiration point.
And then comes the all-important painting of both the monthly and quarterly charts. These long-term charts are always instructive of the underlying trend, and any new highs will be surely noted by generalists and commodity traders alike.
As you can see on the monthly chart, the highest monthly close of all time is $1968 in August of 2020. For a while this month, we had a shot at eclipsing that level, but now that appears unlikely. However, the highest quarterly close for COMEX gold is $1887.50, set on September 30, 2020. We have a legitimate shot at breaching that one, but you must know that The Banks are aware of this, too, and will likely work diligently over the next few days to avoid this outcome.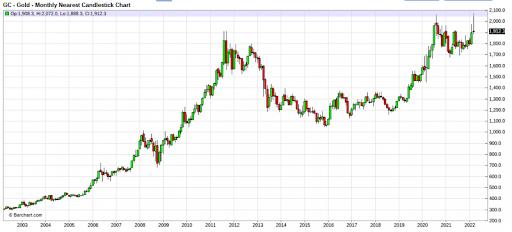 But regardless of where the price finishes on March 31, precious metals enthusiasts are set up for a very interesting remainder of 2022. The long-term financial and monetary impacts of the Ukraine war will continue to be felt, and the short-term impacts of The Fed's monetary policy will be important, too.
Looking to invest in physical gold? Check out our collection of gold bars and coins here.
The next FOMC meeting is not scheduled until May 3-4. This means that the month of April will continue to see volatility based upon geopolitics, real interest rates, and the looming spectre of a Fed "policy error" that ultimately leads to a stagflationary recession. Without a COMEX contract expiration hanging over our heads again until late May, the stage should be set for a renewed rally toward $2000. How is that possible? Look again at the monthly chart and then the weekly chart below it.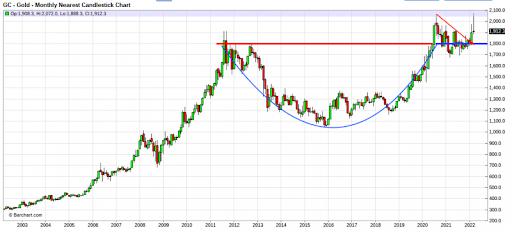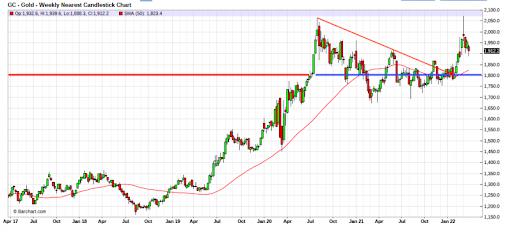 The price of COMEX gold failed to make new all-time highs in March, and it's not likely to make new all-time highs in April, either. However, the trend toward eventual new highs is inexorable in 2022, regardless of the Ukraine situation, as we wrote in this year's annual macrocast back in January. Once above $2100, the 2022 goal of $2300 comes plainly into view.
So we'll see where April takes us. Without a COMEX expiration and with the likelihood of a Fed "policy error" increasing, the downside for the gold price should be limited with an upward bias into the $1900s and pushing back toward $2000.
*********