Metal Miners: Gold $1610 Is The Key
Since early March of this year, "King Dollar" has fared incredibly well against almost every asset.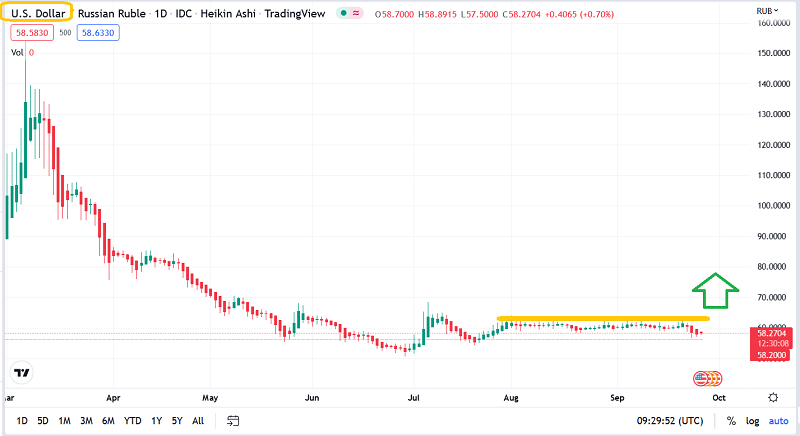 Horrifically, the only asset the dollar is failing against… is the one the US government promised the dollar would annihilate, the ruble!
I've repeatedly cautioned gold bugs that gold is unlikely to rally to new highs until the US government gets its currency act together… and fosters a decent dollar rally against the ruble.
That could involve sanctions that are designed to weaken Russia's government rather than ruin the citizens of Europe and ruin the citizens of Russia.  It could involve getting rid of the sanctions altogether (an act of sanity). 
It could involve ending the addiction to meddling in nations around the world, and replacing the addiction with a focus on America's own backyard (Cuba and Mexico) where it has failed so horrifically. 
If a nation is themed on fiat, debt, and can't have an orderly backyard, can it really call itself an empire that is mandated to lord over the world?  Sadly, "Bozo the Meddling Fiat Clown" may be the phrase that sums up the US government most succinctly today.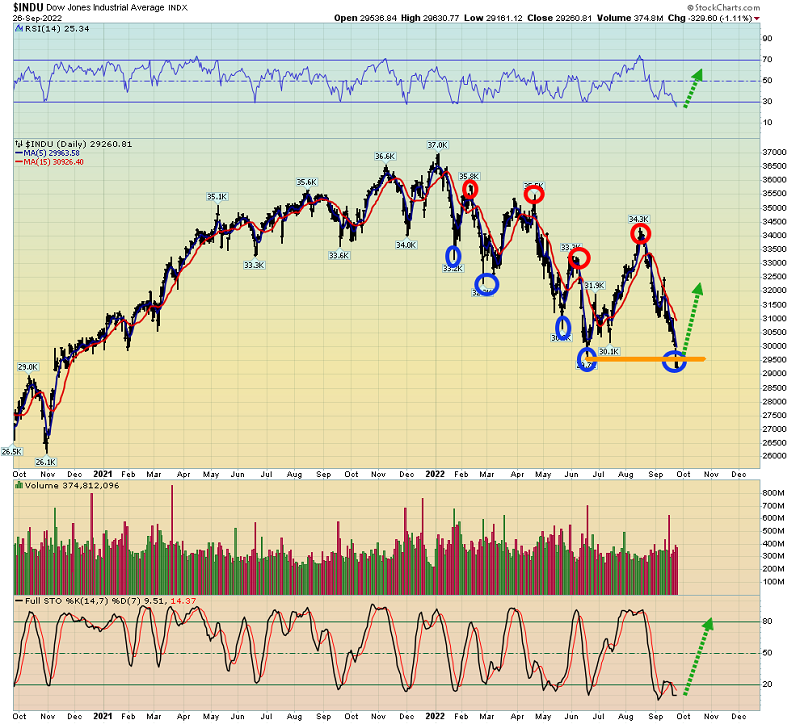 What about the stock market?  New lows create investor adrenaline, but when a new low occurs… it's usually only a few days (and often just one day) before a substantial rally occurs!
The Dow just made a new low so a rally is expected now.  The Aug-Sept time frame is "crash season", but an ongoing "stagflationary ooze" (for the next 20 to 30 years) is the most likely scenario for the US stock market, rather than "the big crash".
Gamblers can play the rally, which will almost certainly fail and be followed with deeper lows.  Everyone else should focus on being short the bond market, long the dollar, and…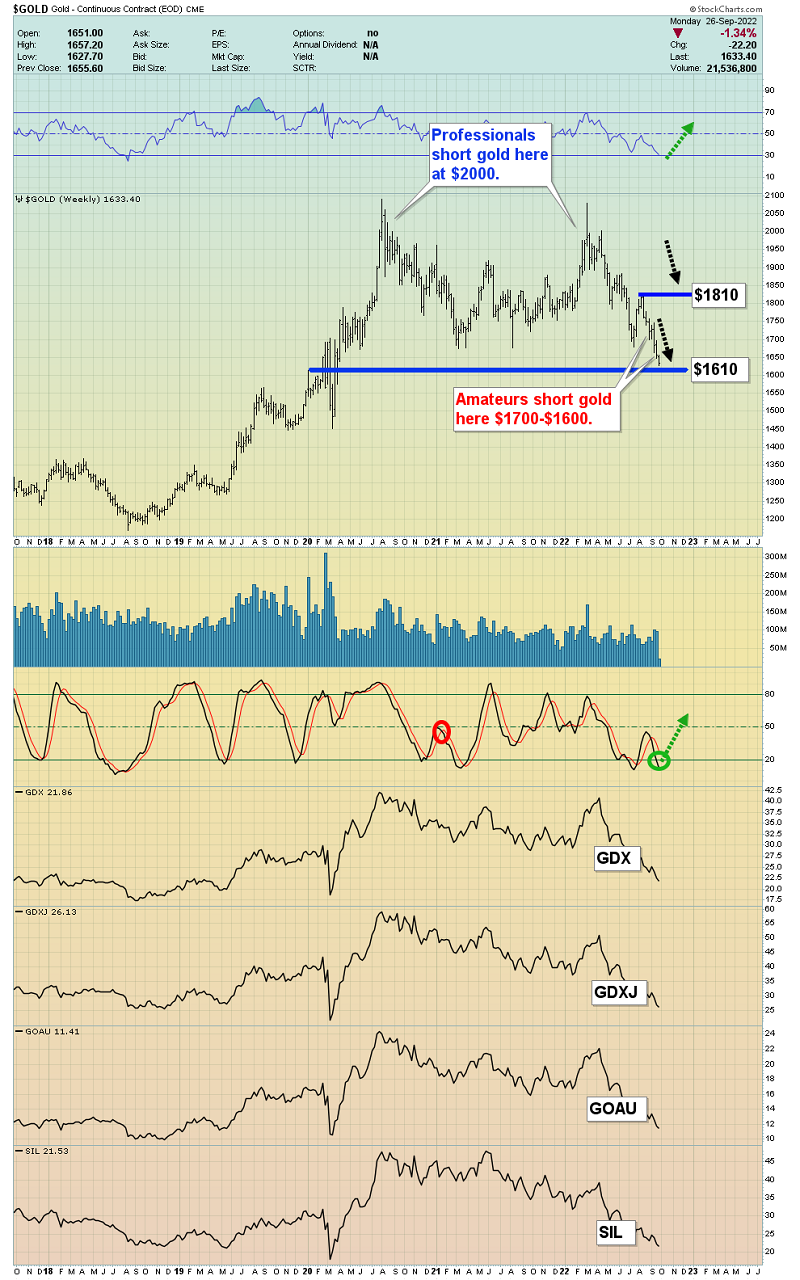 Get ready to go long gold, commodities, and crypto!
The spectacular gold chart.  Gold is finally moving close to my $1610 buy zone for mining stock enthusiasts.
It's not quite there (and it may not get there) but if it happens, investors should be ready to buy.  Note the fabulous position of the 14,5,5 Stochastics osciallator.
The time for professional investors to short gold (and get richer) was at round number $2000.  The time for amateur investors to short gold (if they want to fail again) is now.  Horrifically, that's what many amateur gold investors are doing… shorting it now.

My suggestion for all gold bugs is to pay attention to the professionals (commercial traders on the COMEX) who are eagerly buying all that the amateurs sell.
Just because the pros are buying aggressively while the silly amateurs sell… that doesn't mean every gold bug should buy too.
If a gold bug is already heavily allocated to the sector, there's no need to buy more to "average down" their entry price.  Here's why:
A gold bull era lies ahead, driven first by the 2021-2025 war cycle, then by energy transition, and finally by empire transition (from fiat orientated to gold-oriented China and India).  There's no need to back up any trucks to buy.  Nothing is "getting away".  In a nutshell, this is an era that is likely to last 200 years.
I provide daily updates 5-6 mornings a week just like this one in my flagship GU newsletter, and at just $199/yr, subscribers love the money-making analysis and tactics that put light into days that feel dark.  I'm doing a special offer this week of just $179/15mths.  If you can't access the link, send me an email and I'll get you onboard.  Thanks!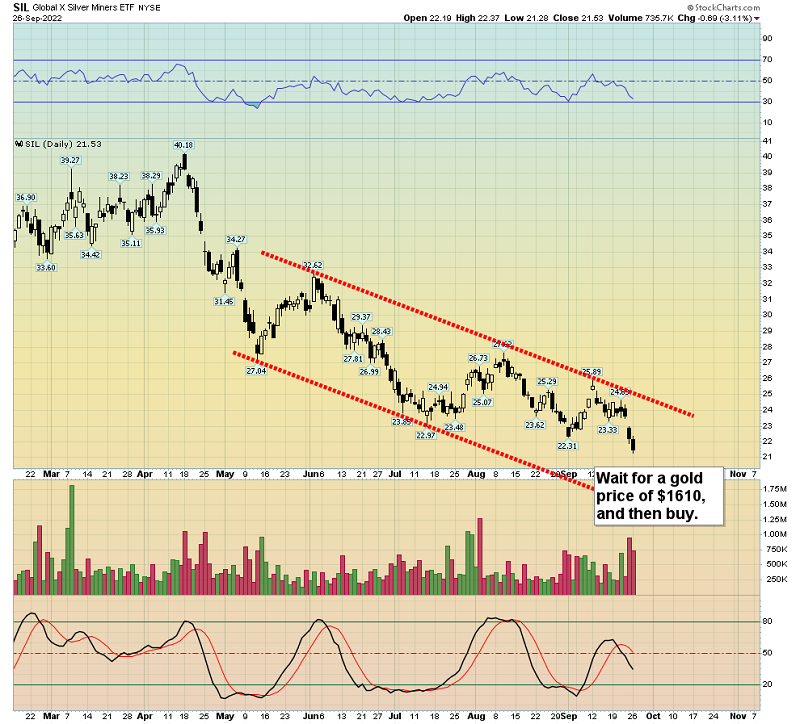 The SIL ETF chart.  Silver bugs will find it hard to get richer by staring at this chart (or at the silver bullion chart) and buying on bullish set-ups there.
For the miners, both gold and silver, it's all about gold bullion, and for gold bullion, it's all about $1610.
The XME chart.  The chart looks better than the SIL chart, but that doesn't mean the next rally will be better too. 
XME has retraced most of the summer rally, and I sold what I bought at $40 into the highs that were defined by the gold price resistance at $1785.
I urged gold bugs to take similar action, and many did.  A new rally looks imminent, but it will be the action of gold bullion (and the Dow, to a degree) that determines whether it plays out or not.
The GDXJ chart.  There's no guarantee that the gold price declines to the $1610 "buy zone of mining stock champions" area, but the odds of huge gains for investors who buy there… are substantial!
Special Offer For Gold-Eagle Readers: Please send me an Email to [email protected] and I'll send you my free "Chomping At The Golden Bit!" report.  I highlight eight gold miners that could see fast 50% gains on a rally from the gold $1610 zone, and I include key tactics to profit from the action!
Stewart Thomson 
Graceland Updates
Note: We are privacy oriented.  We accept cheques, credit card, and if needed, PayPal.
Written between 4am-7am.  5-6 issues per week.  Emailed at aprox 9am dailyhttps://www.gracelandupdates.com/    
Email:
Rate Sheet (us funds):
Lifetime: $1299
2yr:  $299     (over 500 issues)
1yr:  $199     (over 250 issues)
6 mths: $129 (over 125 issues)
To pay by credit card/paypal, please click this link:
https://gracelandupdates.com/subscribe-pp/
To pay by cheque, make cheque payable to "Stewart Thomson"
Mail to:
Stewart Thomson / 1276 Lakeview Drive / Oakville, Ontario L6H 2M8 Canada
Stewart Thomson is a retired Merrill Lynch broker. Stewart writes the Graceland Updates daily between 4am-7am. They are sent out around 8am-9am. The newsletter is attractively priced and the format is a unique numbered point form.  Giving clarity of each point and saving valuable reading time.
Risks, Disclaimers, Legal
Stewart Thomson is no longer an investment advisor. The information provided by Stewart and Graceland Updates is for general information purposes only. Before taking any action on any investment, it is imperative that you consult with multiple properly licensed, experienced and qualified investment advisors and get numerous opinions before taking any action. Your minimum risk on any investment in the world is: 100% loss of all your money. You may be taking or preparing to take leveraged positions in investments and not know it, exposing yourself to unlimited risks. This is highly concerning if you are an investor in any derivatives products. There is an approx $700 trillion OTC Derivatives Iceberg with a tiny portion written off officially. The bottom line:  
Are You Prepared?
********