New Trading Range For Gold Stocks
The gold price action in 2016 is now getting widespread attention. The upside fun may continue, but when "the crowd" is very excited about the next possible move, the wise professional investor takes the view that a more relaxed outlook may be in order.
Many economists are raising their upside price targets significantly, and most precious metals charts do look very good.
That's all the more reason for investors to "enjoy the ride" at this point in time, rather than get overly excited about predicting the next price movement.
For now, investors should focus on the strong fundamentals that are in place for gold. It's hard to do the opposite of what the crowd is doing all the time, but to achieve long term financial success in the gold market, that's what must be done.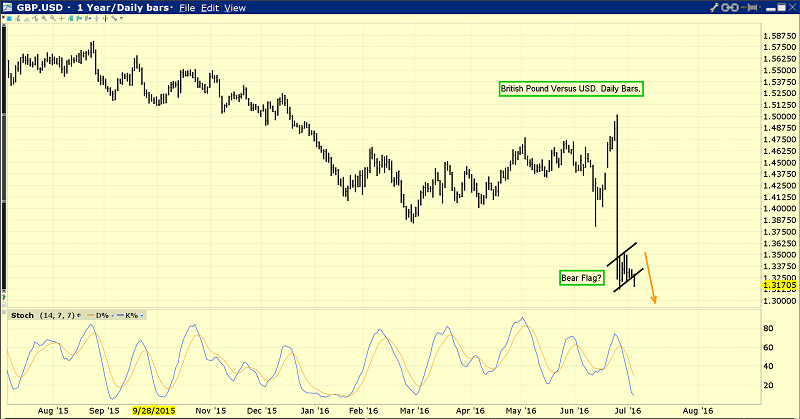 That's the daily chart of the British pound versus the US dollar. The pound may be about to begin another Brexit-related leg down, from a bear flag formation. That's good news for gold.
This is the US dollar versus Japanese yen chart. Both the dollar and the pound are "risk-on" currencies, while the yen is a safe haven.
A new leg down for the dollar against the yen may be getting underway, and that's also good news for gold.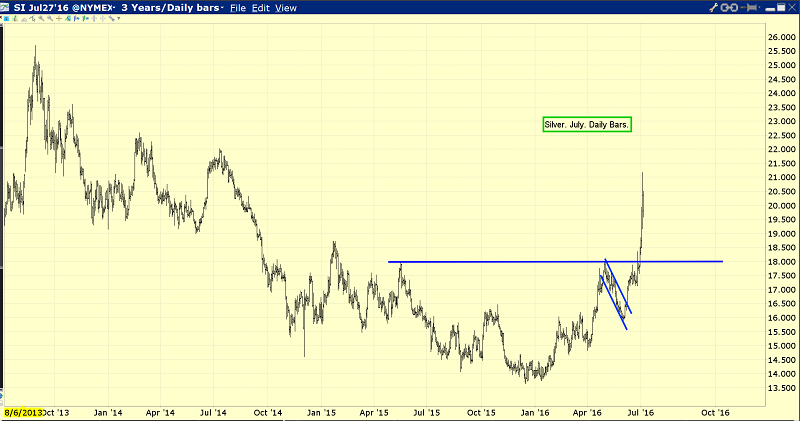 This is the phenomenal daily silver chart.
The recent silver price action is impressive, and resistance at $18 has now become solid support.
This is a longer-term look at the silver chart.
Silver has surged close to the high of $21.44 hit back in 2008. Many investors have horrific memories of that period of time, and that former high may now act as a form of price resistance.
Silver often acts like a levered version of gold. I don't think investors who feel the urge to buy silver now are making an error, given the huge amount of institutional enthusiasm for the entire precious metals sector that is occurring now.
Having said that, given the importance of the $21.44 price zone, a decline to about $18 could easily happen. I don't think the next price movement can be predicted easily at this point in time, but if they are buyers now, silver-oriented investors should prepare themselves to take more buy-side action at $18.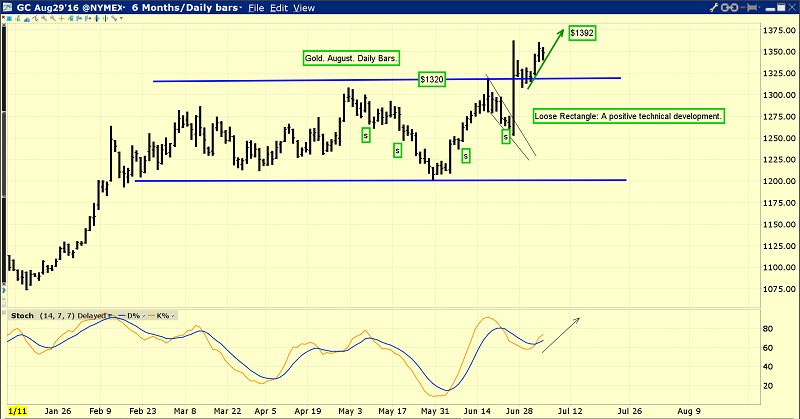 This is the important daily gold chart.
Gold is flirting with the Brexit highs, and it appears to have staged a decent upside breakout from a loose rectangle. That's a positive development, and it suggests that gold may make its way towards $1392, or even $1440.
If gold can rise to about $1392 or higher, the entire $1285 - $1335 area would become a strong support zone, like $18 is now for silver.
Gold stocks and silver stocks are the star performers of 2016. Can they continue to shine?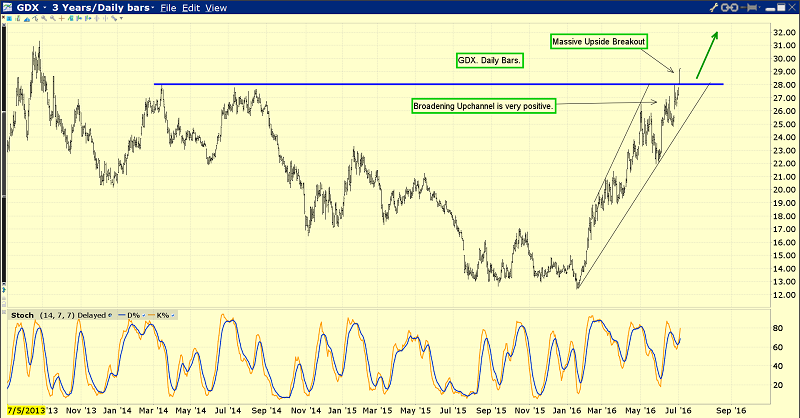 This is the GDX daily chart.
GDX just staged a very interesting upside breakout. After rising above the 2015 highs in the $23 area, GDX just surpassed the 2014 highs near $28.
This is a very exciting development. Institutional money managers like to see stocks making multi-year highs, and gold stocks are doing it while most mainstream assets languish!
Since the $1045 area lows, gold has rallied more than $300 to the recent highs. Cost-cutting programs at many gold mining companies have been in place for the past few years, and most of companies were anticipating the gold price to be under $1200 in the coming years.
This gold price rally is producing quite a shocking rise in company earnings for many miners.
From here, my fundamental and technical analysis of this situation suggests that GDX could quickly establish a new trading range, roughly between $25 - $40.
That's good news not just for the mining companies, but for the entire global gold community!
********
Special Offer For Gold-Eagle Readers: Please send me an Email to [email protected] and I'll send you my free "Gold Stock ETFs Versus Individual Miners" report! I cover the relative merits of each type of investment, and include key buy and sell tactics for each ETF and stock!
Note: We are privacy oriented. We accept cheques, credit card, and if needed, PayPal.
Written between 4am-7am. 5-6 issues per week. Emailed at aprox 9am daily.
Email: [email protected]
Rate Sheet (us funds):
Lifetime: $999
2yr: $269 (over 500 issues)
1yr: $169 (over 250 issues)
6 mths: $99 (over 125 issues)
To pay by credit card, click this link:
https://app.moonclerk.com/pay/a0es7yliyhw
To pay by cheque, make cheque payable to "Stewart Thomson"
Mail to:
Stewart Thomson / 1276 Lakeview Drive / Oakville, Ontario L6H 2M8 Canada
Stewart Thomson is a retired Merrill Lynch broker. Stewart writes the Graceland Updates daily between 4am-7am. They are sent out around 8am-9am. The newsletter is attractively priced and the format is a unique numbered point form. Giving clarity of each point and saving valuable reading time.
Risks, Disclaimers, Legal
Stewart Thomson is no longer an investment advisor. The information provided by Stewart and Graceland Updates is for general information purposes only. Before taking any action on any investment, it is imperative that you consult with multiple properly licensed, experienced and qualified investment advisors and get numerous opinions before taking any action. Your minimum risk on any investment in the world is: 100% loss of all your money. You may be taking or preparing to take leveraged positions in investments and not know it, exposing yourself to unlimited risks. This is highly concerning if you are an investor in any derivatives products. There is an approx $700 trillion OTC Derivatives Iceberg with a tiny portion written off officially. The bottom line:
Are You Prepared?