Parabolic Spikes
Spikes in gold
Since the gold bull market began four years ago, I have witnessed many spikes, and without exception, all these spikes gave back about 70% of their gains in subsequent corrections.
Spike #1 - a sharp rise over six weeks off the double bottom of $255, the bear market bottom; gave back 70% of its gain by dropping back to the 200ema before the next upleg. Spike #2 - another sharp rise over eight weeks and gave back 80% of its gain and also dropping back to 200ema.
Spike #3 - a monstrous rise of over 20% in twelve weeks, gave back 80% and again, dropping back to 200ema before the next run. Spike #4 - a sharp rise in six weeks was followed by a 70% loss, and back to 200ema.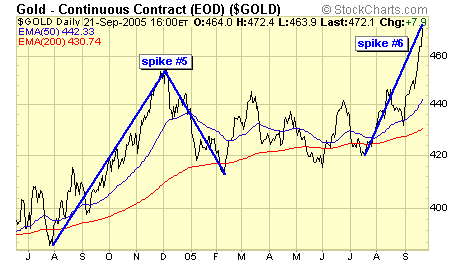 Spike #5 - a four month rise of 15% was followed by a 70% correction and the 200ema support.
Spike #6 - its been eight weeks now, and bullion has gained about 12%, when it will end, nobody knows. But if past history is a guide, we can expect a sharp correction back to the 200ema once the parabolic spike is over. I cannot predict when this spike will be over, but I will be prepared to buy when the next setup appears.
$XAU and $HUI
Despite a breakout on the $HUI:GOLD ratio chart, actual prices on both the $XAU and $HUI remain in a giant consolidation.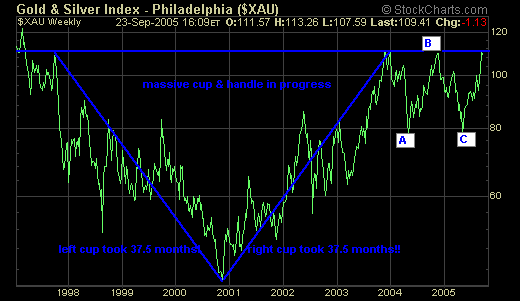 I first published this chart in early 2004, only expecting a small consolidation before a breakout, but that consolidation is now twenty one months old, and this week we had an excellent shot of breaking out, but so far we've been rejected at resistance.
$HUI is in the same predicament: what appeared to be a sure thing days ago is now turning back from resistance. It is quite possible that there is one more leg down to complete this ABCDE correction.
Summary
My job as a trader and technical analyst is not to try to figure out what the market will do tomorrow, or the next day. My job is to enter the market when we have a favorable set up, and the risk is manageable. Since the current market does not meet my criteria, I remain patient until such time.
Jack Chan at www.traderscorporation.com
23 September 2005