Post-Pandemic Recovery, FED Tapering And A Stronger Dollar Will Weigh On Gold
Strengths
The best performing precious metal for the week was palladium, but still off 1.28%, as precious metals took a hit across the board. Sudan's official gold output nearly doubled in the first half of 2021 as authorities reined in smuggling, a Sudanese Mineral Resources Co. representative said, marking a partial success in efforts to salvage the economy. The North African nation recorded production of 30.3 tons between January and the end of June, compared to 15.6 tons in the same period the year before.

Gold imports by India jumped to the highest in three months in July as economic activity picked up after a deadly coronavirus wave subsided, and prices in the second-biggest consumer softened. Inbound shipments surged 71% from a year earlier to 43.6 tons last month.

SSR Mining said it returned to a second-quarter profit on higher gold production from its four mines. The company said it earned $51.6 million, or $0.25 per share, in the period, compared to a loss of $6.28 million, or $0.05, in the second quarter of 2020.
Weaknesses 
The worst performing precious metal for the week was platinum, down 6.46%, on news citing weaker industrial demand due to the new delta variant of the coronavirus. Platinum has already been in a weak trend with its price falling each of the past three months. AngloGold's first half production was 1,200,000 ounces of gold, 7% behind consensus of 1,285,000 ounces. Cash costs were $1,003 per ounce, 8% ahead of consensus of $930 per ounce. Earnings per share (EPS) came in at 86 cents and was a 13% miss to consensus.

Perth Mint says gold coin and minted bar sales totaled 70,658 ounces last month, according to figures on its website. Sales compare with 72,910 ounces in June, according to previously released data. Silver sales were at 1.3 million ounces in July versus 1.82 million ounces in June.

Platinum dropped to a seven-month low as the spread of the coronavirus dents the outlook for industrial commodities, while a Federal Reserve official indicated the central bank is on course to taper stimulus. The metal used in catalytic converters fell for a third day as the spread of the delta strain punctures the narrative of a rapid global recovery. Platinum has tumbled 19% from this year's peak in February as a computer-chip shortage curbed auto production.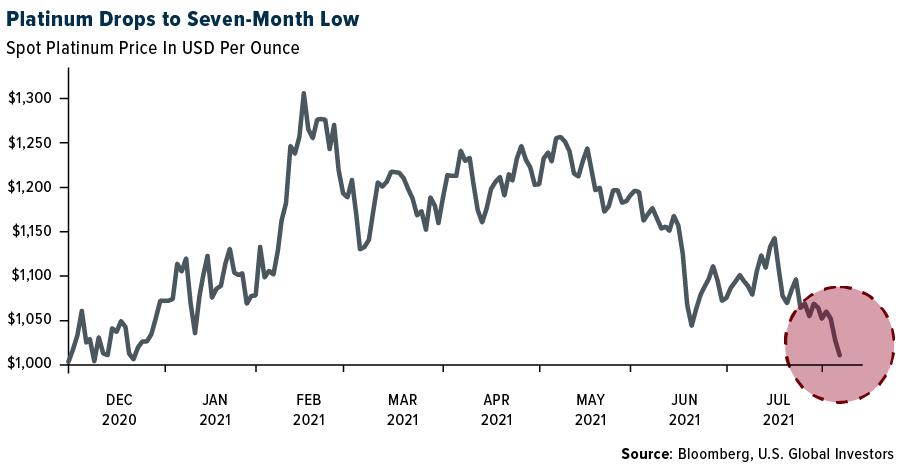 Opportunities
Gold is primed to surge to fresh highs as the risks around central banks unwinding massive stimulus are under-appreciated by investors, said Diego Parrilla, who manages the $250 million Quadriga Igneo fund and forecast the metal's rise to a record last year.

Auteco Minerals reported drilling results outside of its currently defined resources. The company reported an intercept of 9.8 meters at 3.1 grams per tonne grade of gold. Auteco's Pickel Crow gold project currently has 1.7 million ounces of defined gold and with its current 50,000-meter drilling program it expects the resource to grow larger. In June the company released a resource which grew the previous estimate by 71%. Its Inferred Resource comprises a high-grade component of 1,470,000 ounces at 10.1 gram per tonne gold.

Sibanye Stillwater entered into an agreement to buy Eramet's Sandouville nickel hydrometallurgical processing plant, as it advances its plans to build a presence in the battery-metals sector. Neil Froneman, CEO of Sibanye Stillwater has communicated in the past that the company has considered an acquisition in the gold mining space. The nickel production line follows on the heels of a Sibanye investment into a Finnish-based lithium company.
Threats
Most analysts expect gold to gradually decline over the next few years. The post-pandemic recovery, Federal Reserve tapering, and a stronger dollar will all weigh on the metal, which could fall to $1,700 an ounce by year-end and then decline further in 2022, UBS Group AG strategists, including Wayne Gordon and Giovanni Staunovo, said in a note.

The Nigeria Extractive Industries Transparency Initiative (NEITI) has said that the 1% contribution of the mining sector to Nigeria's GDP was unacceptable. The agency described the activities of illegal minerals buying centers across the country as major revenue leakages to government, saying that it has become worrisome to the organization. In the past year, Thor Exploration has started its legal gold mining operations in Nigeria and recently poured its first gold doré bars.

Gold trimmed gains after a report showed robust expansion in U.S. service industries last month, reducing demand for the metal as a haven and fueling concerns that Federal Reserve policymakers could soon scale back support for the economy. Friday's price drop was the most in seven weeks and seems overdone compared to the backdrop on the "traditional" infrastructure spending bill and the $3.5 trillion economic package to follow.
**********