Precious Metals Update
Secular Uptrend Pulls Back to Long-Term Support
In an uptrend resistance becomes support. The precious metals are in a secular (15 to 20+ years) uptrend and they are currently pulling back to long-term support levels.
That's my story and I'm sticking to it!
For you people from Missouri, let me show you what I mean by focusing on monthly charts.
Let's start with Gold itself. Due to its volatility the support level in COMEX Gold is actually a zone as opposed to a cleanly defined line. Notice how price ran into resistance between $1055 and $1110 back in 2008 / 2009 and then turned that level into support in late-2009 / early-2010. Now, in 2015, Gold has pulled back almost to the support zone with a low so far of $1132.
Some analysts are calling for a low of $1030 before the current cyclical bear trend is completely finished. While none of us want to see a price of $1030 on the yellow metal, notice that $1030 would just be a test of the long-term support zone.
GC – COMEX Gold – monthly
The Gold Bugs Index found resistance at the 150 round-number back in 2002 and 2003. In 2004 and 2005 that level (actually 163 & 165) was tested for support and the test was successful with price tripling over the next three years. After this massive upleg we got a nearly vertical drop back down to the support level in 2008 where, once again, price proved that the old resistance level had turned into support.
Rising off support in 2008, price gained over 400% before peaking in 2011 and beginning the cyclical bear market that we have been enduring for over three years now. Notice that price is back at the long-term support level and the support level has been tested successfully yet again.
HUI – Gold Bugs Index – monthly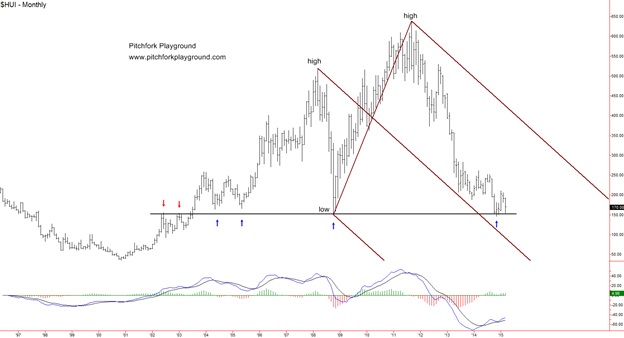 I won't make you suffer through the play-by-play with Goldcorp.
GG – Goldcorp – monthly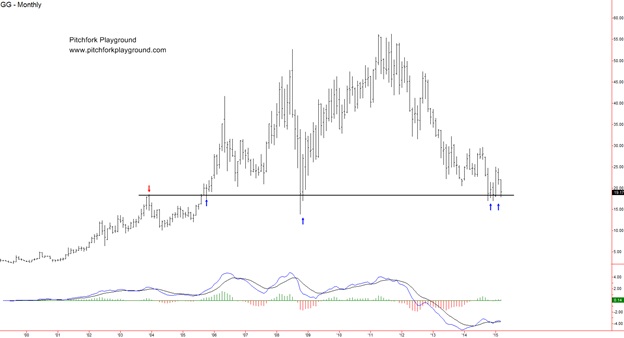 Kinross Gold provides another example of my premise that resistance turned into support years ago and that support is now being tested.
If a price pattern can be described as beautiful, that is the adjective I would use here. Notice how the volume in KGC has risen steadily since 2002. This is one more piece of evidence, in my opinion, that the precious metals and mining stocks are in a secular uptrend and furthermore, that the uptrend has yet to complete.
KGC – Kinross Gold – monthly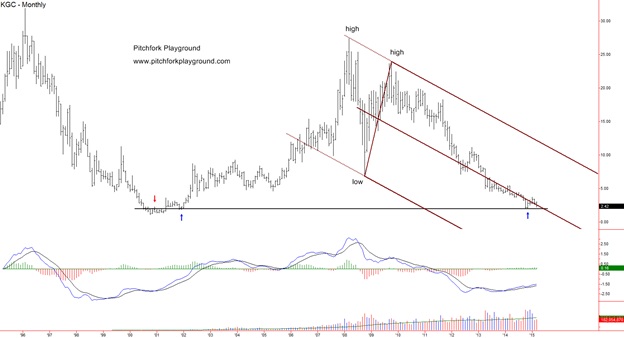 More of the same in PAAS. Long-term support being tested and rising volume since the beginning of the Golden Bull Market back in 2001/2001.
PAAS – Pan American Silver – monthly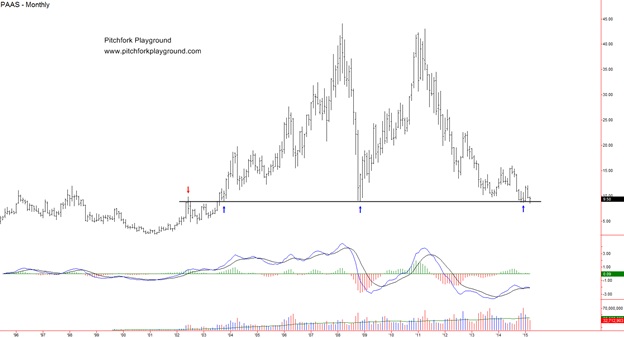 This is the only chart we are going to look at that isn't monthly. PZG's daily chart is looking too pretty not to share. Price has demonstrated that it wants to rally by breaking out of the downward-sloping modified-Schiff pitchfork (red lines) and the channel formed by the fork's upper and lower median lines.
Notice how PZG pulled back recently to test support on the red fork's upper median line. That test was successful and price has risen higher on increasing volume. As if that weren't bullish enough, MACD is poised to issue a buy signal and the MACD histogram is almost back at the zero line. To put even more icing on the cake, we have a clear entry level at the 200 day moving average (pink line) and a well-defined exit point at the open gap. What more could we ask for?
PZG – Paramount Gold and Silver – daily
"An almost hysterical antagonism toward the gold standard is one issue which unites statists of all persuasions. They seem to sense … that gold and economic freedom are inseparable." ~Alan Greenspan
********
Editor-in-Chief, Pitchfork Playground