Profits Are Golden Only When Booked
While global stock markets have not done well since "taper number one" was announced in December, the performance of gold stocks since then has been superb.
The FOMC meeting begins today, and culminates with a policy announcement from the Fed, at about 2PM on Wednesday. 
Money managers are nervous, because in the past few trading sessions the sell-off in the Dow has dramatically accelerated.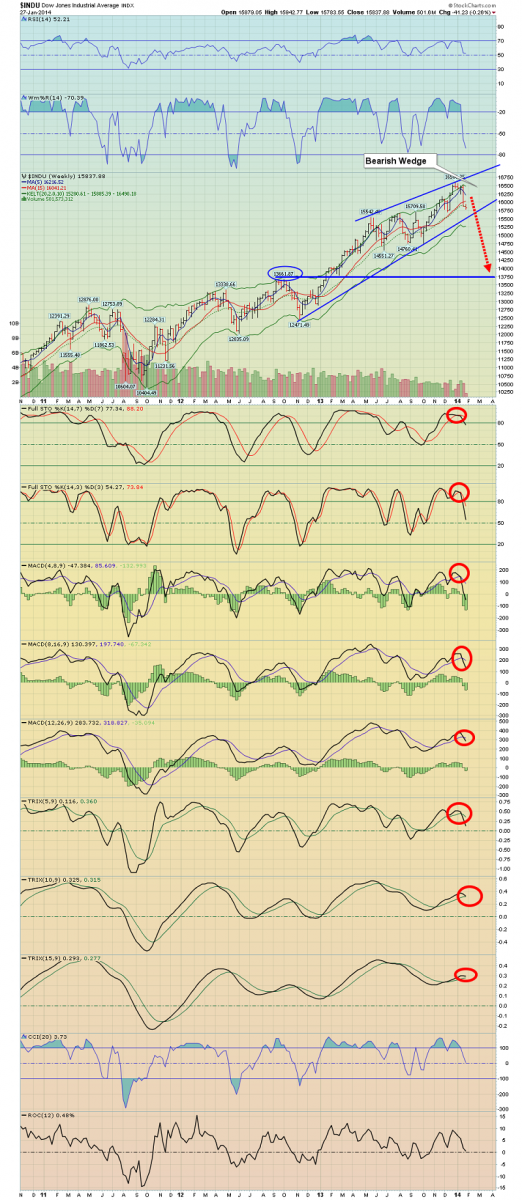 On this weekly chart of the Dow, I've highlighted a large and very bearish wedge pattern.  
Also, please note the numerous red circles that I put on the chart.  Many key technical indicators look like barrels full of investors, going over Niagara Falls.  While a small relief rally is overdue, I would not touch the Dow on the buy-side, unless it falls to the 13,600 area.
At that point, investors could begin to buy, using my pyramid generator (systematic capital allocator).
The bottom line is that the Dow is already in trouble, after just one tapering event.  One can only imagine the real panic that US stock market investors would feel, if each subsequent tapering event is accompanied by even bigger falls in price.
Ironically, the one fundamental event that most gold analysts feared most, QE tapering, is probably what created a powerful surge in the price of gold stocks. 
That's likely because large money managers appear to be unsure as to whether the Fed is really tapering because of increased economic growth, or because of a fear of inflation. 
Since money supply velocity has yet to turn higher, the Fed has not addressed inflationary concerns directly. 
Regardless, a number of prominent regional Fed bank presidents have stated that the sheer size of the QE-enhanced money supply could potentially lead to a surprising increase in inflation, if velocity starts picking up. 
The tapering agenda suggests that the Fed is trying to err on the side of caution.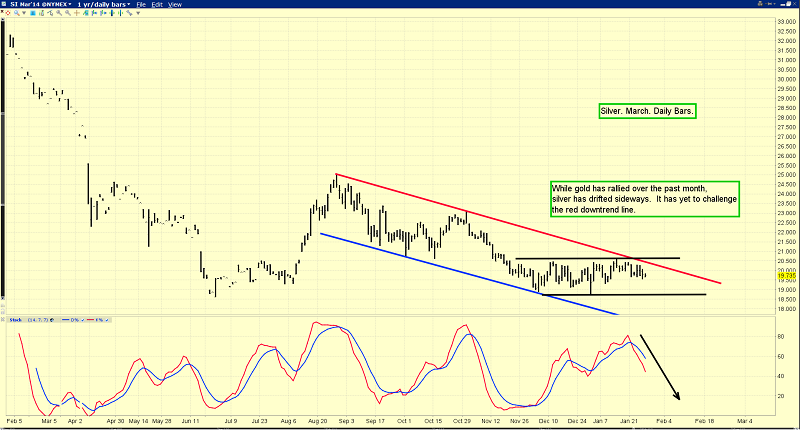 That's the daily silver chart.  Silver bullion is the one laggard in this precious metals rally. 
Note my stokeillator (14,7,7 Stochastics series), at the bottom of the chart.  The lead line is down to about 43.  Watch closely over the next few days, for a crossover buy signal. 
When it comes, the ensuing rally could take silver above both the red downtrend line and the black HSR (horizontal support and resistance) line, in the $20.60 area.
A move above $20.60 could attract sizable momentum-oriented buyers, and the entire precious metals sector could then begin a fresh move higher.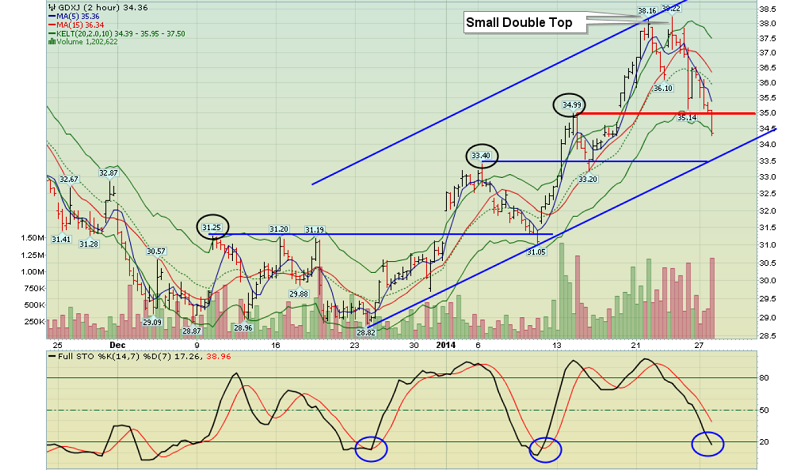 A week ago, I suggested that gold stocks needed to rest, and traders should book profits.  Profits are golden, only when booked!  That's a two hour bars chart for GDXJ (junior gold stocks ETF).  
I've highlighted a key double top pattern that began forming last week.  GDXJ has now broken down from that.  The stokeillator lead line is down to about 19.  Gamblers who don't care about the FOMC announcement could buy now, using a tight stop loss order.
The $33.40 and $31.25 HSR zones are probably decent re-entry points, and I'll be acting on them myself, if the pullback extends that far.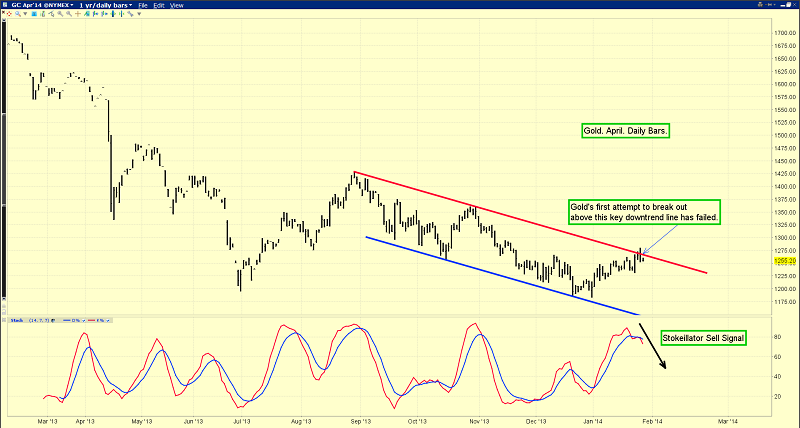 This is the daily gold chart.  Gold failed to successfully move above the red downtrend line, but that's only the first attempt to do so.  It may take a fresh stokeillator buy signal to get the job done!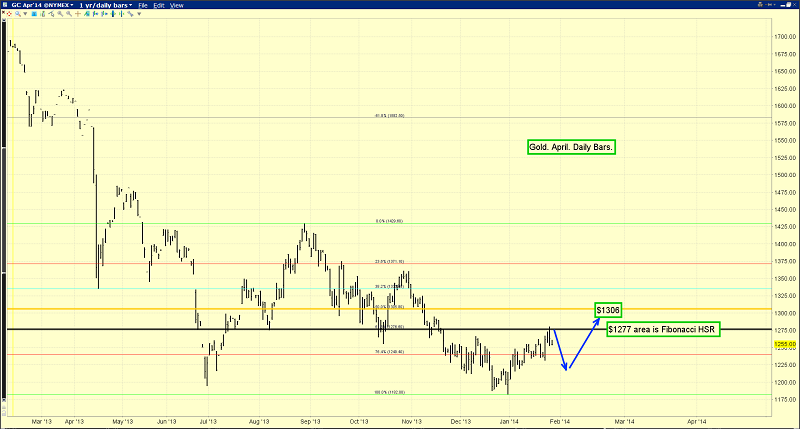 Why did gold fail just above that trend line?  Using Fibonacci retracement lines, from the August high in the $1430 area, to the December low near $1180, it's clear that gold stalled near the 61.8% line.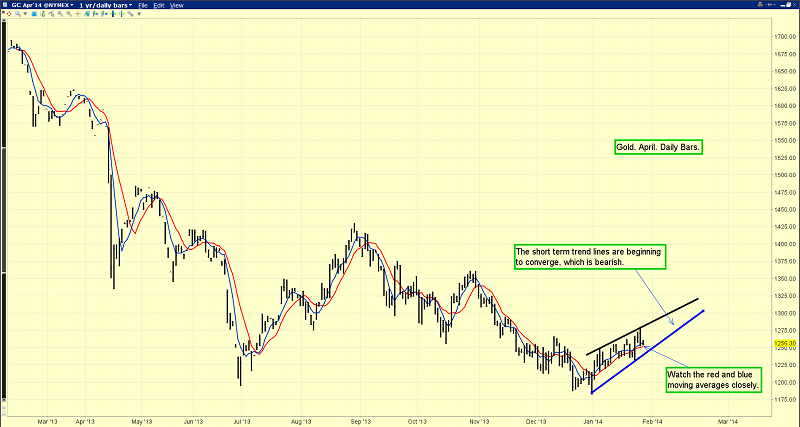 This is a third look at the gold chart.  A small bearish wedge pattern has appeared.
Watch the (5,10) moving average series closely.  A crossover sell signal there would indicate that a bigger decline could occur.
I realize that most investors in the gold community want to see a serious move to the upside, and that is likely in the works.  Having said that, I don't think it's a good idea to be overly concerned with the question of whether the $1180 area is the ultimate bottom or not.  I don't think that question can be answered, and there's a lot of key support in the entire $1000 -$1150 area.  If the bottom is in, fine.  If it isn't in, fine.  Investors should not be overly-focused on a question that really can't be answered.  Instead, stay focused on the next key buying area, which in the case of GDXJ, is the $33.40 zone!
******** 
Special Offer For Gold-Eagle Readers:  Please send me an Email to [email protected] and I'll send you my free "Yen To Power Gold" report.  There is remarkable synergy between the Japanese Yen and gold.  I'll show you why the next intermediate trend move could be to the upside!
Note: We are privacy oriented.  We accept cheques.  And credit cards thru PayPal only on our website.  For your protection.  We don't see your credit card information.  Only PayPal does.  They pay us.  Minus their fee.  PayPal is a highly reputable company.  Owned by Ebay.  With about 160 million accounts worldwide.  
Email: [email protected]
Rate Sheet (us funds):
Lifetime: $799
2yr:  $269  (over 500 issues)
1yr:  $169  (over 250 issues)
6 mths: $99 (over 125 issues)
To pay by cheque, make cheque payable to "Stewart Thomson"  
Mail to: Stewart Thomson / 1276 Lakeview Drive / Oakville, Ontario L6H 2M8 Canada
Risks, Disclaimers, Legal
Stewart Thomson is no longer an investment advisor. The information provided by Stewart and Graceland Updates is for general information purposes only. Before taking any action on any investment, it is imperative that you consult with multiple properly licensed, experienced and qualified investment advisors and get numerous opinions before taking any action. Your minimum risk on any investment in the world is: 100% loss of all your money. You may be taking or preparing to take leveraged positions in investments and not know it, exposing yourself to unlimited risks. This is highly concerning if you are an investor in any derivatives products. There is an approx $700 trillion OTC Derivatives Iceberg with a tiny portion written off officially. The bottom line:  
Are You Prepared?