PSAR Is Smarter Than I Am
Last week I did a three part analysis of the HUI index detailing all the reasons that price should find support at its current level and turn higher. Price ignored my in-depth analysis and headed lower.
HUI – Gold Bugs Index – daily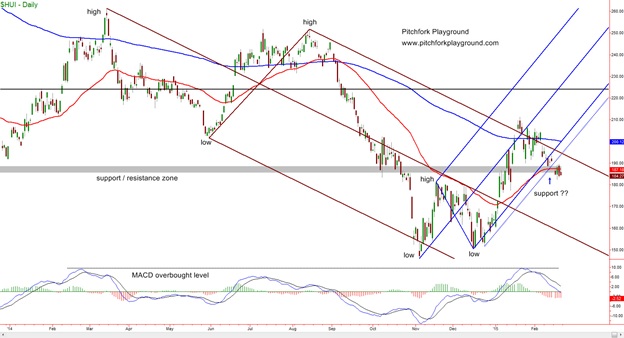 While I am looking for a bottom in the precious metals sector I am keeping my hard-earned capital safely on the sidelines. Picking tops and bottoms is a great way to go broke and that's not my objective. After three years of trending relentlessly lower I want to see some definitive proof that the sector is back in rally mode before I put my money at risk.
We do have signs of bottoming in Gold and the mining stocks. It is quite possible that the low point of the cyclical downturn occurred in November of 2014. The action in Newmont Mining (NEM) last week is another piece of evidence that the bottom is in.
On Thursday Newmont announced 4th quarter earnings and beat Wall Street's expectations. The stock gapped higher Friday and popped above resistance at the top of a sideways consolidation zone. Buyers took price up to the next resistance level where sellers came in and took control.  The long wick on top of Friday's candle is somewhat bearish but price did close above the horizontal support / resistance level.
There are additional positive signs in NEM's chart. The 50 day exponential moving average is moving towards a cross above the 200 day average and MACD is turning upwards. Some buyers will enter the stock when these signals occur and significant buying should come in once price rises above the prior high at $27.40. For now we want to see price establish support along the horizontal S/R level and push through resistance at the upper median line extension of the Andrews pitchfork.
NEM – Newmont Mining - daily
To see why PSAR* is smarter than I am let's add the indicator to the two charts we just looked at.
* PSAR: Parabolic Stop and Reverse – developed by J. Welles Wilder, Jr.
HUI – Gold Bugs Index – daily
NEM – Newmont Mining – daily
Instead of doing in-depth analysis on the HUI trying to pick a bottom I could have just checked the PSAR and moved on. The PSAR is clearly showing that HUI remains in a downtrend while NEM is working its way higher.
To see all the reasons why HUI should be finding support and turning higher you can review my highfalutin analysis (or just wait for the PSAR signal!):
HUI Index: Bull Pullback or Bear Rally? (part 1) 14 February 2015
HUI Index: Bull Pullback or Bear Rally? (part 2) 15 February 2015
HUI Index: Bull Pullback or Bear Rally? (part 3) 16 February 2015
******** 
Editor-in-Chief, Pitchfork Playground