Russia To Increase Gold Reserves On Shift From U.S. Dollar
Strengths
The best performing precious metal for the week was palladium, up 0.73% on expectations of strong automobile production, perhaps tempered by the chip shortage. Palladium supply, however, has been restrained by flooding at one mine in Russia. Sibanye Stillwater may buy back about 9.6 billion rand ($700 million) of its shares. The company will repurchase as many as 147.7 million shares, or 5% of its total, which will be implemented between June 2 and April 6 of 2022.

Dundee Precious Metals announced a plan of arrangement to acquire INV Metals at a 63% premium to the five-day average price. The all-share transaction values INV at C$132 million given the 0.091 share exchange ratio. The deal will also allow for a much lower cost of capital (internally generated or raised in the market) to fund the Loma Larga project.

Russian miner Nord Gold Plc announced plans to hold an initial public offering (IPO) in London. The company, known as Nordgold, expects to have a free float of at least 25%, and plans a secondary listing in Moscow. Nordgold said an IPO would widen its options for raising capital and help the company to retain key managers.
Weaknesses
The worst performing precious metal for the week was platinum, down 1.28% despite speculators boosting their net-lot positions in the past week. Gold slipped from the highest level in almost five months as strong economic data from the U.S. diminished demand for haven assets. Data released showed a gauge of U.S. manufacturing quickened in May, propelled by stronger growth in orders. That boosted yields on 10-year Treasuries, which weighed on demand for non-interest-bearing bullion. However, U.S. payrolls were weaker than expected on Friday, letting gold close out the week on a positive note. The Perth Mint says gold coin and minted bar sales totaled 91,146 ounces last month, according to figures on its website. Sales compare with 101,379 ounces in April, according to previously released data.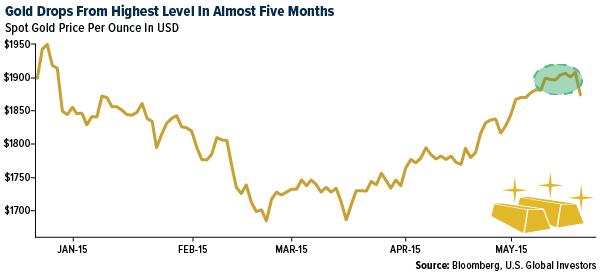 On May 31, Centerra announced that it has commenced a filing under Chapter 11 of the U.S. Bankruptcy Code for its subsidiaries Kumtor Gold Company (KGC) and Kumtor Operating Company (KOC). This is intended to provide a worldwide automatic stay of all claims against KGC and KOC, and presumably to prevent the Kyrgyz Government from stripping KGC of its assets and disposing of the Kumtor mine. According to Centerra, the government intends to use environmental and tax claims to place KGC into insolvency proceeding and then potentially strip KGC of its assets.

Nevada lawmakers voted to reform how the state taxes the mining industry, passing a measure that will effectively double the amount of taxes imposed on silver and gold mines.  The bill will preserve the state's Net Proceeds on Minerals tax structure, which requires mining businesses be taxed at less than 5% of what are called net proceeds — profit minus deductions for certain costs. It will add an excise tax of 0.75% on mines that report gross revenue of $20 million to $150 million and 1.1% on mines that report any higher gross revenue. It has been signed by the Governor.   
Opportunities
Precious metal mining companies that are developing and exploring new projects have the best return potential among peers, according to a report by RBC. The group sees value among mid-cap precious metal miners as stocks lagged their large-cap peers. The spread in valuation for intermediates has widened to a 40% discount, 10% higher versus the historical average despite better growth, yields and leverage to metal prices.

Newcore Gold released more drilling results from the Boin deposit that add grade accretive ounces to the Boin resource. Drilling hit 0.90 grams per ton silver. This hole was from the south end of the Boin pit shell. The current Boin pit grades are 0.84 grams per ton, so this is immediately accretive to grade. Boin is the second largest deposit and accounts for 44% of the total resource ounces.

Russia announced it will eliminate the dollar from its oil fund to reduce its vulnerability to Western sanctions. The news comes just weeks before Putin and President Biden are scheduled to meet at an upcoming summit. Finance Minister Anton Siluanov noted that the dollar holdings will now be shifted to euros, yuan and gold.
Threats
Newmont's CEO admitted that it is hard to find talent in the mining and metals industry right now. Competition with remote work along with an increased role of technology is presenting challenges across the board.

The global chip shortage has had "quite a significant" impact on platinum and palladium demand in the automobile industry, according to Suki Cooper, a precious metals analyst at Standard Chartered Bank. "We were expecting a strong recovery across auto production to lift demand for both platinum and palladium, but because of the chip shortages, recent estimates look like they'll reduce auto production by about 2 to 3 million units in the second half of the year."

Many ETFs continue to sell their gold holdings, cutting 196,113 troy ounces of gold in the last trading session, bringing this year's net sales to 6.05 million ounces. Total gold held by ETFs has fallen 5.6% this year to 101 million ounces.
*********