Russian Nationals Bought A Record Amount Of Gold Since 2014
Strengths
•The best performing precious metal for the week was palladium, up 1.38%, after falling over 14% in the past five trading days. Three central banks met this past week, and all said that rates will go up to fight inflation. Rhona O'Connell of StoneX commented that the lack of sustained selloff following the hawkish shift "demonstrates the market is still pretty robust."
•North American gold and silver miners closed the week up 2.10% on expectations that mining stocks have bottomed according to Roth Capital Partners. The buy in for higher prices may have been galvanized by the effort of central bankers to combat inflation. Roth believes silver is likely to outperform gold.
•Russian nationals have bought a record amount of gold since 2014, the Russian media has reported (Sputnik). They bought four tons of gold bullion and coins in the past nine months, which is around 8% more when compared to the previous year, the reports specified. Traditional gold investments have become very popular in other countries as well, with Americans having purchased 91.3 tons of the yellow metal in the past nine months (+79%), while in China and India gold buying has surged by 54% and 24% respectively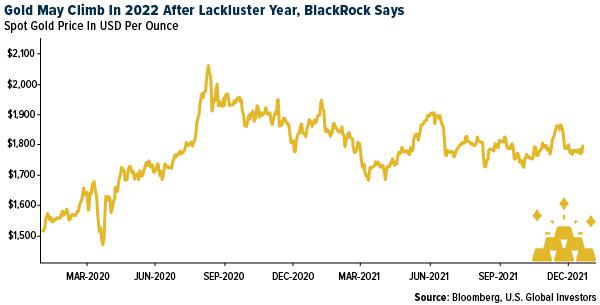 Weaknesses
•The worst performing precious metal for the week was platinum, down 1.04%, after just gaining 1.01% in the prior week. The tape was negative for gold for most of the week, as everyone waited for the Federal Reserve. Gold declined as bond yields and the dollar pushed higher after a surge in U.S. producer prices added to concerns over inflation. Prices paid to U.S. producers posted a record annual increase of almost 10% in November, government data showed Tuesday. The increase was bigger than analysts expected and will sustain a pipeline of inflationary pressures well into 2022.
•Bloomberg reported that the Democratic Republic of Congo's central bank failed to account for $530 million that the state mining company Gecamines says it paid to the government mostly during the former President Joseph Kabila's final term in office, Congo's top anti-corruption official said.
•Stillwater's South African operations have recently suffered four fatalities at its Beatrix and Rustenburg mines. The group has decided to suspend operations at the Kloof 1 and Beatrix 3 shafts at the South African gold operations and the Rustenburg Khuseleka shaft at the gold operations until further notice. Additionally, the increase in COVID-19 infections in South Africa have resulted in a lack of senior management availability at the Rustenburg Thembelani shaft. As a result, the company has decided to suspend operations in that shaft too. Following these developments, the company now expects FY21 production for the gold operations to be at the low end of the previous guidance range of 884-948 thousand ounces while costs are expected to be at the top end of the guided range ($1,690-1,742 per ounce).
Opportunities
•Skeena announced a private placement of 1,471,739 flow-through shares at a price of C$21 per share for gross proceeds of C$30.9 million. Franco-Nevada is the end purchaser of the common shares and will own 2% of Skeena on closing. Skeena will grant Franco-Nevada a right of first refusal over the sale of a 0.5% net smelter return royalty over the Eskay Creek Gold and Silver Project.
•Wheaton Precious Metals announced the acquisition of a gold stream on Artemis' Blackwater project in British Columbia, Canada, for $300 million, purchased from New Gold. The company also confirmed a prior announced silver stream on the project for $141 million. Positively, Blackwater is located in a favorable geographic location, features a long-duration 22-year mine life with reported exploration upside, and maintains an operator with development expertise. Once in production and fully ramped up, Blackwater is forecast to represent 5% of gold production for WPM.
•I-80 announced the signing of definitive agreements in connection with the previously announced financing package for aggregate proceeds of $135 million, and an accordion option to potentially access an additional $100 million. Under the $45 million Gold Prepay Agreement, commencing March 31, 2022, i-80 will deliver to Orion Mine Finance 32,000 troy ounces of gold. Sandstorm Gold also created a new royalty this week with their $37.5 million gold stream, and $22.5 convertible debenture with a 6% coupon, financing package they provided Bear Creek Mining to purchase the Mercedes gold-silver mine in Mexico from Equinox Gold.
Threats
•The Peruvian government seeks to increase mining taxes by 3 or 4 percentage points, Finance Minister Pedro Francke said in an interview to local TV. The International Monetary Fund (IMF) detailed in its preliminary report that the tax burden on the mining sector in Peru amounts to 41.7%, while in Chile this figure is up to 47.1% and in Brazil to 47.9%, Francke said.
•ESG remains a strategic priority for most gold producers – often one of the first few slides in company presentations, even before financial results. Over the past year, specific areas of focus are decarbonization (e.g., potentially using renewable power at the mines) and relationships with indigenous communities. Decarbonization is by far the most discussed ESG topic in company presentations, with many of the gold producers targeting net zero carbon emissions by 2050. The focus on decarbonization and exploring renewable power alternatives makes sense given that 80% of emissions for gold miners comes from the power used in mining operations, according to the World Gold Council. According to a recent EY survey, the top two business risks for miners in 2022 are 1) Environment and Social, and 2) Decarbonization.
•With the rewriting of the Chilean constitution there is a shift to enshrine water as a human right as waning supplies increase the scrutiny of the allocation process for water. Currently, Chile is the only country in the world to specifically state that water rights are treated a private property. By having the water rights treated as property to be bought and sold the industry in Chile from agriculture, mining, and energy have benefited tremendously. With more than a decade of drought, some communities are coming up short on water and want to elevate the issue to a constitutional decree.
*********