Silver And Gold: The Running Of The "Bull"
I am hard pressed to find a single article calling for lower lows in the metals. Everywhere I look, there is consistent certainty that the final lows have been struck, and the bull market is back in full force. To me, market sentiment can be summed up with a Yogi-ism – "it's déjà vu, all over again."
Unfortunately for those that have believed such bullish calls for the last 3 years, this is likely not the first time you have bought into this perspective.  Each and every time has resulted in significant pain for metals bulls.  And, so far, I have nothing that is proving to me this time is going to be any different.
Each and every time we have seen similar rallies in the last several years, I have felt so alone while standing within the bearish breach.  Even though I have quite an accurate history over the last 3 years – starting with my top call in 2011 – many have thought me to be quite foolish to expect lower lows each and every time we have seen such a strong rally off the lows. 
Each and every time, many have been so certain that the correction has run its course.  And, each and every time, I have been proven right for maintaining my stance for lower lows yet to come.  I don't think this time will be any different.  Of course, I can always be wrong.  But, I simply do not have enough of a completed pattern to the downside to confidently state that the long term correction has completed.  Rather, I need at least one more lower low to confidently state the lows are in. Otherwise, I need a 5 wave structure off the November lows, followed by a corrective pullback to confidently state that the long term lows are in place.  At this time, we have neither.
Yet, I still have to maintain an open mind that a bottom may be in.  To that end, I am tracking the GLD for a pattern which can suggest that a bottom has been struck, despite the corrective start off the lows.  In the bullish case, the GLD has completed a wave iii of 3 off the lows, or, in the bearish case, a wave iii of (c) of a b-wave off the lows.  (As you can see, I have moved to Garrett Patten's (lead analyst for our World Market's service and contributing analyst to our Stockwaves service at Elliottwavetrader.net) GDX and HUI count, which has this entire c-wave decline in waves of 3.) And, as long as it maintains over the 119.50-121.75 support zone for wave iv of 3/(c), there should still be another rally to be seen before we can differentiate between a 5 wave rally off the lows or a 3 wave corrective one.  A break down below 119.50 from this point forth suggests that the (c) wave has topped. 
In silver, I also modified the count slightly into an ending diagonal for the 5th wave.  This places us in the 4th wave of that ending diagonal.  For the bullish case to take hold, the minimum target I would need to see to convince me of a bottom in silver would have to exceed the 22 region in 5 waves off the recent bottom, as that is the region of a 2.00 extension off the lows.  However, it is quite rare for silver to only see a 5 wave structure taking it to the 2.00 extension.  So, ideally, silver should exceed the 23 region, and strike the blue box for wave i in the bullish green count.  Remember, the bullish count is not my preferred count at this point in time, but I will not ignore it should the market prove itself in 5 waves up to the target box. And, as I noted last weekend, an impulsive break down below 16.70 would get me much more immediately bearish.
See Avi's charts illustrating the wave counts on the metals: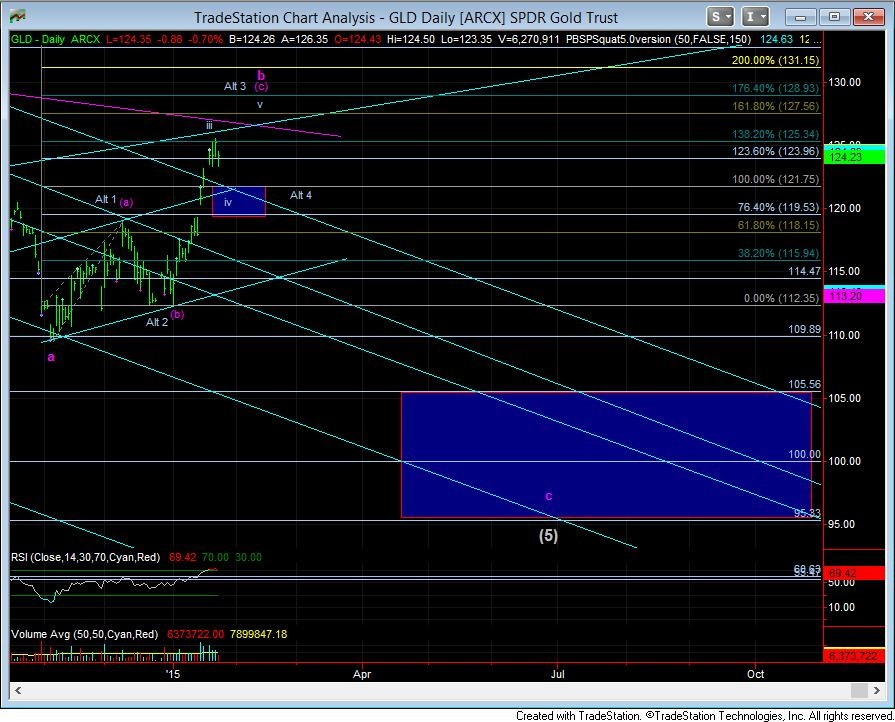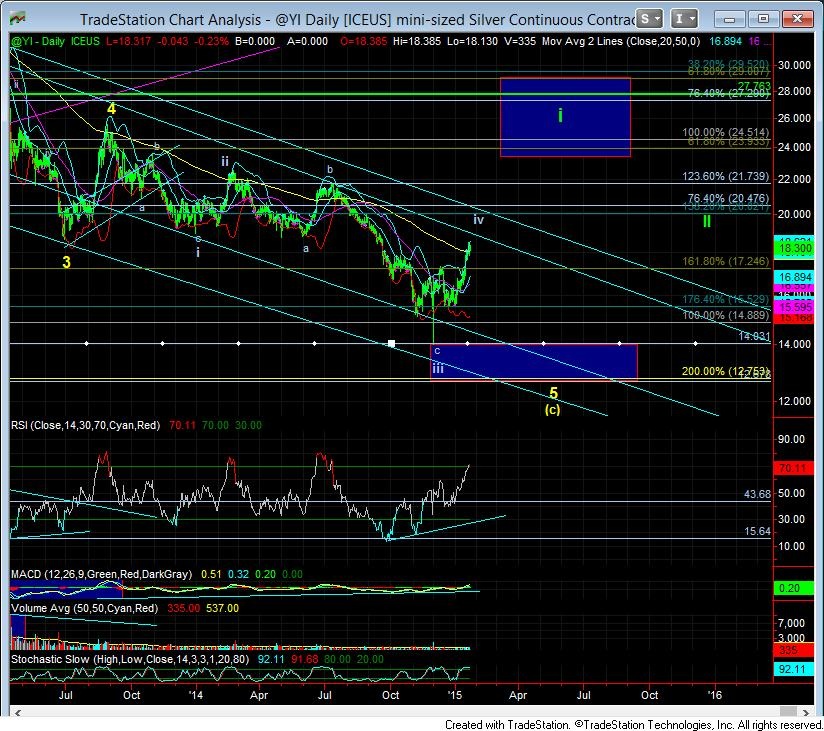 ******** 
Courtesy of ElliottWaveTrader.net