SILVER: The Bastard Child Of The Commodities Family
Since January 1980 the values of US Commodities have been affected by growing demand and the price increasing effects of inflation. All commodities have enjoyed price increases..... ALL EXCEPT SILVER, which is virtually flat..... even though the demand for the white metal has been explosive in recent years.
The chart below shows the nominal (actual) price increases during the past 32 years (since January 1980 to close of February 3, 2012):
Commodities Appreciation since 1980: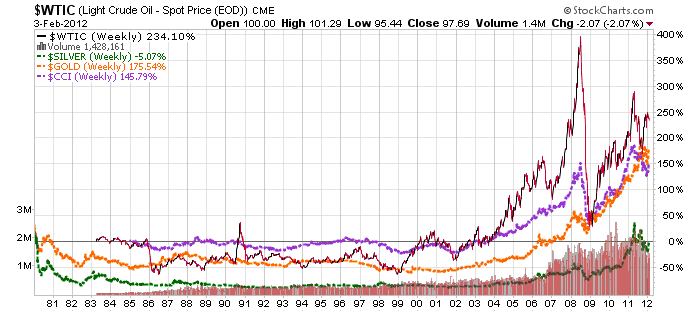 To put this anomaly into even more perspective, compare the following Prices, Adjusted for 32 years of inflation (all prices in US$):
Without question, SILVER at a mere $34 (February 2, 2012) is grossly under-valued vis-a-vis other commodity prices and compared to its Inflation Adjusted value of $141/oz. Indeed SILVER is the Bastard Child of the Commodities Family..... at least until NOW.
THIS WILL CHANGE STARTING IN 2012
There are a number of factors, which will contribute to SILVER's accelerated price rise in 2012 and for years to come.
Growing Consumption
Demand for SILVER is increasing tremendously through industrial usage, medical applications and especially speculative investments.
Increasing Media Attention
Heretofore SILVER has not enjoyed the media hoopla that blesses gold or crude oil. That is about to change as investors discover that SILVER's value has increased 150% during the past three years (well above gold's and CCI performance in the same time frame). See Performance chart below.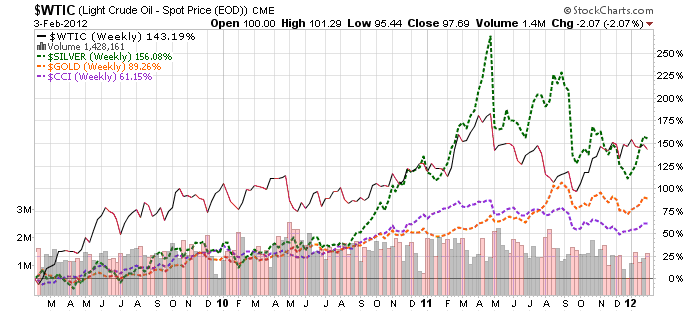 SILVER Demand Exceeds Mine Production
The growing Demand/Production Deficits will indubitably fuel SILVER to ever record highs in 2012 and beyond per SILVER DEMAND EXCEEDS MINE OUTPUT chart: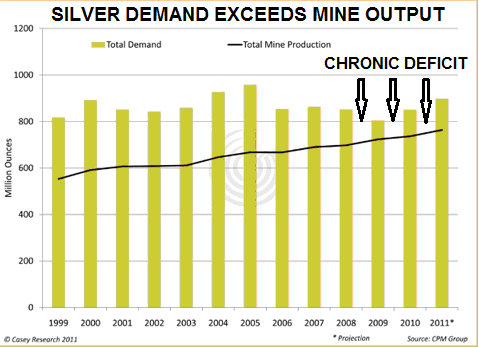 How China Will Drive Silver To $250/oz
www.gold-eagle.com/editorials_08/krauth102411.html
A Basket of other factors Propelling SILVER to record all-time highs
- US Fed keeping near ZERO interest rates until late 2014...HIGHLY INFLATIONARY
- US Fed implementing QE3 to stimulate the economy...HIGHLY INFLATIONARY (look at 2009 rocketing prices due primarily to the deployment of QE1, which started in early March 2009)
- Global currency devaluations contagion...HIGHLY INFLATIONARY
- Slow devaluation of the US greenback as CHINA, INDIA et al start buying crude oil...and paying in GOLD
- The current GOLD/SILVER ratio of about 50 will slowly fall to the long-term historic ratio of 17:1
- Millions of international investors discovering gold and silver have been the most profitable investment classes since 2001
- US Pension Programs, Insurance Companies and Bank Trust Depts piling into precious metals. See analysis: "Pension Plans, Insurance Companies & Retirement Programs (IRAs)" www.gold-eagle.com/gold_digest_08/vronsky020310.html
SILVER FORECAST
The Bastard Child of the Commodities Family will gain phenomenal prominence beginning in 2012 - as SILVER's relative performance soars well above the rest. Here is SILVER's Forecast by one of the world's best Technical Analysts, Alf Field:
"NEW EW SILVER DISCOVERY"
Analyst Field concludes, "Thus the gain in wave 3 of Major THREE should be larger than +464%. It should be a gain of at least 500%. Starting from the $26.39 low, a gain of 500% would produce a target price of $158.34 for silver. That is the number which equates with the $4500 price forecast for gold and produces a gold to silver ratio of 28.4 ($4500 divided by 158.34)."
The link below shows Alf Field's entire TA on SILVER:
www.gold-eagle.com/editorials_12/field013112.html
To be sure SILVER' s price trajectory going forward will be characterized by high volatility. But for those who can hang on, unimaginable profits will be their just and well earned reward.
In light of the above, the once Bastard Child will soon become the Elite Silver Star and Pride of the Commodities Family.
DISCLOSURE:
I own shares in select SILVER companies - and plan to accumulate more as the price of the white metal moves inexorably higher in the coming months and years.
Vronsky