Special Gold Update
The Big Picture
Gold stocks in general have been in a corrective phase since Dec 2003, and its been very frustrating for many gold bulls, who are either seeing their portfolio shrinking over this period, or getting whipsawed trying to trade the short term tops and bottoms.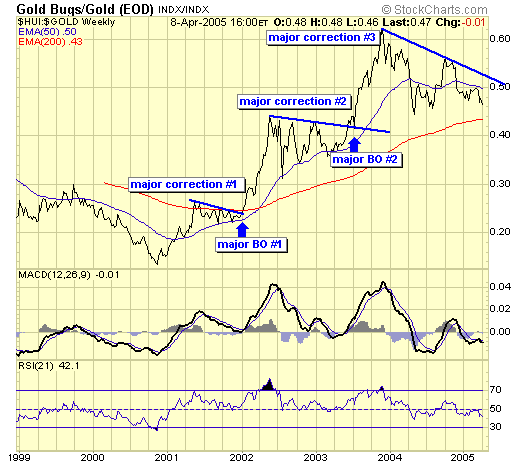 This $HUI:$GOLD ratio chart is getting popular among technicians, simply because gold stocks outperform bullion in an impulsive phase, and underperform in a corrective phase. Current correction is seventeen months old and is the longest and deepest correction since this new bull market began four years ago. Until it breaks out, there is not much we can do except trying to trade the short term with tight stops to preserve our capital. Patience will pay off big time once the correction is over.
A Closer Look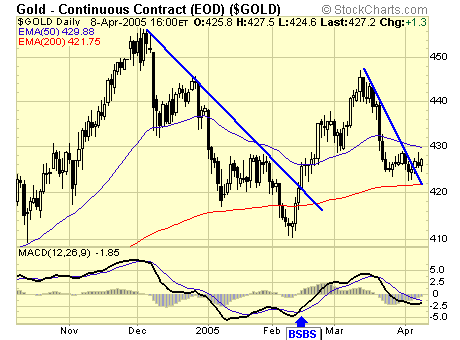 Bullion broke out of the pullback trendline this week, with support at 200ema, waiting for MACD to confirm a BSBS (bullish support buy signal).
Meanwhile, the ratio chart made a lower low indicating stocks underperforming bullion, while MACD is making a higher low resulting in a bullish divergence.
Price has also reached trendline support this week, and if the bull market is to continue, now is the time.
Of course, we need a little help from our friendly dollar, with a reversal on Fri at the 200ema resistance, a nice follow thru next week will break the uptrend, and when confirmed with MACD, we'll have another BRSS (bearish resistance sell signal).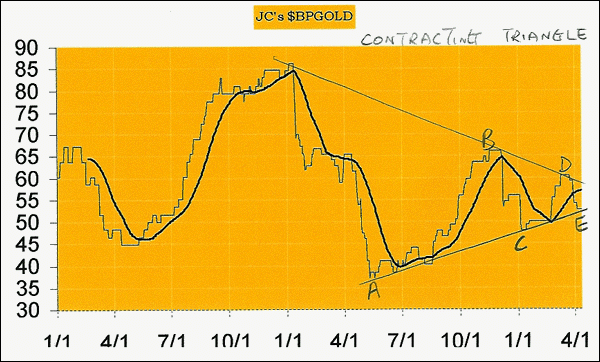 My homemade BPGOLD crossed down for a sell signal this week, but my attention is on the index itself as it is tracing out a perfect contracting triangle, in locked steps with the major correction taking place since Dec 2003. Normally, a consolidation against a major trend resolves in the direction of that trend, and therefore, my expectation is a major breakout after wave E is completed and holds support. We reached that support this week and it must hold to get a shot of breaking out.
Our Near Term Strategy: Keep It Simple
Traders/investors who are currently holding gold stocks or funds can continue to hold, but exit all positions should support fails.
Traders/investors who are in cash, wait for the breakout of the BP chart before accumulating/buying gold stocks again. (subscribers receive updates and alerts on this homemade BP chart.)
Jack Chan at www.traderscorporation.com
9 April 2005