Special NUGT Update
Gold Sentiment Chart
The latest Hulbert gold survey shows gold newsletter writers are net short both gold and gold stocks. Historically, this type of situation indicates a bottom in gold.
Although the gold market in recent months has not made huge progress to the upside, the foundation in now laid to see a major move in gold itself, and an even bigger move in gold stocks.
I believe that move is underway now.
NUGT vs SGOL (Gold Bullion Proxy) Chart
My short term target is $1850 for gold. One of my best contacts believes the hedge funds have quietly been covering their short positions, leaving the trade in very weak hands.
I agree with that premise. I think that the coming move to $1850 will feature gold stocks acting much more "as they should", this time. The greatest opportunity is now in gold stocks. An option-like play that I'm very excited about for aggressive players, like myself, is NUGT-nyse.
Going forward, I don't see anything that will perform to the extent that NUGT could. I expect 1000% returns, if you are able to get in at current price levels.
My momentum indicators continue to advance, and a major rally is now under way in both gold and gold stocks. NUGT has is displaying showcase double bottoms against almost every major asset, including gold bullion itself!
NUGT vs Dow Chart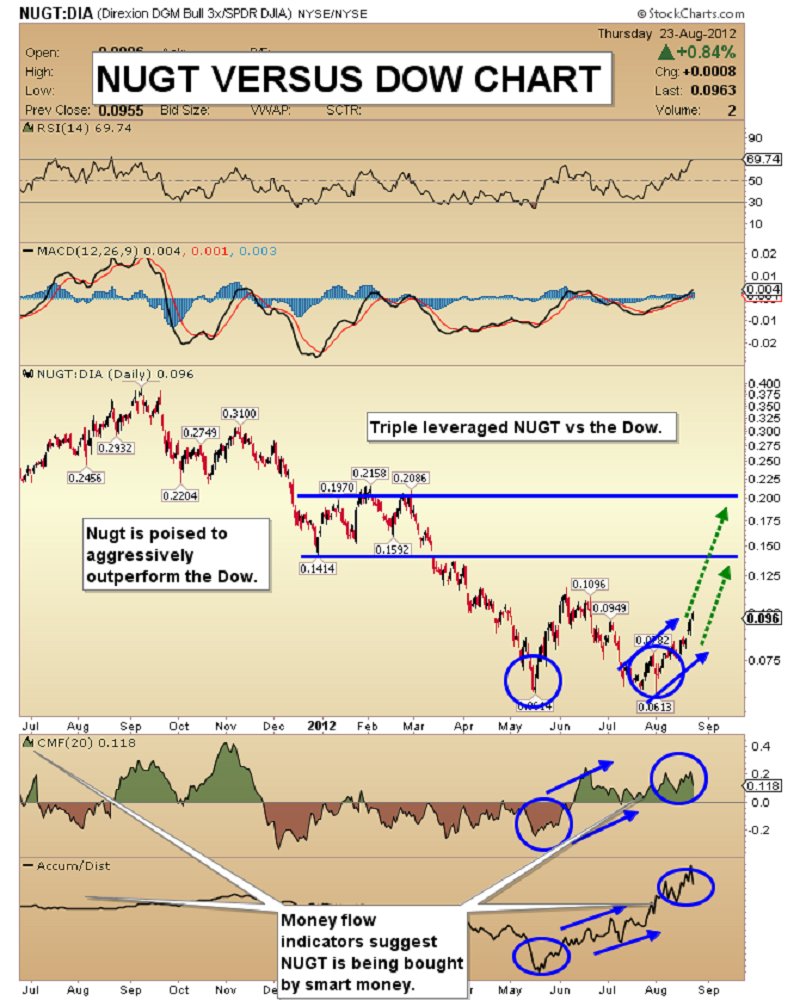 A week ago I issued an alert to the gold community that we were likely within 10 days of putting an intermediate top in the Dow.
That time target is on schedule, as the market is now turning down hard.
There could be a possible double topping process into Labor Day.
All my technical indicators remain green for a major outperformance of gold stocks over general equities. Please note the enormous volume on NUGT that I have highlighted with a blue circle.
Newsflash: The Dow plunged over 100 points already today, while NUGT is almost 1 % higher, and that follows an enormous rise of more than 6% for NUGT yesterday!
Note my money flow indicators on this chart. They indicate that large smart money is coming into NUGT.
NUGT vs Bond Chart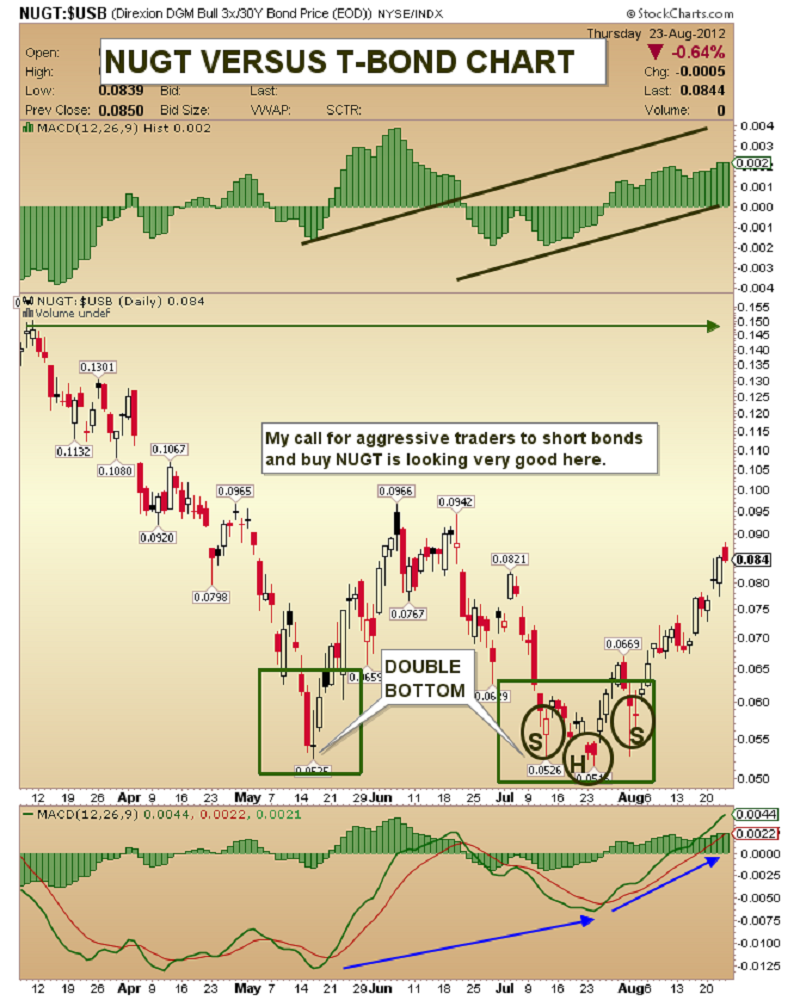 The MACD histograms are very powerful, and indicate that NUGT will take out the ratio high against the bond at .0966.
The right side of the double bottom on this chart is itself a reverse head & shoulders pattern. There is an incredible spread trade opportunity here. Aggressive investors can buy NUGT while shorting the bond.
NUGT vs GDX Chart
Note my intermediate term target at .400 on this ratio chart, which is a 60% gain for NUGT against GDX.
I love GDX, and I think there is a rare opportunity for aggressive investors to move back and forth between NUGT and GDX, to potentially build even more profits.
When NUGT rises a lot against GDX, I recommend selling some. Buy GDX with the proceeds, keeping you in the game!
Unique Introduction For Gold-Eagle Readers: Send me an email to [email protected] and I'll send you 3 of my next Super Force Surge Signals free of charge, as I send them to paid subscribers: Thank you!
Stay alert for our Super Force alerts, sent by email to subscribers, for both the daily charts on Super Force Signals at www.superforcesignals.com and for the 60 minute charts at www.superforce60.com
About Super Force Signals:
Our Super Force signals are created thru our proprietary blend of the highest quality technical analysis and many years of successful business building. We are two business owners with excellent synergy. We understand risk and reward. Our subscribers are generally successful business owners, people like yourself with speculative funds, looking for serious management of your risk and reward in the market.
Frank Johnson: Executive Editor, Macro Risk Manager.
Morris Hubbartt: Chief Market Analyst, Trading Risk Specialist.
Super Force Signals
422 Richards Street
Vancouver, BC V6B 2Z4
Canada