Speculative Gold Stocks Offer the Greatest Value in Today's Market
It has been our plaintiff cry for the last six months that the gold mining stocks, particularly of the undervalued speculative variety, offer by far the greatest potential for profits for the lowest price in today's severely overvalued stock market. For only pennies on the dollar, even the poorest of investors can afford to plunk down enough money in order to own a piece of what we predict will become the hottest performing sector over the next two to three years. Best of all, nearly every stock in this sector is registering a clearly defined bottoming pattern indicative of insider accumulation and presaging a major move upward in share price once the great gold stock bull gets underway. And for many gold stocks, it already has! What follows is our latest technical analysis of several speculative "golds" that we believe offer the greatest value and profit potential in the gold mining sector today.
Aber Resources shows a bullish flag on its daily bar chart that presages the start of a new bull market for this stock. After a nearly three-year downtrend, Aber is finally showing signs of promise. Volume and Relative Strength (RSI) confirm the uptrend.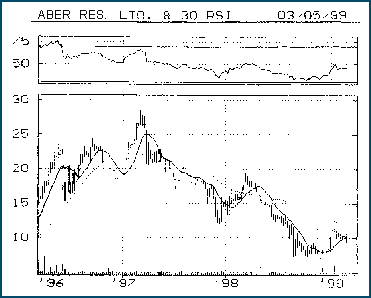 Altai Resources is in the midst of a two-year bottoming pattern. Trading volume for this speculative stock during the last two years has been almost nil, so we cannot exactly call it an "accumulation pattern." But something very interesting has shown up on the charts recently. Late last month a very conspicuous volume spike was seen in its volume chart. It was a single, isolated perk in volume and trading (if you could call it that) soon returned to normal. You can never read too much into strange activity such as this but it may mean a very large position has been staked in Altai. If you don't mind gambling a few dollars you may want to take positions on this stock. It trades at approximately three cents a share, so why not?
Our old favorite, Argentina Gold, is certainly making waves in the gold world with news of merger activities and new drilling projects underway. Investors who bought this stock last fall should hold for now but sell if $3.50 support is broken. New investors may want to climb aboard at $5.00. It's a little hard to tell but it looks like its chart is trading in a bullish flag pattern with corresponding trading volume. Only a strong move above $5.50 will tell us if this interpretation is correct.
It looks like Band-Ore Resources could be about to move after its two-year rounding bottom. A recent volume spike suggests the insiders are stepping up their accumulations of this stock. It still could be quite some time before Band-Ore makes a firm bullish move but it clearly is being accumulated, and if you don't mind waiting, this stock is a definite buy.
Booker Gold is etching out what appears to be a miniature teacup pattern on its chart. Based on volume, be surmise this stock is being accumulated. Its RSI is turning up and so is its price. Worth a look-see at or above $0.5.
Another speculative stock that is being accumulated it Britannia Gold. Looking at the chart, Brittania appears to be in the midst of a long-term bottoming pattern right now with signs of insider buying based on volume readings. This will definitely be a stock to keep an eye on for signs of life because once it starts moving higher it will have a considerable runup, based on its consolidation.
Camnor Resources shows a nice head and shoulders bottom pattern in the making. Volume has recently surged to nearly the highest levels this stock has seen this decade. Clearly, someone is accumulating this stock. Camnor currently trades around the $0.2 level and a strong move above this resistance level will tell us an upmove is probably underway. Other resistance levels to watch are the $0.3 level and the $0.4 level.
We like the bullish flag formation in Claude Resources. Volume has been very positive for this stock, as has its RSI indicator. Above the $2 level, go for it!
Another bullish chart pattern is seen in Freewest Resources. Above the $0.5 level, this stock is a very attractive buy. In fact, above this important chart level the next major resistance isn't encountered until the $1 level.
General Minerals is yet another gold stock trading in a rounding bottom accumulation pattern with recent evidence of increased accumulation underway. This stock could be near a breakout from its two-year consolidation. A solid move above $0.3 would tell us much.
One of our earlier recommendations—GoldCorp.—is performing well. If you have bought this stock, hold unless $7 support is violated. Otherwise, higher levels should be in store for GoldCorp.
International Canalaska is clearly bottoming around the $0.3 level. A recent uptick in trading volume accompanied by an upward move in the chart is proof Canalaska could be on the verge of a new bull market. RSI is picking up dramatically for this stock. Watch it closely.
Moss Resources has one of the most advanced rounding bottom patterns of all the gold stocks we have reviewed. By "advanced," we mean the formation of the pattern which appears nearly complete. Once major resistance at $0.5 is overcome, we are convinced Moss Resources has nowhere to go but up, and above $0.75 there really is no resistance of consequence until $1.50. RSI is also heading higher. However, be advised volume for this stock is extremely weak which makes any plays in this stock a gamble. Proceed with caution.
Opawica shows a gorgeous bowl formation on its chart that is extremely promising for its future prospects. This stock is an undeniable buy and we recommend getting in now in anticipation of a considerable move to the upside.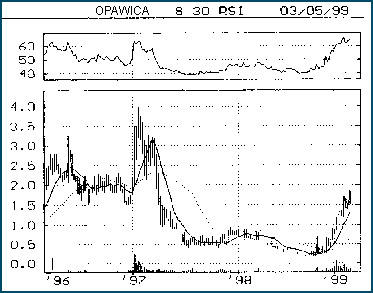 Redaurum Ltd. is being seriously accumulated, an assertion we base on chart/volume action over the past two years. It could still be awhile before we witness a breakout from its consolidation base but it will definitely be worth being on board when it does.
A must-have gold stock right now is Tan Range Exploration which has already begun its bull market. A bullish flag has been forming since the beginning of March and a breakout appears imminent. The next major resistance will be encountered at $1.
Finally, TVI Pacific –which has traded in a virtual "flat line" pattern for the last year-and-a-half—has seen some huge volume spikes in the last few months, signs of a massive insider accumulation underway. At practically a penny a share, what have you got to lose?