Tariff War Rears Up, Spooking Traders
Shades of Smoot-Hawley!? Stocks plummeted for the second time in less than 24 hours Monday when Trump signaled to China's trade negotiators that he means business. A long-delayed, $200 billion hike in tariffs will take effect on Friday because the Chinese reneged on commitments they'd already made. I don't say they allegedly reneged or that they reportedly reneged, since no one ever believed for a minute that the scumbags were interested in giving the U.S. an honest deal. Why should they want to play fair when their goal is to cultivate trade with Europe, Asia and the rest of the world at America's expense? It will simply taking them longer now, since, besides raising levies, Trump will take strident measures to thwart China's epic theft of intellectual property, and push back more aggressively against Beijing's generous subsidies to key industries.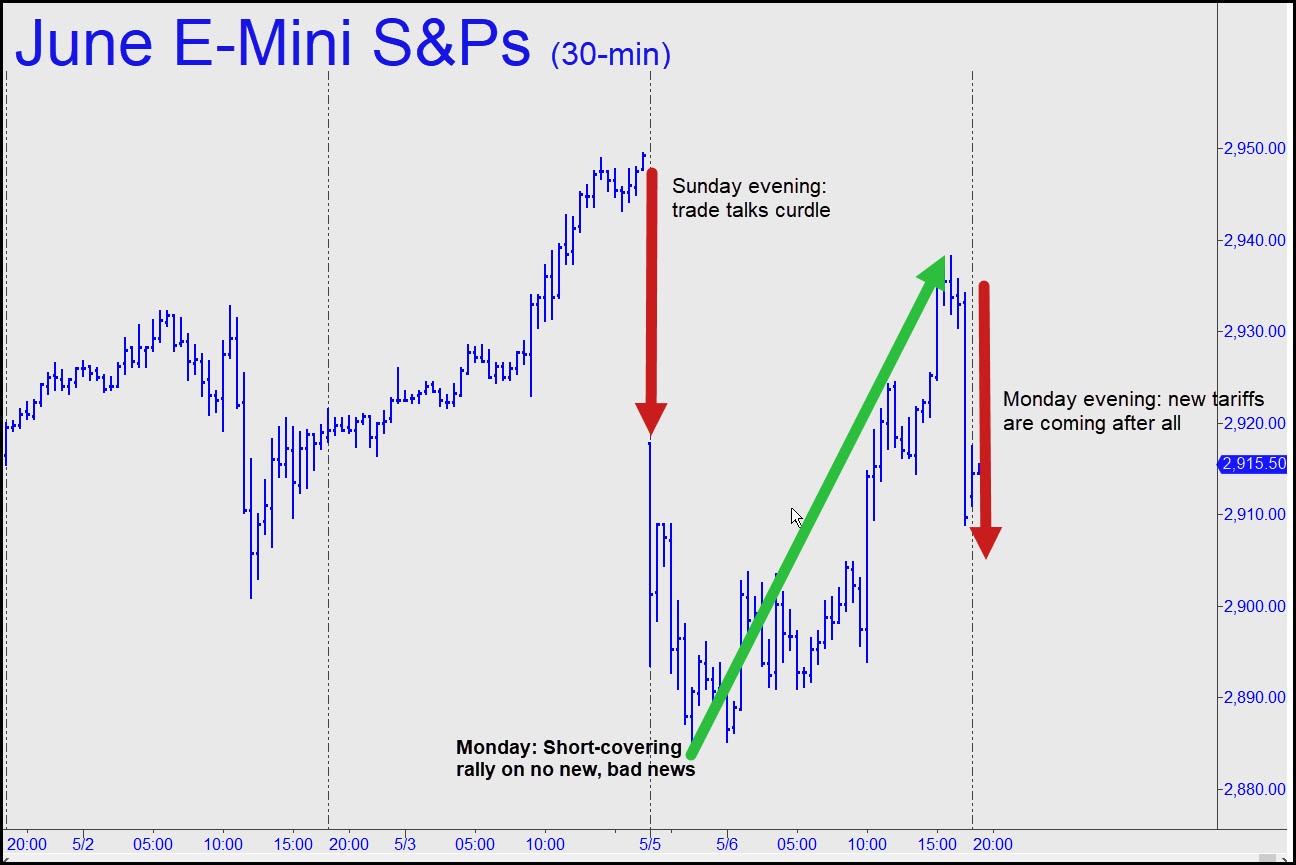 Wall Street did not take the news well, and for good reason: Americans will pay a steep price as the trade war with China escalates as seems all but certain. The Dow fell nearly 600 points when the initial story broke Sunday night that talks had taken a turn for the worse.  Traders spent Monday's session clawing most of it back with the crucial help of stalwart short-covering. But after the close, the trade story took a turn for the worse when it was announced that new tariffs would actually be implemented by week's end. Dow index futures dropped 200 points in a blink — a loss that will be more difficult to recoup a second time because the negotiations are now obviously kaput.
Watch 'Em Work!
Even so, don't expect the fund managers to simply throw in the towel. They still control a vast sea of Other People's Money that has few places to go other than into U.S. stocks. Ten years of foie grass fattening has given DaBoyz an arrogant swagger, even with a threat comparable to the Smoot-Hawley tariff hanging over the economy. Qe shouldn't be surprised if the broad averages resume their upward trek no matter what the news, at least for a while. Remember, DaBoyz' livelihoods are at stake, and they will keep stocks afloat for as long as possible in order to distribute shares to the rubes until the very end.
They have done this brilliantly in Boeing, which continues to hold aloft no matter how ugly the news. The latest is that the company knew a year ago about problems with a cockpit safety alert system before going public with it. And even when they did, they didn't exactly come clean, since their explanations were inconsistent, obfuscating and incomplete. If Boeing were a Japanese company, the top brass would already have done the honorable thing by committing seppuku after the March 10 crash of a Boeing 737 Max in Ethiopia. All 157 on board were killed, adding to the 189 who died in an earlier 737 Max crash in Indonesia.  Here in the U.S., however, the execs are undoubtedly continuing to live well, even as they align themselves with Wall Street and the news media to hold Boeing shares buoyant. Expect them to succeed at this until the scandal widens beyond the scope of spin control and order cancellations start coming in. 
Click here for a free two-week trial subscription that will give you access to all paid features and services of Rick's Picks, including daily, actionable trading recommendations and a ringside seat in a 24/7 chat room that draws veteran traders from around the world.