Technical Analysis Of The Markets
Here is my chart of the day summary covering markets, technicals, sectors and stocks I am interested in. You can find these on Linkedin too, so please connect with me there for daily content updates. You can click on each chart title below for more information.
Dollar Rally Ending - The EUR rallied from $1.03 to $1.25 versus USD in 2017 and has spent the first half of 2018 consolidating those gains. The EUR declined from $1.25 in March to a low of $1.15 in June but that correction looks over now and the USD downtrend should resume shortly. The reason for the USD rally in 2018 is likely in response to the recent round of interest rate increases by the Federal Reserve. Read more....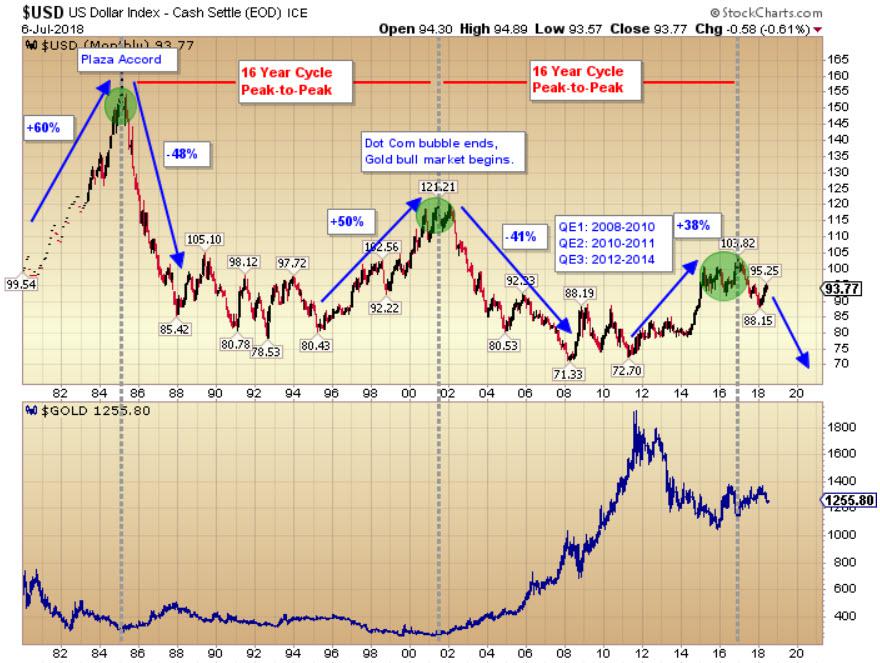 Ag & Industrial Commodities Price In Fed Tightening
- Agricultural commodities (DBA) and Industrial metals (DBB) are feeling the heat from the recent bout of central bank quantitative tightening. The Federal Reserve raised interest rates by 25 basis points in June to 1.75%-2.00% and the market is pricing in another 2 rate hikes over the course of the next six months. The Fed is also withdrawing money from the banking system directly at a rate of $20 billion per month, increasing to $50 billion per month by October. QT and rates hikes are a double whammy that will impact risk assets in unforeseen ways. Read More....
Indecision - Stock market volatility is on the rise, a late-cycle phenomenon. In Europe, stocks have been chopping sideways in a directionless fashion for 18 months now. I continue to wait for the market show its hand. If the Eurostoxx 600 breaks out above resistance of 400-415 to new all-time highs, I will take a position in European shares in the Active Asset Allocator. Read More....
Head & Shoulders Top
- The German stock market has led the bull market in European shares in recent years but now looks to be losing momentum. The Dax Index is forming a head-and-shoulders top formation, indicating to me that the next move in the European indices will be lower, not higher. There are also divergences appearing in the RSI (relative strength) and MACD (momentum) indicators on the chart. Read More....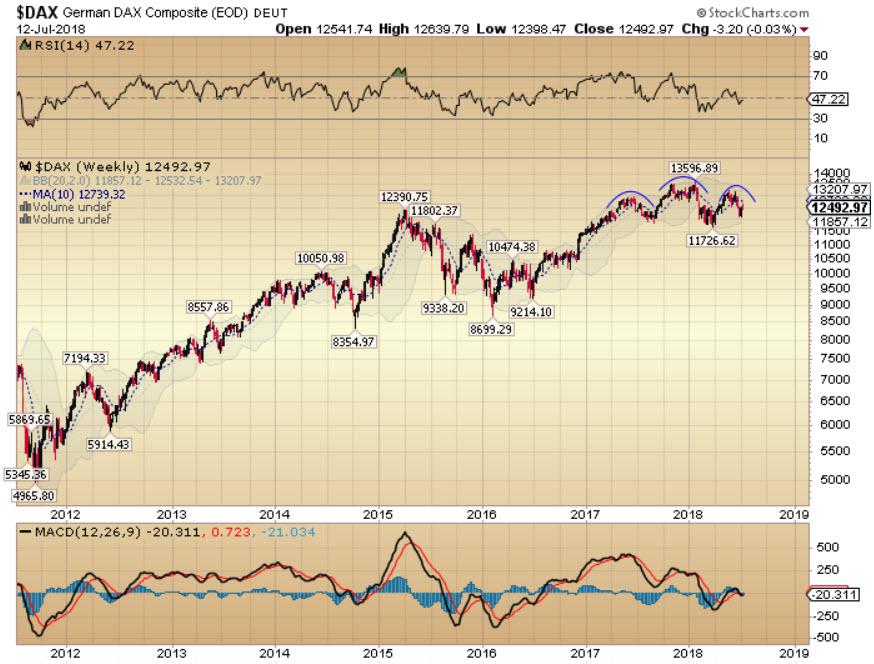 Have a wonderful weekend everyone!
*********
FORWARDED THIS MESSAGE? SIGN UP.
Join a growing list of savvy readers and get exclusive content for free. No spam, ever. Just great stuff.

Brian Delaney, CFA
Director, Secure Investments
Tel: +353 86 821 5911
Website: www.secureinvestments.ie
Email: brian@secureinvestments.ie
LinkedIn: Brian Delaney, CFA
Twitter: @briandelaney_
Delaney Investment Services Limited trading as Secure Investments is regulated by the Central Bank of Ireland. Delaney Investment Services Limited is registered in Ireland and is a limited liability company. Registration Number: 516058. Registered Office: 76B Northumberland Road, Ballsbridge, Dublin 4, Ireland.